Tennessee fans are having a meltdown watching the Florida game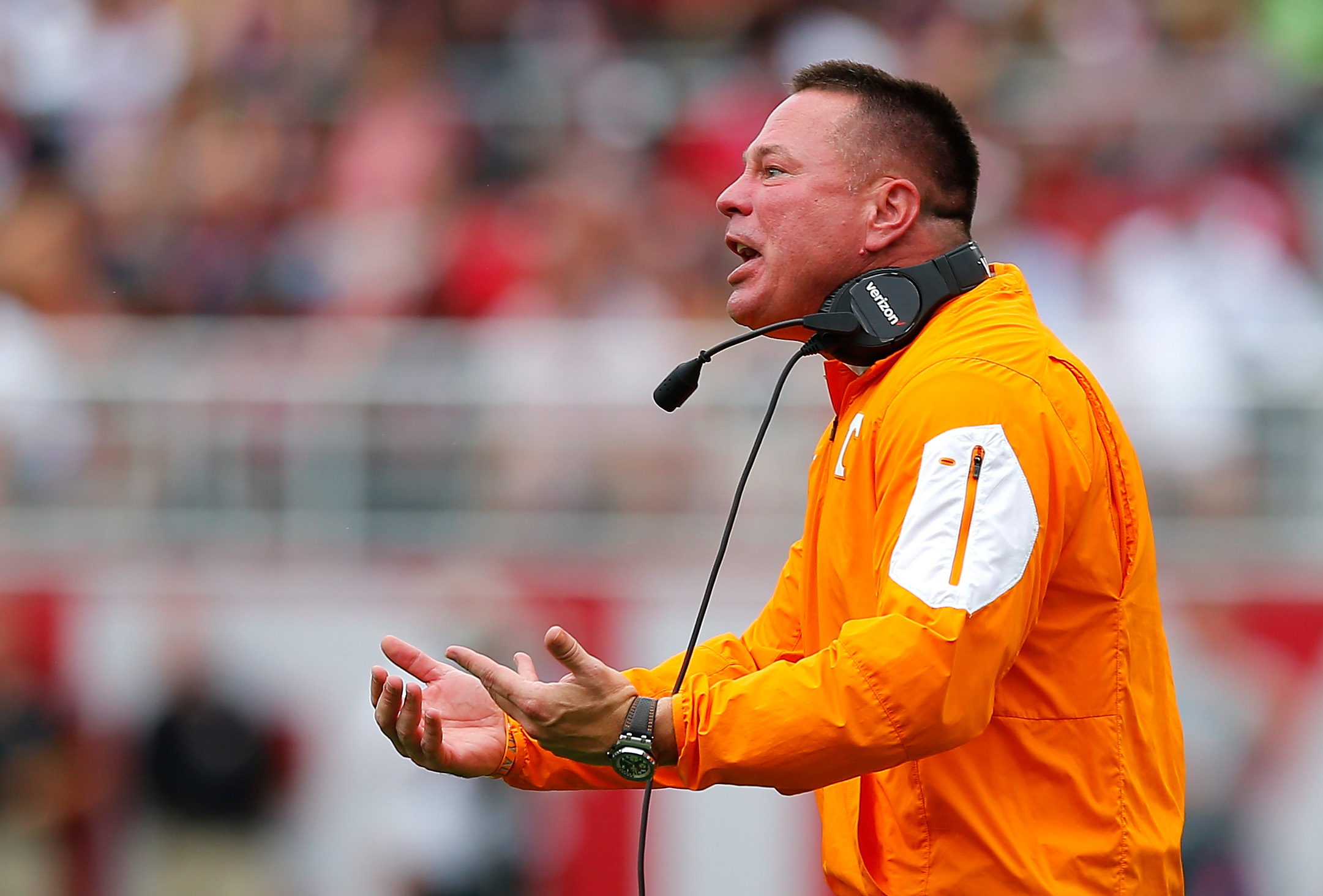 It's been a long time since Tennessee beat Florida, like really long. So long, that the last time they won was 2004, just months after the "Shaq-Kobe" era ended with the Lakers and 'Mean Girls' was in movie theaters. But this felt like the year that streak would finally end.
Unfortunately it didn't start that way, with the Gators scoring within the first minute, and Florida taking a 14-0 lead shortly thereafter. An interception in the end zone thrown by Joshua Dobbs didn't help, and by halftime the score was 21-3.
In Neyland Stadium the crowd booed as the Vols left the field, and online, Tennessee fans started to freak out. Here are the best reactions from across the internet.
Butch Jones isn't another AL Golden, because Golden could beat the Gators _(ツ)_/¯

— Kyle Hyde (@KyleHyde2) September 24, 2016
Butch Jones couldn't coach Alabama to a bowl game

— Jonus Goldston (@jgoldston96) September 24, 2016
Is it too early for Butch Jones to put his house on the market?

— Weston Bracey (@WillardLSwagger) September 24, 2016
I don't know why Tennessee plays Florida every year instead of, say, calling in sick and going for a nice refreshing nature walk instead

— Jesse Cazakoff (@jessecaz) September 24, 2016
Not everything in life is a given, but Tennessee crapping all over itself against Florida is.

— Bruce Ciskie (@BruceCiskie) September 24, 2016
the redder Butch Jones gets, the worse his redzone offense gets

— Shaunak Pandya (@pandyaexpresss) September 24, 2016
This is the most unprepared team I've seen in the Butch Jones era. Smh

— Ethan (@Hyder_Man) September 24, 2016
Live look at @UTCoachJones and @josh_dobbs1 offense #Jabronis #UFvsTENN #SEC #GBO pic.twitter.com/nO3papxxSq

— Varles Barkley (@Varles615) September 24, 2016
Wonder what Butch Jones is going to be doing next year?

— Gina Genochio (@GinaGenochio) September 24, 2016
Good thing Butch Jones is such a good recruiter tho #GoVawls

— Brent Bielefeldt (@brentbielefeldt) September 24, 2016
How can Tennessee be ranked higher than Florida?

— Andy (@AndyMerkle10) September 24, 2016
Tennessee down 21 to 3 to a Florida team that struggled to score against UMass. Everything is funny.

— FaT'Challa (@NeekGoBacon) September 24, 2016
Watching Florida crush Tennessee's soul has become a favorite tradition of mine #rtr

— Matt Owens (@lmattowens) September 24, 2016
Butch Jones halftime speech….. We Suck

— Jared Bowers (@JBowers_8) September 24, 2016
We'll see if things get any better in the second half.