Tennessee Basketball: 5 Takeaways from Vols' 95-81 Win vs Chaminade Silverswords at Maui Invitational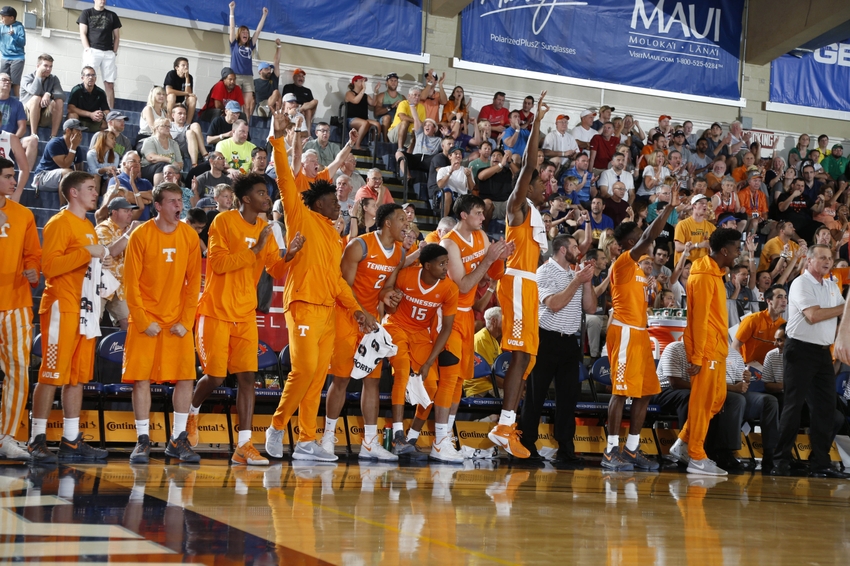 Tennessee basketball defeated the Silverswords 95-81 in their final game at the Maui Invitational. Here are five takeaways from the Volunteers victory.
Tennessee basketball won't leave Hawaii winless after all. Rick Barnes's Vols finished seventh place at the Maui Invitational by defeating the Chaminade Silverswords 95-81 in the final game.
With the win over the Division II opponent, the Vols move to 2-3 on the year as they get set for a week and a half long break.
There aren't many things we can take away from a win against the Silverswords, but we can gather some tidbits from the game when combining it with the Vols' overall body of work at Maui.
And honestly, the news coming out of Maui is good for many Vols fans. The young team was short-handed but put up a huge fight against two ranked teams.
So we are witnessing the growing pains first-hand from this team. Here are other things we learned from Wednesday's game.
1. When Robert Hubbs III is aggressive, the Vols do well.
Just yesterday, we called out Robert Hubbs III for being too passive. The former five-star recruit was failing miserably to live up to his hype now being a senior. Well, although it was against a Division II school, he shut everybody up on Wednesday.
Hubbs was 10-of-19 from the field with 28 points, and he was 7-7 from the free throw line. But Hubbs didn't just score by settling for outside shots. He attacked the rim and often posted up at times. This is the Hubbs Vols fans need to see the rest of the year if their team is to have any success.
2. Detrick Mostella is the real deal.
While Robert Hubbs III is a guy the Vols need to be aggressive, they have no trouble getting that from Detrick Mostella. In his third straight game coming off the bench, the junior guard hit double-figures for its third straight game.
Mostella is a guy Barnes is continually able to rely on for quick scoring off the bench, and he provides a major amount of depth for the team in the process.
3. The inside game is still a problem.
John Fulkerson was decent against a team with no inside game on Wednesday, but there's nothing yet to prove that his performance against the Oregon Ducks wasn't a fluke. Meanwhile, Lew Evans is looking like a complete waste right now, as he was useless this whole trip. And he's a veteran.
Admiral Schofield is still missing, and Kyle Alexander's five points against the Silverswords don't make up for his atrocious performance the first two games. In short, although Barnes wants to base everything on tempo, he needs his inside game to develop much faster.
4. Ball movement around the perimeter is an issue.
This would seem like and odd thing to bring up when Tennessee had 16 assists to only 12 turnovers in this game. But the Vols were playing Chaminade. They should have had at least a 2-1 assist-to-turnover ratio.
Meanwhile, the awful assists numbers against Oregon still stick out. Tennessee basketball has no true seasoned point guard yet. That could be a problem down the stretch.
5. Aggressive defense is a staple of this team.
No matter what you think about the inconsistencies on offense, and the good side of them showed on Wednesday, Tennessee basketball does not quit on defense. They once again had three guys get in foul trouble, yet they also had 13 steals and seven blocks.
This team will go all out on that side of the ball, and even when they lose this year, it will rarely be due to a lack of effort.
More from All for Tennessee
This article originally appeared on