Ten Washington Husky Recruiting Needs Before 2017 Signing Day
Bret Stuter/FanSided via The Husky Haul

Fansided
After a very successful 2016, the Washington Husky football program must recruit for the 2017 football season. Here are the teams top tem needs.
The Washington Huskies had a great season in 2016, a season that fell short of the mark of a national championship. However, the team was highly competitive, and the team proudly raised the standards of UW football.
Now, the baton is in the hands of the 2017 football program. And everyone knows that a college football program is only as effective as the players recruited to the team. UW football is no exception, so the February 1st Signing Day is awfully important to the Huskies.
Signing Day
The fact is, that Signing Day is important to virtually every NCAA football program in the nation. That makes it a very competitive business to entice the right player to the right program. Recruitment and signing quality players makes up a large part of the responsibility of the head coach of a college football program.
But it's not just signing anyone. With graduation, and declaring for the NFL, this team will be losing some key players this season. Let's take a look at the players who will be hanging up their Huskies cleats: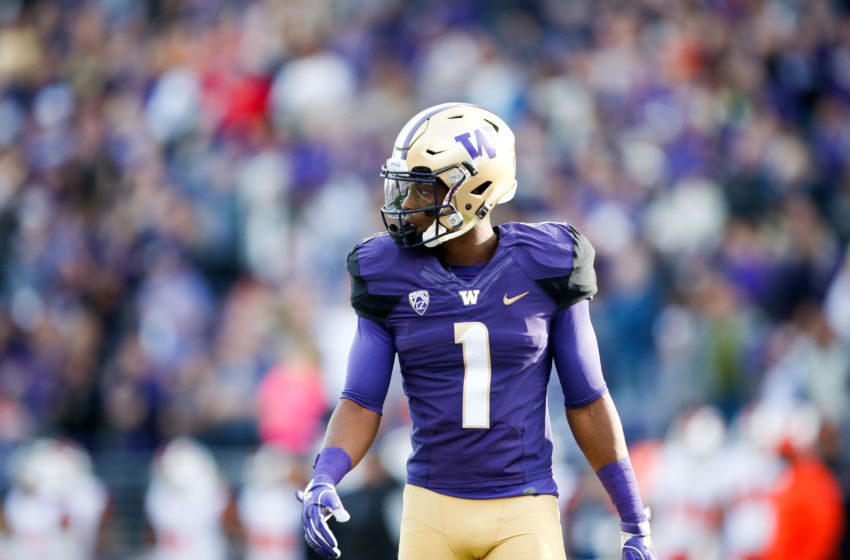 Huskies Packing For Farewells
These are the players who have either declared for the NFL Draft or are graduating and are no long eligible for NCAA football:
Live Feed

washington huskies
OFFENSE
WR John Ross III (Jr.)
TE: Darrell Daniels
Holder: Jeff Lindquist (QB)
OT: Jake Eldrenkamp and OL Shane Brostek
DEFENSE
DL: Damion Turpin and Elijah Qualls (Jr.)
OLB: Joe Mathis and Psalm Wooching
S: Brandon Beaver and Buddy Baker (Jr.)
CB: Kevin King and Sidney Jones (Jr.)
K: Cameron Van Winkle
While every class is a challenge to replace, the exodus of WR Ross, DL Qualls, S Baker, and CB Jones are particularly difficult, both from the quality of their play and the fact that they had another season of NCAA eligibility.
That's a solid group of players. Now lets take a look at the holes that they leave behind.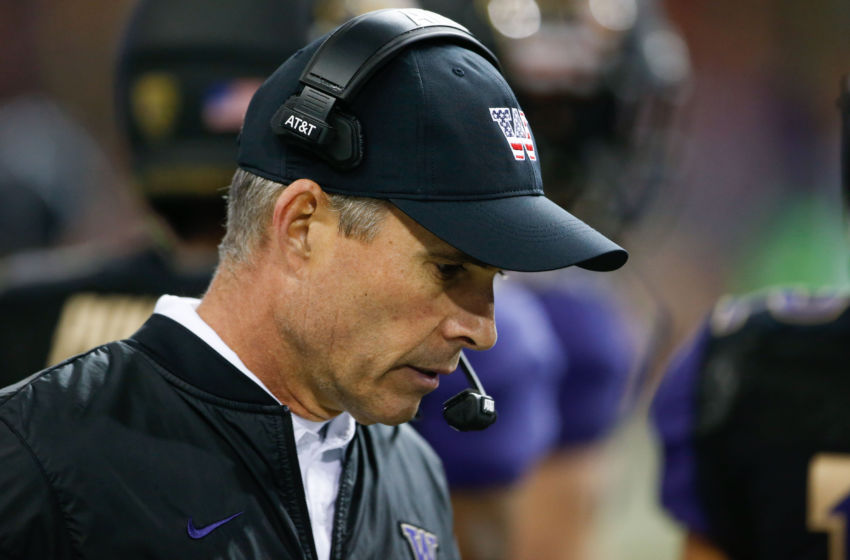 Team Needs
If you see where the team lost players, it's a pretty safe bet that those will be the areas of geatest needs.
But there are some areas that take priority. Say, a punter for example? Rather than force you to wait this one out, I want to put your mind at ease and let you know that the Huskies have their punter for 2017.
Whew! That's a relief!
Prokick Australian Joel Whitford will be the Washington punter from January 2017 on full scholarship! Assemble! pic.twitter.com/2wyecXnMQl

— John A Smith (@JohnnyPKA) June 7, 2016
Also, there was concern that 6-foot-5 302 pound defensive lineman Vita Vae might be tempted to try his fotunes in the NFL Draft, but he has committed to UW for 2017. So what does the team need?
So in setting team needs, the first step is to break it down by position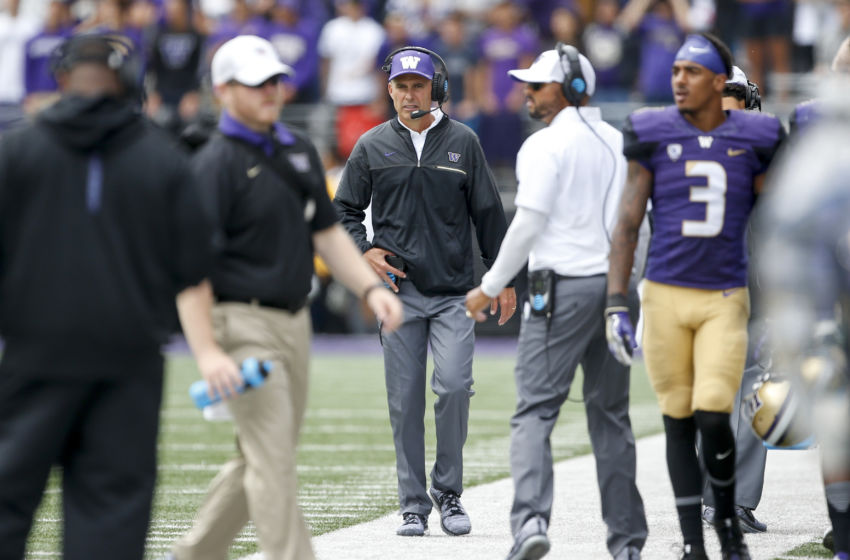 Team Needs By Position
Low Priority
Special Teams(1)
Running Back (1)
Quarterback (1)
Moderate Priority
Outside Linebacker (1)
Defensive Linemen (2)
Tight End (3)
High Priority
Wide Receiver (3)
Offensive Linemen (2)
Safety (1)
Cornerback (2)
The Huskies competed for the national championship this past season, and despite losing to the Alabama Crimson Tide, they earned national respect as a true competitor. Wise head coaches make ample use of that popularity growth to entice top prospects to join the program. Now lets list the top ten needs of the team.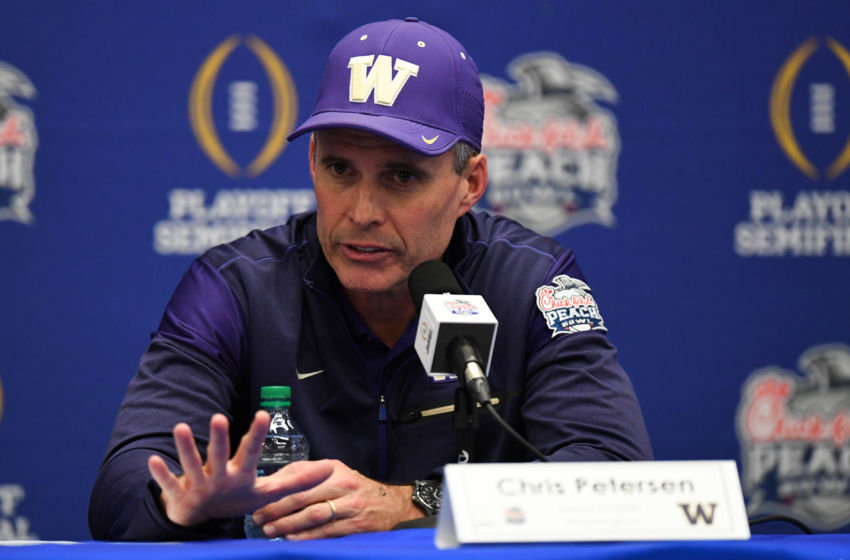 Low Priority
Low priority needs on the team is not the same as not a priority. In fact, low priority simply conveys that the team is focusing on players with critical skillsets which are very valuable and in low supply on the roster.
In other words, low priority are critical skillsets where the supply of players is adequate for the team's immediate needs. These are important areas to address on the team routinely, because the best programs continue to have younger players in the queue to assume starting roles after a player moves on or is stricken with injury.
10, 9, 8
10 Special Teams
The Washington Huskies lost a kicker in Cameron Van Winkle ,and his career 81.25 percent accuracy. As his replacement, the team is bringing in Joel Whitford.
9 Running Back
While the Huskies running back are intact from the 2016 season, there is always a need to place some fresh legs into the corral. And Salvon Ahmed is one of the Huskies highest rated recruits, earning a 4-star 83 point grade from ESPN. He was sought by 13 different schools.
8 Quarterback
The Huskies quarterback situation is good. But like running back, it's always wise to add talent to the quarterback position. The team have four, but will likely take on a fifth in Jake Haener. Haener is a 3 star 77 points rating who was recruited by 10 schools. He will likely spend his first season learning the offense and training for the future to compete for the starting role. Moderate Priority
Moderate Priority is a little trickier. While low priority is that area where the team has adequate starters already on the roster, moderate priority signings are those players who must be brought in to compete for a starting role.
Typically, moderate priority happens for one of two reasons:
Two types
I The starter was so good, that the team needs to offer competition to ensure the team will benefit from the best player on the roster for starting minutes.
II The position handles multiple starting positions on the roster, and therefor the team needs a larger stock to address potential injuries, lower than expected performance, and even players who sign on with other programs.
The Huskies have three areas of moderate priority. Moderate Needs
7 Outside Linebacker
The Huskies will be without either Joe Mathis or Psalm Wooching. The Huskies did without the play of Mathis in 2016, as he was out due to injury. To fill the void of starter Wooching, the team is bringing in Ariel Ngata. The team may also be considering promoting Travis Bartlett to starter and sliding in Ngata in a backup role.
DL
6 Defensive Linemen
With 6-foot-1 321 pound defensive tackle Elijah Qualls electing the 2017 NFL Draft, the Huskies need to replace his production. They will be hard pressed to find it instantly, but the team does have 4-star 83 point graded by ESPN Marlon Tuipulotu, a 6-foot-3 295 pound defensive tackle to make the attempt.
The team also has 3-star 79 point graded Joe Tryon, a 6-foot-4 235 pound defensive end coming as well. Tryon is listed as a defensive end, but he is a pass rushing specialist who may take the three point stance or stand up in more of an outside linebacker role. With the election of defensive end Vita Vea remaining for another season, the defensive line should be strong once more.
Tryon has been reportedly targeted as a linebacker prospect by Lars Hanson of TheDawgReport
When is a tight end not a tight end?
5 Tight End
The Huskies lose starting tight end Darrelle Daniels, but land a trio of new prospects. The team will welcome grey-shirted 3-star tight end Jacob Kizer, 4-star 83 point graded Hunter Bryant, and 3-star 77 point graded Cade Otton. Why So many?
That's because Otton has been reportedly recruited as an open-ended athlete – giving him the opportunity to compete as a linebacker, tight end, or a "buck-hybrid position". The buck is that stand up pass rushing specialist. The same is true for for Kizer.
So in the end, the team will likely slot Bryant into the traditional tight end position. Both Kizer and Otton will end up as athletes competing for their roles on the team.
High Priority
4 Wide Receiver (3)
As you know, wide Receiver John Ross III stood out as a true offensive weapon for the Huskies. He'll likely land as a first round selection. So the question is, how do the Washington Huskies find that one person to replace him?
You get a commitment from one of the hottest wide receivers in the nation.
Seattle, WA📍

— Terrell Bynum (@TDBynum) January 13, 2017
And then you secure a commitment from one more of the hottest wide receivers in the nation.
Seattle Bound ✈️ 🐺

— Ty Jones (@Baller2Ty) January 13, 2017
Three Is The Charm
Well,three is a charm, isn't it?
BREAKING: We have confirmed that #UW picked up its 2nd big commit today in Sheldon (Sacramento, Ca.) WR Alex Cook pic.twitter.com/JR05dEq9ci

— Scott Eklund (@ScottEklund) April 23, 2016
Wide receiver was most, for all intents and purposes, one of the highest priorities of this recruitment. With this class, the Huskies have to feel comfortable. All three have been heavily recruited nationally, and their interest in UW's program speaks volumes of how far the Huskies have taken their reputation.
Top Three
3 Offensive Linemen (2)
As a matter of fact, offensive linemen are always a top priority, and the loss of starting offensive tackle Jake Eldenkramp has simply placed the exclamation point on it this year. The Huskies have gotten commitments from 3-star 73 graded offensive tackle Cole Norgaard, as well as 4-star 82 graded offensive tackle Henry Bainivalu.
And so, that leaves The Huskies one shy of their target, with two weeks or so to go. With nine returning from last season, plus two recruits, the team will have a starter and backup for all positions plus one. Don't be surprised to see the team land another OL recruit before signing day.
Defensive Backs
2 Safety (1)
The role of safety continues to evolve, and Budda Baker will lead that evolution in the NFL next season. Unfortunately, that means that the Huskies must somehow fill the void vacated by Baker with a new starter.
The team has managed to fill that void with 4-star 80 graded safety Brandon McKinney.
1 Cornerback (2)
Cornerbacks seem to hold the keys to success. In a passing offense, the defense must either sack the quarterback, or defend the pass. Wise teams do both. Husky cornerback Sidney Jones was the type of cornerback who kept his defensive coordinator sleeping peacefully at night.
Stars In The West
Now the quality of sleep will fall upon 4-star 81 graded cornerback Elijah Molden, and 3-star 78 graded cornerback Keith Taylor. In both prospects, the Huskies have young men who have great natural pass defense instincts, good range, and excellent speed and agility.
National Signing Day is February 1st, 2017. While the Huskies have some big shoes to fill from the players declaring or graduating, this class is both diverse and talented. It should be a good year for the fans, and the team. #GoDawgs
This article originally appeared on