Temple Football quietly sneaks up American Athletic Conference Standings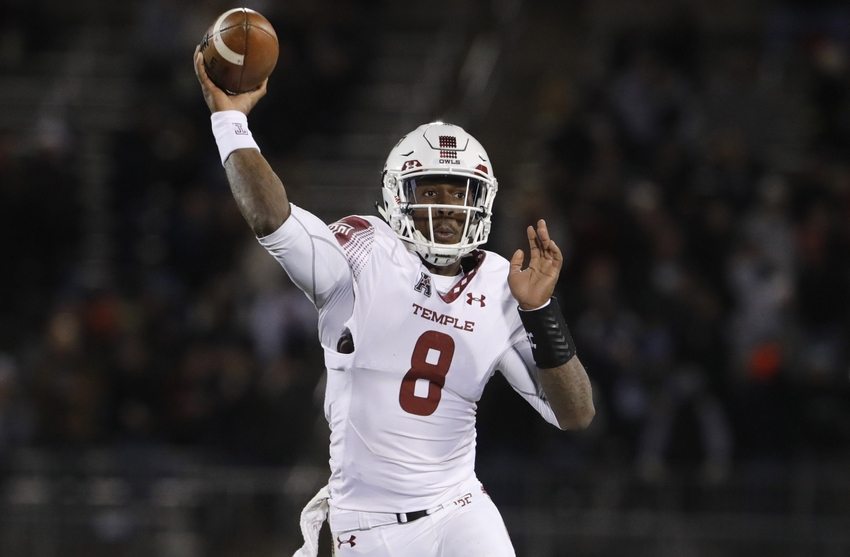 The Temple Owls went from a fringe bowl eligible team to a possible conference championship contender. This progression is due to a smothering defense.
Temple football is almost never on the national radar, but they should be after its 21-0 win over Connecticut Friday. Fans may see their mid-major success as just a lower level success story. However, this team's success goes much deeper than just a few wins.
Matt Rhule turned this once cellar dwelling program into a stout winner. The key behind the turnaround begins and ends with his defense. They're dominating teams giving up just 20.4 points per game. Pass rusher Hasson Reddick and Praise Martin-Oguike are world beaters on defense. The two seniors combined for 25.5 tackles for loss and 12.5 sacks. Their pressure has resulted in an opportunistic defense. They've forced 16 fumbles and recovered nine to go along with eight interceptions.
Although the defense is playing well, Rhule's best accomplishment as a head coach is the offenses' resurgence. Rhule spent his playing career at linebacker, but he's been an offensive assistant as well. He's produced some of the Owls all-time greats in terms of offense. In their not-so-great offense history, they've produced few great passers. Rhule seems to have given them their greatest and he's been his best when they've need him this year.
Quarterback Phillip Walker has destroyed all Temple passing records. Walker hasn't been perfect along the way, but he's given them a chance to win every week. This season, he certainly hasn't been as efficient, but he's been effective throwing for 2,205 yards, 16 touchdowns and averaging 8.2 yards per attempt.
Never Out Owls
The turning point and the actual beginning of the turnaround was the Central Florida game. At 3-3 Temple faced a must-win game against a rebuilding Black Knights squad. The Owls slumped to a 25-7 deficit. However, the defense shut out the Knights in the second half and the offense managed to do enough to get themselves in game-winning position.
Trailing 25-20 with just 32 seconds to play the Owls needed to travel 70 yards. Walker was in the midst of a rough night completing under 50 percent of his passes. However, the senior great calmly completed 4-of-4 passes for 70 yards including the game winning eight-yard touchdown pass to Keith Kirkwood with one second remaining.
Temple's dramatic win pushed them into contention and they haven't let up for four straight weeks. The Owls' resiliency has to be their most impressive trait. They started the season 3-3 including close losses to nationally ranked Penn State and Memphis.
Nevertheless, they overcame their struggles to win four straight and top a 7-2 USF squad 46-30. Now they stand atop the East Division and have a shot to go to an impressive bowl game. These certainly aren't the Owls of past and no one should sleep on them.
This article originally appeared on