Tavien Feaster needs to get more playing time for Clemson.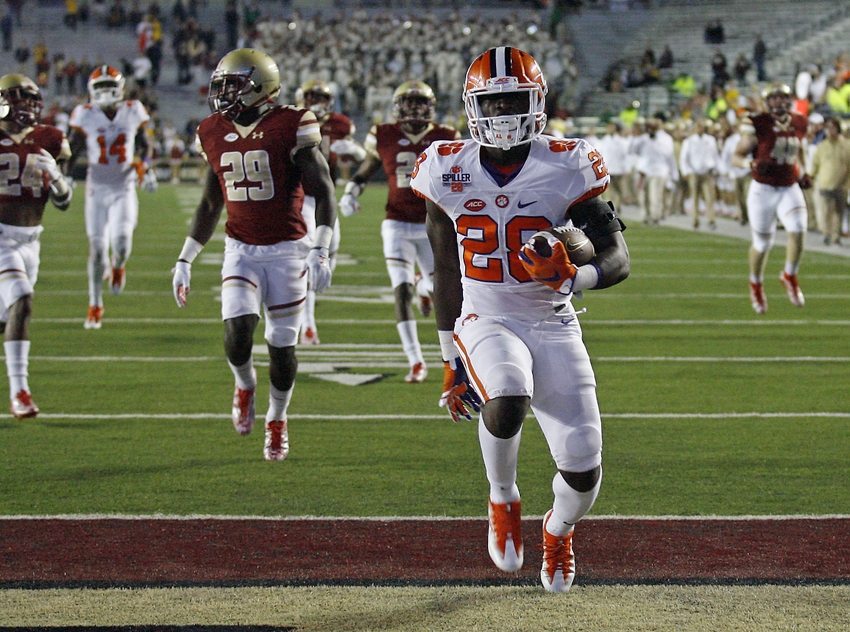 Clemson routed Syracuse 54-0 in yesterday's contest. The offense was clicking on a pace that we have not seen very often this season. Watson and Nick Schuessler were sharp through the air; and the offensive line was stout despite missing starting right tackle Jake Fruhmorgen. The Tigers also ran the ball well, lead by Wayne Gallman and Tavien Feaster.
Tavien Feaster may be a true freshman, but, he sure doesn't run like one. Feaster posses the explosiveness, and speed of a back two to three years his senior.
Tavien Feaster is not slow https://t.co/BDEm0iRr5E

— Tiger Talk (@TigerTalkSUR) October 11, 2016

Despite ranking fifth on the team in carries with 25, Feaster ranks third on the team in rushing with 167 rushing yards and 2 touchdowns.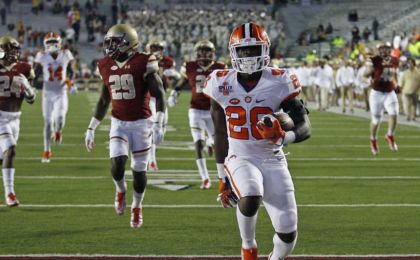 Wayne Gallman is the undoubted starter, as he should be. I am not lobbying for Feaster to uproot Gallman, that would be plain silly. Rather, Feaster should be the back that spells Gallman when he needs a break. With all do respect to C.J. Fuller and Adam Choice, Tavien Feaster is the most talented back behind Wayne Gallman. In fact, Feaster is the only one out of those four who was listed as a true running back coming out of high school. Wayne Gallman was an outside linebacker, C.J. Fuller was a corner back, and Adam Choice was an athlete.
Moving forward, the Tigers ability to run the football will be pivotal. Should the Tigers make it to the ACC Championship and College Football Playoff, they will need to be able to dictate tempo with their ground game. When Wayne Gallman is gassed, Clemson needs a viable back-up, Feaster is that guy. Tavien provides a change of pace with his elite speed.
Giving Feaster an increased role will take pressure off of Deshaun Watson as a runner. The Tigers need Watson to win a national championship, there's no debating that, so it is vital that Watson stay healthy throughout the duration of the season.
I believe that Feaster will continue to see more playing time. Co-Offensive coordinators Jeff Scott and Tony Elliot will find ways to get the speedy freshman the ball in space. Whether it be through screens, or lining him up in the slot.
More from Rubbing the Rock
This article originally appeared on