Tar Heels Football: Takeaways from UNC vs. The Citadel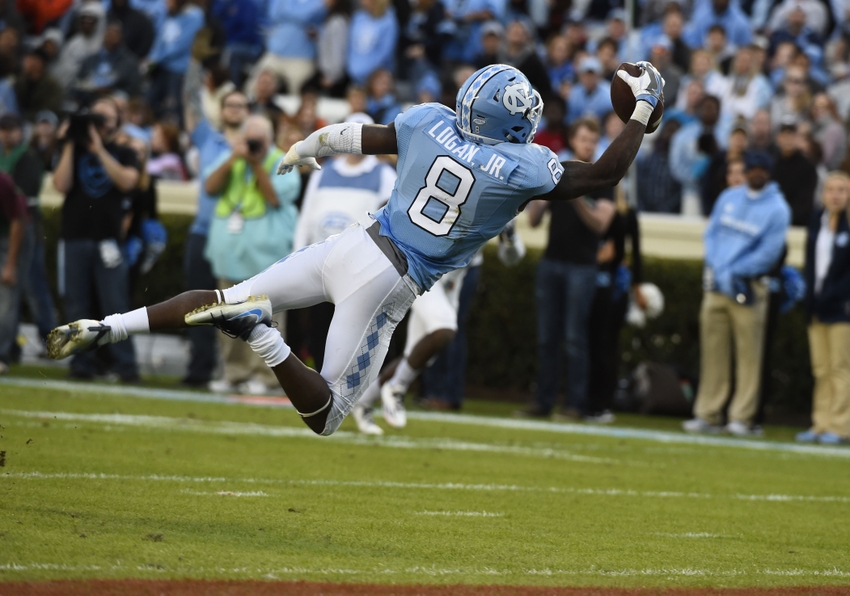 UNC got back on track with a big win over The Citadel on Saturday but now they focus on North Carolina State
The North Carolina Tar Heels (8-3, 4-1) steamrolled the previously undefeated Citadel Bulldogs (10-1, 5-1) 41-7 on this past Saturday.
The Tar Heels were clicking on all cylinders this weekend.
North Carolina finds themselves in a precarious position. They must win their game against N.C. State Friday AND Virginia must defeat Virginia Tech to secure a berth in the ACC Championship.
Before we look too far ahead to the Wolfpack, lets examine several takeaways from this past weekend's game versus the Citadel.
T.J. Logan: A-head of his competition
Although T.J. Logan rushed four times for 23 yards, he managed to impact the game in other ways. Logan returned a kickoff 100 yards for a touchdown. This TD marked the second time Logan won a Carolina fan a car since they predicted that he would run back the kickoff to start the second half.
In addition, UNC's No. 8 caught a 23-yard pass for a touchdown. This catch was one of the most acrobatic receptions of the season.
Logan has been an x-factor for the Tar Heels this season. His versatility will potentially earn him a spot on an NFL roster next season.
One question looms regarding Logan, though. Will he become a wide receiver or slot receiver in the NFL or will he become a kickoff returner or punt returner? All of the above?
The sky is the limit!
UNC's Defense Prevents Terrible History from taking place
Until Saturday, North Carolina was the only team in Division I college football not to record an interception all season long. This past weekend, UNC's defense intervened in a major.
Tar Heels' defensive back Dominique Green returned an interception 58 yards for a touchdown; better known as a "pick-six."
However, UNC's defense allowed 27 passing yards and 344 total rushing yards from the Citadel. UNC won 41-7, so no beating up the defense will take place. The Tar Heels sit at 8-3 awaiting a bowl game and possibly a berth in the ACC Championship.
The defense needs to focus on in-state rival, N.C. State. They need to intervene again and secure a win for UNC.
Nick Weiler: Just kickin' it
UNC's placekicker Nick Weiler has had a superb season. He nailed a game-winning field goal against the Florida State Seminoles over a month ago.
On Saturday, Weiler scored 11 total points consisting of five extra points and two of three field goals.
If Weiler misses the field goal against the Seminoles, then the Tar Heels would not be in the position of possibly earning an ACC Championship berth.
His lone field goal against Pittsburgh kept Carolina's ACC championship hopes alive as well.
Some people underestimate Weiler's significance for the Tar Heels. He is one of their most consistent scorers. When the offense and defense underachieve, he bails them out with a field goal.
His kickoffs are vital to strategically positioning North Carolina's opponents. It is clear that Weiler is more important to the Tar Heels' success that people realize.
As a senior, Weiler will participate in several of his last games as a Tar Heel. Head coach Larry Fedora will have to find someone else to lean on during close games.
Until then, enjoy Weiler while you can. I have a feeling that he will play on Sundays a year from now.
Mitch Trubisky gone after this season?????
These conversations started circling several weeks ago. UNC's junior quarterback has played very well this season.
In fact, Mitch Trubisky has turned a lot of heads. After Marquise Williams graduated last season, nobody outside of UNC's team knew what to expect from Trubisky.
Last season, I heard several people say that they thought that Trubisky was better than Williams. I concur that.
However, I'll add that Trubisky is best-kept secret at quarterback in college football right now. His game is tailor made for the NFL. He can make a variety of throws. In addition, he is a pocket quarterback who has a great deal of mobility.
His performance against the Citadel was mediocre; for him. He completed 11 of 20 passes for 184 yards and three touchdowns.
This season, Trubisky 69.7% of his passes for 3,188 yards with 25 touchdowns and four interceptions. Trubisky ranks fifth nationally in quarterback rating (85.3).
Again, Trubisky gone after this season? Just in case he bolts for the NFL, enjoy some of his 2016 highlights below:
Ryan Switzer: One of UNC's Best Wide Receivers Ever
North Carolina has had a many great wide receivers. Dwight Jones, Quinshad Davis, Octavus Barnes, Sam Aiken, Brandon Tate, Na Brown, Hakeem Nicks, Jesse Holley, Greg Little, Charlie Carr, Art Weiner and many others.
By the end of this season, Ryan Switzer will break UNC's record for most touchdowns by a receiver. Currently, Quinshad Davis holds this record.
Switzer broke Davis' record for most receptions during UNC career (205). Currently, Switzer has 226 receptions and counting. Switzer ranks second in career receiving yards, also. He passed Davis by 37 yards after the game against the Citadel.
Switzer had four receptions for 93 yards and one touchdown. No. 3 sits in fifth all-time in career receiving touchdowns.
You can make a good argument that Switzer is the best wide receiver ever to play at UNC. He will break several records before the end of the season. One thing for sure.
North Carolina will have to find another several players to fill the void that Switzer leaves after graduation in May.
More from Keeping It Heel
This article originally appeared on