Tar Heels Football: Takeaways from UNC vs. Georgia Tech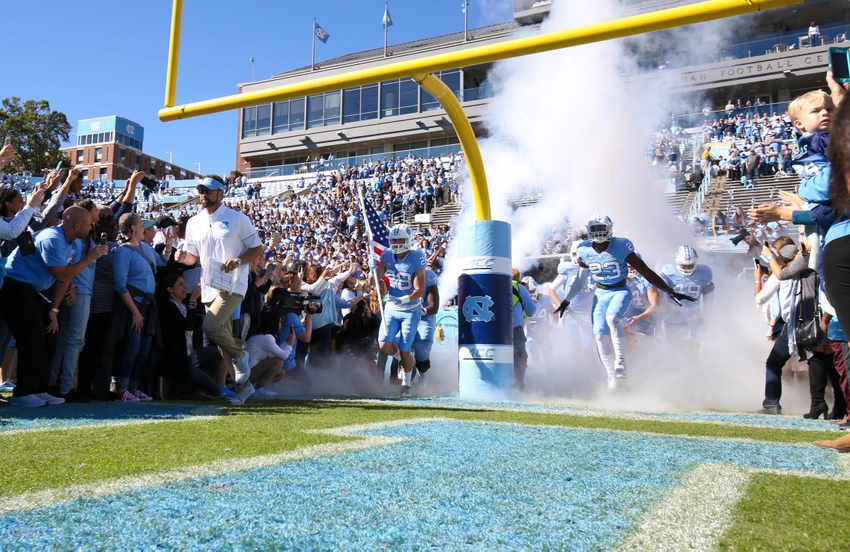 UNC kept it rolling against Georgia Tech, blowing them out by 20-plus points on Saturday. But what did we learn about the Heels in the win?
The University of North Carolina hosted their homecoming festivities this past weekend. The Georgia Tech Yellow Jackets (5-4, 2-4) came to Chapel Hill to face the North Carolina Tar Heels (7-2, 5-1) as part of Homecoming Weekend.
The Tar Heels came away victorious against the Yellow Jackets with their offense in full swing ad looking dangerous.
Then UNC's defense limited Tech's offense to just 20 points. They played very well defensively, despite what the numbers say.
North Carolina won in style with a final score of 48-20. Let's take a look at how UNC took their record to 7-2.
Elijah Hood – Kept it 'hood to the fullest
Elijah Hood has not been his typical self for several games.
Last season, he ran for 1,463 yards; the second-best single season UNC rushing record. This season, Hood leads the Tar Heels with 644 rushing yards.
When UNC faced Georgia Tech, Hood rushed 12 times for 168 yards and three touchdowns. This game marked Hood's first triple touchdown game this season. The last time he scored more than one touchdown in a game was when North Carolina played James Madison on September 17.
The most interesting statistic about Hood from this game was what he did in the first quarter. In this one quarter alone, Hood amassed 114 yards on seven carries along with two touchdowns.
He did his damage early and Georgia Tech could not recover from it.
It is highly unlikely that Hood will break the single-season UNC record for rushing yards this season; let alone his own record that he set in 2015.
Now that Hood has his power running style back, North Carolina's offense has more balance. His running will set up UNC's passing game. When Carolina's offense is clicking on all cylinders, they are difficult to beat.
Checkout Hood's complete stats from UNC's homecoming here:
Bug Howard – Continues to run rampant!
Anyone with one iota of character despises injuries to athletes. The phrase 'addition by subtraction' sounds fitting initially. However, a player like Mack Hollins cannot be replaced. He means a great deal to the North Carolina Tar Heels football team.
Bug Howard has done a spectacular job, stepping up in Hollins' absence.
Safe to say, Bug Howard has been "buggin' out" for several weeks. Against Georgia Tech, Howard caught six passes for 120 yards. His lone touchdown a 68-yard catch, when UNC quarterback Mitch Trubisky faked the defense.
Although North Carolina has three more games, Howard has already surpassed his own single-season records for catches, yards and touchdowns.
Howard is on pace to catch over 60 passes this season. Currently, he has 42 receptions for 658 yards and five touchdowns. His 658 receiving yards ranks fifth in the ACC.
Many people miss Mack Hollins. This is truly an understatement. However, we love witnessing another star come before our eyes. Howard is the new star. Along with Hollins, next year they will play on Sundays for many years to come.
Mitch Trubisky – All he does is win, win win, no matter what!
Mitch Trubisky is the man…next to the man. On Saturday, he completed 20 of 32 passes for 329 yards and one touchdown and rushed six times for 44 yards and one touchdown.
Trubisky completed passes to 11 different receivers on Saturday.
The quarterback has penciled his name in as one of the best quarterbacks in the nation as his stock continues to rise. Despite not getting any love from Heisman Trophy committee, Trubisky has delivered this season.
At the moment, Trubisky has completed 223 of 317 passes (70.3%) for 2,707 yards with 19 touchdowns and two interceptions.
Trubisky ranks second in passing yards in the ACC behind Louisville's Lamar Jackson. With three games left in the regular season, Trubisky has a good chance to lead the ACC in passing yards before Bowl season starts.
His leadership has consistently kept the Tar Heels afloat this season. The sad thing about Carolina's success this season is that they must rely on other teams to help them earn a trip to the ACC Championship.
Trubisky will surely do all he can to get the Tar Heels to the 'big game.'
UNC's coaches – Shot callers to their big ballers!
Recently, the play-calling has been cerebral for the North Carolina Tar Heels. At the beginning of the season, some people complained how Elijah Hood did not get the ball enough against the Georgia Bulldogs.
In the 'Hurricane Matthew' game when North Carolina lost to Virginia Tech 34-3, some people criticized UNC's coaches for not changing their offensive game plan against the Hokies.
For the majority of this season, the Tar Heels have been a passing team. This became their identity while running back Elijah Hood was injured and going through a slump. Last season, UNC was a running team led behind Hood and quarterback Marquise Williams.
Saturday's play-calling was an ideal day for UNC's coaches. The offense was balanced with rushing and passing. There were 35 pass plays and 35 run plays. North Carolina netted a total of 636 yards against Georgia Tech.
The Tar Heels found their mojo at the right time this season. A great deal of credit belongs to the coaching staff. One message to UNC's football coaches: if it isn't broke, then don't fix it. Keep it short and simple. Maintain a balanced offense, which allows all your offensive weapons to be used.
The Virginia Tech loss will haunt the Tar Heels this season!
Virginia Tech beat North Carolina 34-3 on October 8, 2016. This loss to Virginia Tech has been a thorn in UNC's buttocks for weeks. Currently, both teams hold a 7-2 overall record and 5-1 conference record.
Both Virginia Tech and North Carolina sit in the first place in the ACC's Coastal Division.
North Carolina needs for Virginia Tech to lose one of their remaining ACC games. Va. Tech's last three games include home games against Georgia Tech and Virginia and an away game versus Notre Dame. Notre Dame is not an ACC team in football.
This means that UNC's fate remains in the hands of Georgia Tech and Virginia.
UNC's will face Duke (away), the Citadel (home) and N.C. State (home) in their final three games. North Carolina's conference games against Duke and N.C. State will not 'walks in the park.' The Tar Heels will need to bring their 'A game' against these two familiar foes.
North Carolina has to win the rest of their games AND Virginia Tech needs to lose to Ga. Tech of Virginia to play in the ACC Football Championship game.
More from Keeping It Heel
This article originally appeared on