Tar Heels Football: Takeaways from UNC vs. Florida State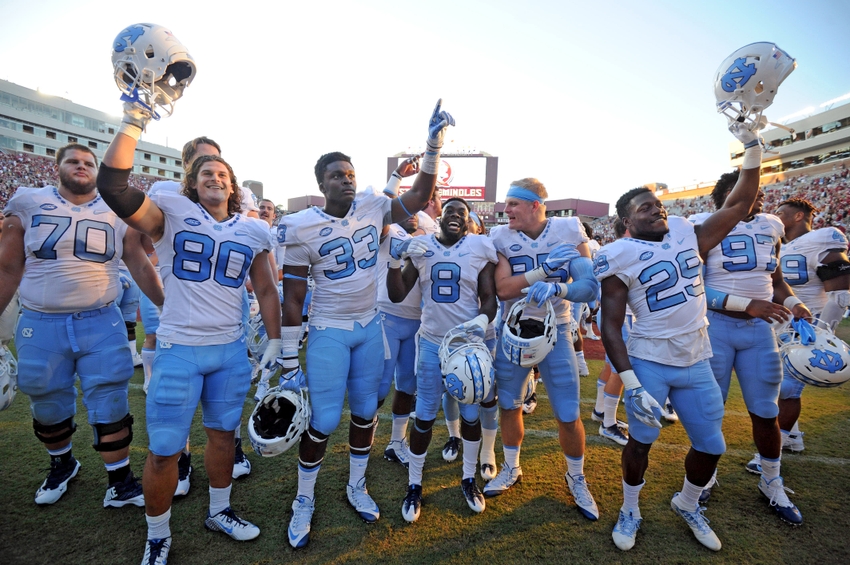 Last weekend, Bug Howard stretched out in the corner of the endzone for a one-handed touchdown pass to seal the victory. This weekend, placekicker Nick Weiler nails a career-best 54-yard field goal to win the game with no time left.
The North Carolina Tar Heels took away from a victory from the Florida State Seminoles in the last seconds of the game on Saturday. North Carolina escaped Tallahassee with a 37-35 win at the end of the game.
Winning in dramatic fashion occurred in two consecutive weeks for North Carolina.
Likewise, the Tar Heels have scored 37 points two straight weeks as they move to 2-0 in conference play.
The odds were against North Carolina to win this game and they beat those odds. Now, let's take a look at how the North Carolina Tar Heels did the impossible and the improbable in the state of Florida.
Nick Weiler = Ice Cold water in his veins!
UNC kicker Nick Weiler is riding high on cloud nine and it's Carolina blue. Weiler nailed a field goal at the end of regulation to win Saturday's game against Florida State.
This took place after his previous extra point was blocked on a UNC touchdown drive.
Moreover, Weiler's winning field goal kick was a career-best 54 yards.
Weiler had reason to choke on this play. He overcame a field goal block and he kicked a field goal from a distance that he had never done in the past.
In addition, Weiler's kick is the second-longest field goal in UNC's history. The longest field goal belongs to Dan Orner, who kicked a 55-yarder against Syracuse in 2002.
On top of having a high-octane offense, North Carolina has a field goal kicker who is clutch when it counts – at the end of the game.
Re-live Nick Weiler's shining moment here:
Mitch Trubisky – One Heckuva Quarterback
UNC quarterback Mitch Trubisky deserves a nickname after his heroics each weekend.
Against Florida State, Trubisky completed 31 of 38 passes for 405 yards, threw for three touchdowns and had zero interceptions. Trubisky also ran for one touchdown.
He fumbled once, but North Carolina recovered the ball.
For the second consecutive week, Trubisky maintained his composure and marched UNC's offense down the field to set up a winning drive for the Tar Heels.
Call me a fanboy if you want, but Trubisky is the truth. Maybe his nickname can derive from his true talent; hence, 'True-Bisky.'
Who knows.
One thing I do know – Trubisky has already written his name in the record books at UNC. Likewise, Trubisky (rather True-Bisky) may arguably be one of the top two quarterbacks in the ACC. This is a bold statement to make, when you consider that Clemson's Deshaun Watson and Louisville's Lamar Jackson are quarterbacks in the ACC as well.
During this season, Trubisky has not thrown an interception to this point. Through five games. Trubisky has recorded 1711 yards, completed 133 of 175 pass attempts and thrown for 13 touchdowns. Trubisky completes 76% of his passes.
T.J. Logan – Saving the Best for Last
UNC tailback T.J. Logan is saving his best highlights for his last season in Chapel Hill. As a senior, Logan has played a significant role in every game this season.
Logan had to should the running responsibilities against Florida State, after fellow UNC running back Elijah Hood left the game due to injury.
The running back finished the game with 10 carries for 77 yards and one touchdown, plus one 22-yard touchdown reception. His two touchdowns against Florida State helped North Carolina secure a 21-0 lead in the first half.
Logan exploded this season, despite being the second on the depth chart at running back behind Hood.
His work ethic and humility illustrate the Carolina Way at it's best. Instead of complaining about playing time, Logan found other ways to contribute to the team (i.e. special teams as a kick returner and thriving as a backup tailback).
Nobody will forget about Elijah Hood. He is the bruising power running back every football team loves. However, T.J. represents the do-it-all running back who can be placed in various positions…that every football loves as well.
As Logan goes, North Carolina goes. Logan is the X-factor for UNC this season.
Can anyone stop Ryan Switzer?
Ummmm, no. Point blank.
Despite not recording a touchdown against Florida State on Saturday, Ryan Switzer caught 14 passes for 158 yards. His longest reception was a 33-yard pass from Mitch Trubisky.
Switzer has become Trubisky's favorite receiver and go-to receiver.
Some players' short height and small body frame put them at a disadvantage on the football field. With Switzer, it works in his favor. Switzer is so quick and precise with his running of routes that defensive backs cannot keep up with him. They are always playing 'catch up.'
In five games this season, Ryan Switzer has caught 47 passes for 587 yards and two touchdowns.
If Switzer continues at his current rate, he may eclipse 100 receptions this season. 
Andre' Smith and Donnie Miles – All over the field
Prior to Saturday's game against Florida State, Andre' Smith and Donnie Miles ranked third and fifth overall in the ACC in tackles.  Andre' Smith has 28 tackles and  Smith had 26 tackles.
Both Smith and Miles had solid games on Saturday. After the win, both players remain in the top five in the ACC in tackles (37 and 36 tackles respectively).
In addition, fellow Tar Heel Cole Holcomb (linebacker) is in the top 10 in the ACC in tackles with 31.
UNC's defense may not be the best; however, they do enough to keep North Carolina in the game. In their defense (literally and figuratively), UNC's defense held Florida State to 14 points until the fourth quarter. In the final quarter, Florida State exploded for 21 points. The Seminoles' time of possession was 34:58 compared to North Carolina's 25:02.
North Carolina's defense played well, based on how long they were on the field. Florida State's three touchdowns in the fourth quarter were a sign of their fatigue.
Smith and Miles headline this defense. UNC has gotten through two of their toughest games with consecutive victories. Kudos to the offense and defense.
More from Keeping It Heel
This article originally appeared on