Tar Heels Football: Takeaways from UNC vs. Duke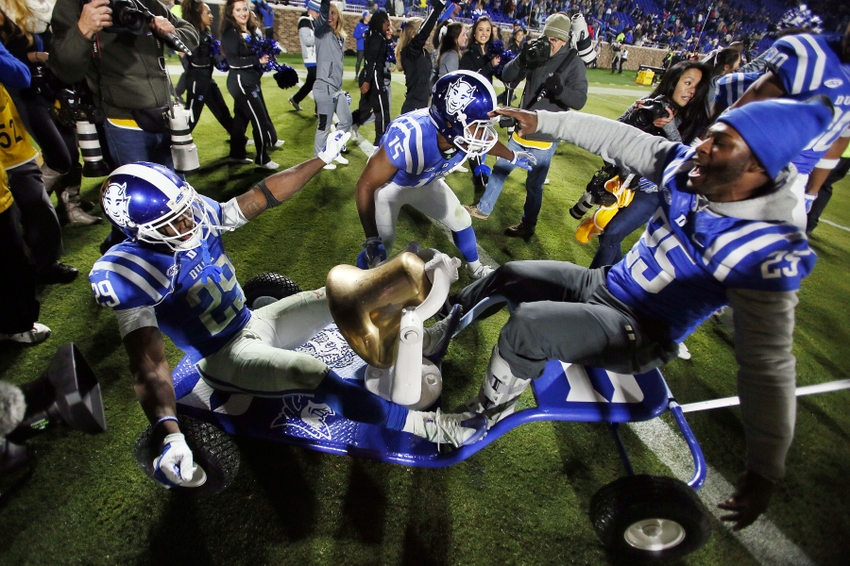 On Thursday night, the Duke Blue Devils defeated the North Carolina Tar Heels, 28-27. In addition to earning their first conference win this season, the Blue Devils re-claimed the Victory Bell.
The Victory Bell is the traveling trophy given to the winner of the annual football game between these two teams.
Let's take a look at several takeaways from Tar Heels' loss to the Blue Devils.
North Carolina Tar Heels played down to their competition
UNC's basketball team has been characterized as playing down to their competition for years. One minute, they look like the best team in the nation.
Another minute, they struggle against a mediocre team.
This is how UNC's football team looked on Thursday night against the Duke Blue Devils. Duke deserves credit, though. They fought hard throughout the game and did not give up.
Duke's record is deceiving.
Although they had no ACC wins entering Thursday night's game, they lost several games that were winnable.
North Carolina could easily be an undefeated team at this juncture in the season. There remains a chance for them to earn a berth in the ACC Championship if they win the rest of their games, in particular the game against N.C. State.
As long as the Tar Heels do not play down to their competition, then everything will be Carolina's favor; as long as Virginia beats Virginia Tech on November 26, 2016.
Elijah Hood expanding his skill set
Elijah Hood is the North Carolina's bruising running back. He runs the ball straight up the gut of defenses; old school smashmouth football at it's finest.
Hood has earned the reputation of being a power style running back.
When UNC played Duke, Hood was more than a power running back. He was an all-around player. He rushed 13 times for 75 yards and caught five receptions for 58 yards.
Although he did not score during this game, UNC's No. 34 led all Tar Heels with carries, rushing yards, catches and receiving yards.
Usually, Ryan Switzer and the rest of the receiving corps lead the team in receptions and receiving yards. The more versatile running back this season has been T.J. Logan, who had a quiet game Thursday. Logan is Carolina's most versatile, though Thursday night it was Hood.
It's difficult determining whether this is a good thing or a bad thing for the Tar Heels. Several games ago, UNC's offensive weapons knew their roles and excelled in them individually.
This made UNC more dangerous and potent on offense.
The Duke game came across as an implosion of sorts. The offense was stagnant in the fourth quarter and on a bigger scale the entire second half.
North Carolina cannot afford to lose their identity at this point in the season. 
Mitch Trubisky gone after this season?
Can you blame him? Mitch Trubisky has come into Chapel Hill and caught everyone off-guard in college football. Here is the irony with the game against Duke. He completed 24 of 33 passes for 297 yards with three touchdowns and two interceptions.
These stats are great for most quarterbacks whereas this is a bad game for Trubisky.
Trubisky's stock will be very high for the 2016 NFL Draft. This season, he has completed 247 of 350 passes for 3,004 yards with 22 touchdowns and four interceptions.
Louisville's Lamar Jackson and Clemson's Deshaun Watson are the top two quarterbacks in college football. Trubisky is a close third, though he excels the other two quarterbacks in some areas.
The loss to Duke does not belong to Trubisky individually. The offensive weapons did not make plays. Carolina's defense was not aggressive, either.
In a perfect world, Trubisky comes back for his senior season. However, no one can deny this young man's level of talent.
In one season as a starter, Trubisky is one of UNC's best quarterbacks ever. He could possibly be their best; that is, if he stays for another season.
It would be hard giving him this coveted title while only being a starter for one season, even if he was worthy of the honor.
North Carolina's high-powered offense lost it's swagger
All season long, the North Carolina Tar Heels have dominated the majority of their opponents with the exception of Georgia and Virginia Tech. Mitch Trubisky came into this game with 19 touchdowns and two interceptions. Ryan Switzer was ranked second in the ACC in receiving yards. A couple of Tar Heels on defense were ranked in the ACC's top five in total tackles.
North Carolina excelled in all facets of the game this season until recently. The offense looks like they are burned out. Although Trubisky threw for three touchdowns and nearly 300 yards against Duke, this was not enough to win the game. Trubisky started off the game going 12 of 15 for 200 yards and three touchdowns. He ended the game going 12 of 18 for 97 yards and no touchdowns.
The Tar Heels' offense has too much talent to struggle to score touchdowns. UNC gained only two first downs in the second half against the Blue Devils.
North Carolina's problem on Thursday was the offense not scoring enough. In the fourth quarter, both defenses held the other school scoreless.
North Carolina must lean more on Elijah Hood, for starters. He should have at least 20 carries per game. Last season, North Carolina peaked mainly because Hood's running opened up the offense for everyone else.
This season, UNC has depended more on their passing game rather than their running game. As a result, the Tar Heels have lost games they should have won whereas they have the same team as last year on offense with the addition of a better quarterback.
Tar Heels' defense sings the Carolina blues
Stopping opposing running backs has been the Achilles Heel for the Tar Heels all season long. UNC's defense gave up 467 total yards to the Blue Devils. 227 of these yards were on the ground. 240 yards were through the air.
Three of Duke's touchdowns were rushing touchdowns. Duke's quarterback Daniel Jones and running back Shaun Wilson ripped the Tar Heels' defense for 201 yards collectively.
North Carolina cannot afford to allow opposing teams to run all over them. Their title hopes rest on the defense's ability to shut down the run.
North Carolina has two games remaining on their regular season schedule. Winning the ACC's Coastal Division is within reach.
More from Keeping It Heel
This article originally appeared on