Tar Heels avoid upset at the hands of James Madison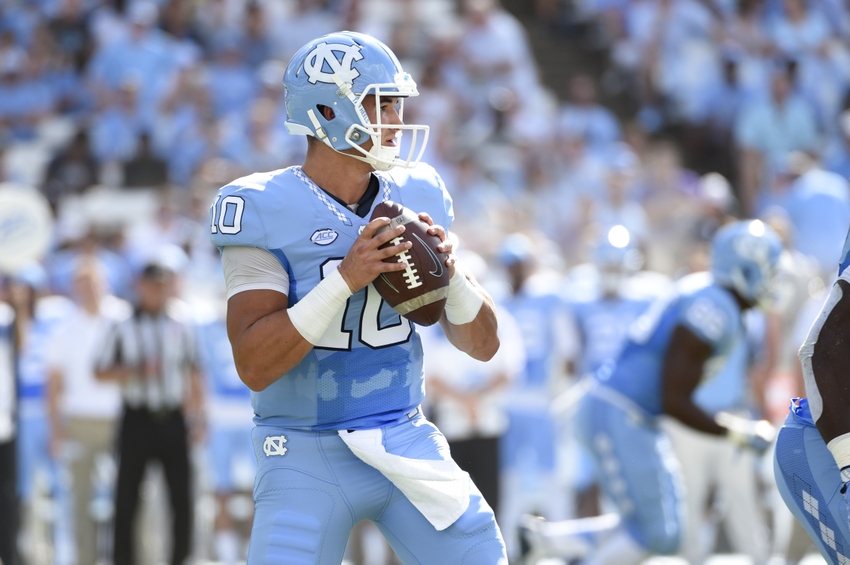 It wasn't pretty at first, but UNC turned it around and routed the Dukes
Whew.
The James Madison Dukes came out and flexed their muscles on the first three drives of Saturday's game against the North Carolina Tar Heels.
The Dukes scored touchdowns on those drives, including a 9-play, 82 yard opening drive in which running back Khalid Abdullah found the end zone.  UNC seemingly had no answer for the Dukes in the first quarter, trailing 21-14.
Then UNC's defense stepped up en-route to a 56-28 win.
After the Tar Heels tied the game at 21 on a Elijah Hood touchdown run, the momentum shifted towards Carolina. The Tar Heels then rallied off 21-straight points to grab a 42-21 lead.
The highlight of those 21 points came on a 71 yard touchdown pass from Mitch Trubisky to Mack Hollins. The two connected on the deep ball, something that will get Tar Heels fans excited after Trubisky missed two deep balls against Georgia in week one.
Trubisky finished with 458 yards of total offense, including 432 yards passing in the game. He went 24-of-27 passing, building off an impressive performance against Illinois in week two.
The Tar Heels scored touchdowns on all five of their first half drives, matching James Madison on the first three.
Their two-headed monster in the backfield also had a very productive day.
Running back T.J. Logan had another spectacular game, finishing with 41 yards rushing and three touchdowns. He also had two receptions for 44 yards.
Fellow running back Elijah Hood rushed for 106 yards on 18 carries and had 3 touchdowns.
Still some concerns
Yes, the Tar Heels got the win and took care of an FCS team like they were supposed to but there are still some concerns.
The run defense struggled, again. They were missing Tomon Fox and Nazair Jones on the defensive line, but they were gashed all game long.
James Madison running backs Abdullah and Cardon Johnson combined for 188 yards rushing and two touchdowns. At times, they made it look easy.
UNC is heading into ACC play starting with Pittsburgh in week four and the Panthers have running back James Conner who can change a game at any time. Heading into the conference part of the schedule, UNC has to play a lot better defensively.
We will see on Saturday the 24th.
Along with the run defense struggling again, the Tar Heels also committed way too many penalties. They had five unsportsmanlike conduct penalties, something that will certainly irritate head coach Larry Fedora.
Committing dumb penalties like that is unacceptable and shows an undisciplined team. The Dukes didn't take advantage, but make mistakes like that against the ACC and you will pay.
It's time to clean those up and make smarter plays.
Check back for more postgame coverage of the Tar Heels win over the Dukes.
More from Keeping It Heel
This article originally appeared on