Syracuse Football: Week 5 Promises to be Entertaining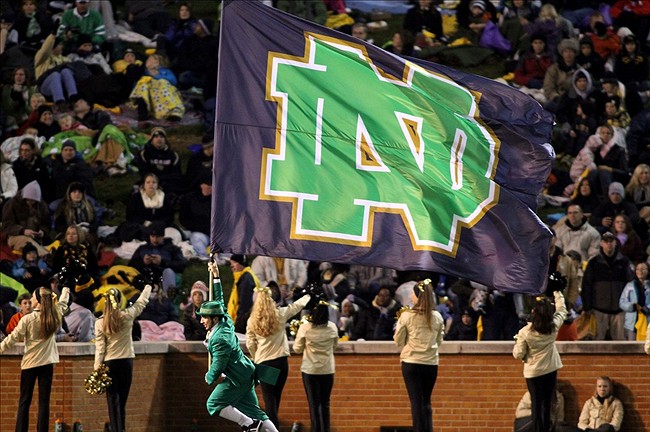 The Syracuse football team opened up as a 13-point underdog against Notre Dame. With both teams excelling offensively, this should be entertaining.
Hold on to your seats. This has all the makings of being a wild one in front of a national television audience. Week 5 of the Syracuse football season features the Orange and Notre Dame at MetLife stadium, a battle of two high-powered offenses.
"We're looking at a 48-45 possible final score," Ang Di Carlo, who's a sports director at WNDU-TV, told ESPN Radio Syracuse. "I don't know what the over is on the Vegas line, but I bet you that thing is in the 80s."
Coming into this affair, Syracuse football ranks 16th in the country in total yards (1,986) and have scored 112 points (68th in CFB). Meanwhile, Notre Dame is 31st in total yards (1,823) and 43rd in points per game (37.3). So I'll say what you're thinking: this is going to be so much fun.
But the reason you'd feel that strongly — and the general consensus seems to be "this will be a shootout" — is because both defenses leave much to be desired. In the last three games, the Orange have surrendered 43.6 points per contest…yikes.
More from Inside the Loud House
Injuries haven't made life any easier coming into the season. Yes, it was the defense that helped the Orange beat UConn this past weekend. But the narrative of the 2016 Syracuse football season was that of "winning in spite of the defense's ineptitude."
And the Fighting Irish's defense has brought plastic knives to gunfights all season and led to defensive coordinator Brian VanGorder being given a pink-slip. Through four games, this team has given up more points than any other in program history (134).
It appears there's a large degree of dissonance that exists with the failed expectations through 1/3 of the season. The Fighting Irish's disappointing 1-3 record has knocked them out of the Top-25 rankings. Now, the program has elected to go in a different direction, at least defensively. But head coach Brian Kelly isn't circumventing the criticism.
"I'm 1-3 as a head coach," he said in his weekly presser.
On the other hand, Syracuse comes in fresh off a "huge" victory over the Huskies that improved its record to 2-2. With this win, you could argue a .500 record and a bowl game are realistically attainable. But ultimately Syracuse will likely be a team that is interesting but won't win a lot of games.
So there you have it. These aren't two teams that are in the national championship conversation, but offense fills seats. And it also draws eyeballs to TVs. This weekend should be incredibly entertaining between Syracuse and Notre Dame.
This article originally appeared on