Syracuse Football: Their Season Is Officially Cooked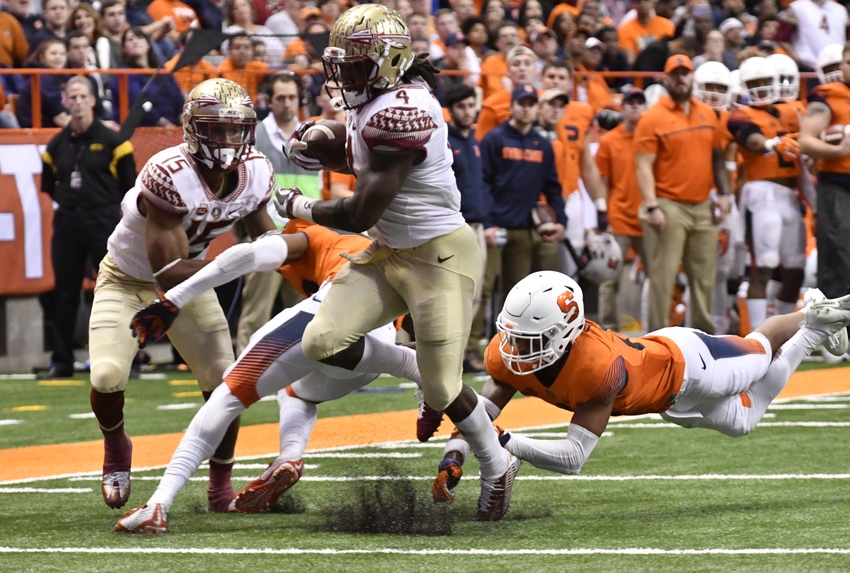 The Syracuse football team had slim hopes of making a bowl game prior to Saturday's game against Florida State. After their loss, their season is officially cooked.
The Syracuse football team built a lot of excitement up during the offseason with the splashy signing of new head coach Dino Babers. Despite Orange being the new fast, it hasn't been enough this season.
It sure wasn't enough Saturday against perennial power-house, Florida State, who came in on a mission. Specifically a guy we talked up throughout our pregame coverage was Dalvin Cook and he came to play Saturday.
Dalvin Cook rushes for his 44th career Rush TD, tying Greg Allen (1981-84) for the most career Rush TD in school history in win vs Syracuse. pic.twitter.com/pieKlGVjZO

— SportsCenter (@SportsCenter) November 20, 2016
On Saturday he became the Seminoles' all-time leading rusher and he pounded the Orange defense all day long. While on offense for the Orange, they just haven't been able to run the football all season long.
The Orange have run for less than 70 yards combined over the last two weeks and if the Orange
More from Inside the Loud House
are ever going to turn things around, they'll find a running game. Also beyond the field, we have to give a huge congratulations to all the Seniors who put it on the line for Syracuse throughout their careers.
Regardless of how long their Orange careers were, they all played a huge role. Specifically Amba Etta-Tawo who will forever be remembered in Orange lore. He came in and shattered long-standing records, excited the fan-base, and will continue the Orange success in the NFL.
Etta-Tawo was invited to the Reeses' Senior Bowl a couple weeks ago and will most likely be involved in the annual NFL Scouting Combine. Back to the football field for a moment.
The Orange only have one game left on their plate, a road affair against the Pittsburgh Panthers. Syracuse historically speaking has had trouble in Pitt over the years. We'll see if Babers can send these Seniors out on a good note next Saturday afternoon.
This article originally appeared on