Syracuse Football: Should Eric Dungey Retire?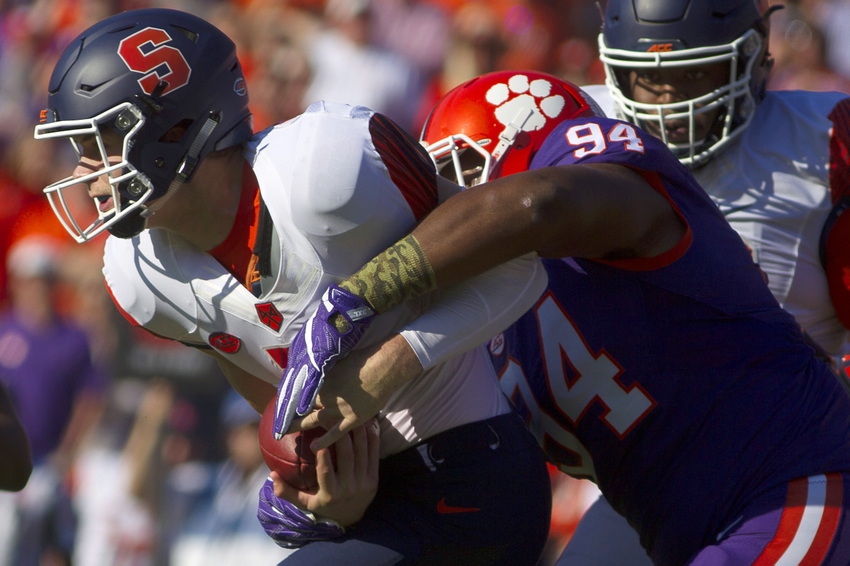 With the latest setback for Syracuse football star quarterback Eric Dungey, is it time to consider retirement? It may seem rash, but it may be time.
After the Syracuse football team lost their second straight game, head coach Dino Babers spoke with the media. In that presser, he revealed the unlikelihood of Eric Dungey suiting up next week against Florida State.
Syracuse HC Dino Babers said it's "probably doubtful" QB Eric Dungey will play next week "based off traditions."

— Stephen Bailey (@Stephen_Bailey1) November 12, 2016
Syracuse Football: Should Eric Dungey Retire?
Hold on, hold on I'll get there but first let me tell you a little about myself.  I love football, now you hear that quite a bit but let me put that in perspective.  I'll watch any brand of football, anytime, anywhere.  I'm probably the only person you know that loved the USFL, XFL, NFL Europe and Arena football.
From August until February our house goes into lock down to watch football on Mondays, Thursdays, Saturdays and Sundays.  And forget about as ESPN calls the Bowl season as the most wonderful time of the year when football is on everyday of the week for three weeks.  We all have played high school football, played in the backyard while we divide up the Esden Clan and play each other for hours on end (girls and boys).  Football, football, football.
A little about my family, my son the leader of Inside the Loud House.  In high school, he weighed
More from Inside the Loud House
140 pounds that is with a ten pound weight in each hand.  He played high school football for three years.  The last two years he played he was presented the 'Tough as Nails Award' by his coaches for the toughest player on the team.  He would go to practice every day and lineup against someone who outweighed him by 50 to 100 pounds.
Yes I was concerned for him and tremendously proud of him.  The time he received a concussion I was worried for him and not sure he should keep playing.  We had to hold him back from practice for his own good.  Every day he would say I'm ok I'm ready to play.  Finally he was cleared to play.  This was not an easy decision as a parent but he was fiercely determined to play and I knew it would crush him to not play.  So we let him.
I have not and probably will not see the movie Concussion not because I don't like Will Smith (he is one of my favorite actors) but because you don't have to be a forensic pathologist to know that repeated hits to the head (helmet or not) aren't good for long term health.
Frankly wearing a helmet in my opinion makes it worse.  How so you say?  Essentially now that we've made the head a weapon used frequently to spear an opponent.  So who gets concussions?  The lineman who spend every play hitting each other helmet to helmet locked in battle?  Or the running backs and quarterbacks who get hit less.
We already know the answer and why is that?  Well there is a reason that there are weight classes in boxing or MMA.  The running backs and QBs weigh on average 80 to 100 pounds less than the defensive lineman or linebacker that tackles them.  To put that in perspective Dana White won't let fighters that don't make weight, even by a few pounds, fight in the UFC.
Now on to my front runner for the Heisman #Dungey4Heisman.  I have met Eric, he is a bright, energetic, intelligent young man who is going to be successful in whatever endeavor he selects in the future. But similar to Rocky Balboa he just doesn't know when to go down, slide, run out of bounds, or anything!  And good old faithful Mickey (Baber and Shafer before him) just lets him keep going.  As a coach you have the responsibility to teach him to slide or stop calling the read option or in other words protect him.
So back to the beginning should Dungey retire?  I think back to my son earnestly asking me to return to practice.  When you are young you are fearless and feel indestructible.  This is when the family, doctors and coaching staff need to step in and help make the right decision with Eric's long term health in mind.  I don't know if he should retire.  I just hope the risk is fully evaluated and if he does return I hope he slides.  #Dungey4Heisman.
This article originally appeared on