Syracuse Football: Eric Dungey has already surpassed last season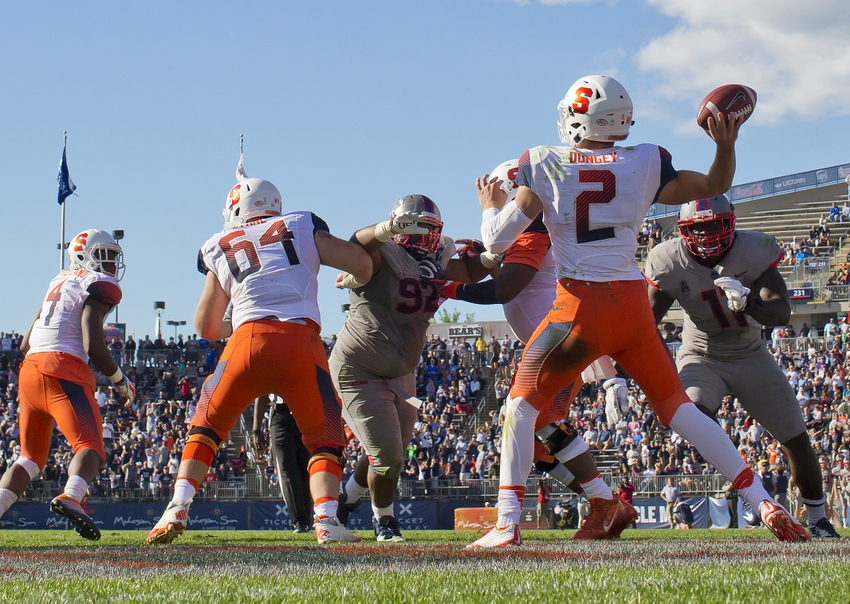 Syracuse football star, Eric Dungey, has been electric in this Dino Babers offense. So much so that he has already surpassed last season's statistics.
When the Syracuse football team decided to hire Dino Babers he promised a lot of things. One of those things is offensive fire power.
The main beneficiary outside of Amba Etta-Tawo has been the quarterback, Eric Dungey. Last season he suffered multiple concussions and was unable to finish the season.
In a shortened season he ended up with 1,298 yards passing with 11 scores through the air. This season he has already surpassed that total in half the amount of games.
While he still has some work to do to pass his touchdown totals from last season, he is well on his way. He had 16 total touchdowns last season and he's already 73% of the way there.
In Syracuse football fans minds there's an elite few amount of quarterbacks who they think of. Donovan McNabb, Don McPherson, and Ryan Nassib and by the end of it Dungey could trump them all statistically.
All of the previously mentioned quarterbacks hold most if not all the significant single season and career passing records. Although a great example of a system is Nassib's numbers.
He was in a spread attack and that benefitted him greatly by padding his numbers. It's only a matter of time before Dungey holds all those figures.
The only thing that can stop Dungey is the next "big thing" and that's supposed to be Tommy DeVito. One of the highest rated quarterbacks the Orange have had in a very long time.
DeVito has commited and should be on the roster next season, if everything goes according to plan. Dungey still has two years of eligibility left after this season.
Well I guess the other thing that could stop Dungey that has to be mentioned is himself. We mentioned the concussion conversation earlier and that derailed his previous season.
So far, so good for Dungey in 2016. We talked about Babers offense putting Dungey in precarious positions when we analyzed the trick play from a couple weeks ago.
More from Inside the Loud House
This article originally appeared on