Syracuse Football: Dino Babers Remains Silent On Key Issues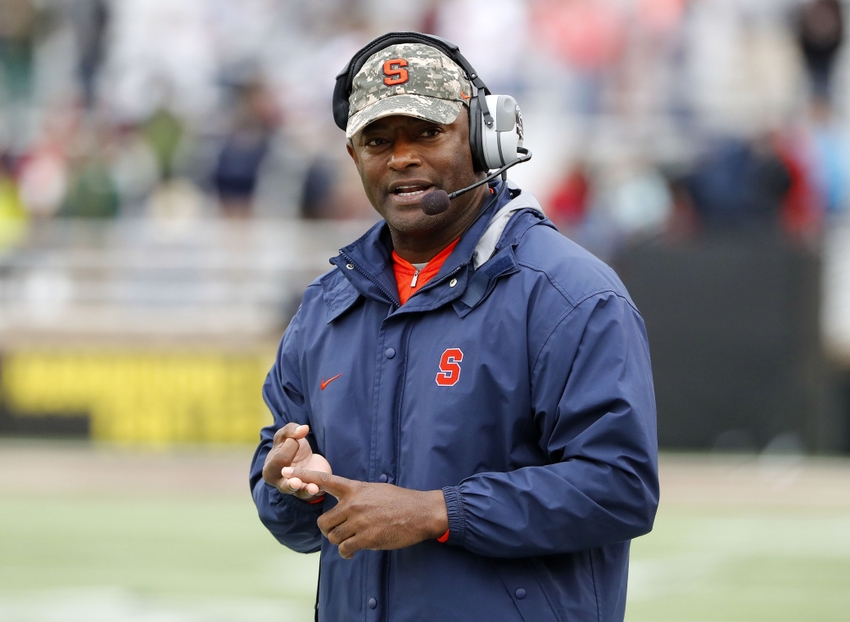 Syracuse football head coach Dino Babers had a lot of interesting things to say at his weekly press conference. But it'll be more remembered for what he didn't say.
Last week the Syracuse football team got their doors blown off by the undefeated Clemson Tigers. Despite that head coach Dino Babers remained upbeat about the season.
Saying that, "I think that all three of our last games are winnable because of who we're playing and where we're playing them."
While positivity can often be infectious, there's a huge elephant in the room that continues to be ignored. That's the current health status of Eric Dungey.
To open his weekly press conference that we'll reference throughout this piece, he made a statement on Dungey.
"I'm going to tell you guys right now about the injuries. Bris, Moe Neal, Eric, Davon; I have not gotten notices back on all of them yet. Some of them are still going through medical things to clear or not clear them."
So a few things, while I get the gamesmanship aspect of not revealing Dungey's health heading into a tilt against NC State. The problem I have with the coach is that later in this presser he says that he never saw any of the previous hits on Dungey from last season.
Immediately following the Clemson game he was asked about Dungey's concussion history and Babers said he wasn't worried about it. When given an opportunity to clarify he rejected that chance and countered by saying they don't know what injury he has.
I call bull-crap. Babers knows exactly what injury Dungey is going through and revealing that information in no-way is going to help the Wolfpack prepare for Saturday. Plus I'm sure NC State along with the fans and media in Syracuse already rightfully assumed that Dungey was concussed in Death Valley.
There's this policy that is supposed to be a three-strike rule when it comes to concussions.
More from Inside the Loud House
Apparently that is a case-by-case basis and that is frightening. Dungey gets the benefit of the doubt because he's talented and he's the starting quarterback.
Dungey's career could be over and yet this continues to get brushed under the rug. But that's nothing new and it seems unlikely that Dungey will suit up for Saturday.
Although it seemed like a foregone conclusion that Zack Mahoney was the second string quarterback and therefore would be the starter if needed. But when that opportunity presented itself the Orange opted to go for Austin Wilson.
A puzzling decision and coach Babers applauded both men and said they'll make a decision later this week who they'll play when and if the time comes.
Head coach Dino Babers also spoke about the last part of the season in his weekly press conference with the media.
"Two out of our last three games are at home. I mean we couldn't ask for a better schedule to try to get to a bowl game that we haven't been too in a long time. We got to take them one at a time, but to have an opportunity to do that in front of our home fans. I think we wouldn't have wanted it any other way."
In closure there are two ways you can look at the remaining part of the schedule for Syracuse. The facts are, that this team has to win two of their final three to reach bowl eligibility.
The cumulative record of their final three opponents is (15-12) and they're against pretty stiff competition. On the positive side, this team is playing two of those opponents in the friendly confines of the Carrier Dome.
Momentum is a funny thing in college football. At times this season it seemed all but over and at other times we thought bowl eligibility would be clinched. Now it's all on the line for this team and they have a very slim margin for error.
This article originally appeared on