Syracuse Football can't overcome deficiencies with average play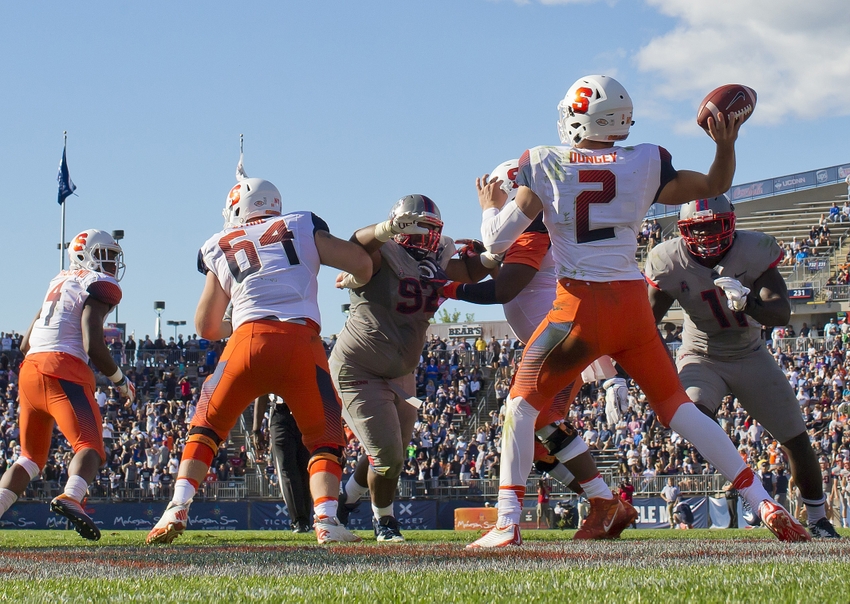 If the Syracuse football team wants to win on Saturday or at all the rest of this season, they can't afford playing average.
This may seem obvious to Syracuse football fans and analysts alike, but it's the truth. This team is 2-4 through the first half of this season and they've looked every bit the part. While they've provided a few relative scares to some powerhouses, they haven't really threatened on a serious level.
Why is that? Well head coach Dino Babers addressed it earlier this week pretty bluntly during his press conference.
"We have some really good players and the thing that we have to do is make sure our really good players always play really good. We don't have enough good players, where our good players can't play good. Now we have some fantastic role players and they're doing a nice job in their role. If they want to increase their role, they need to become better. So they can become one of those go to players."
Coach Babers went on to reference the Wake Forest game last week as a prime example. Too many of SU's players played average and they aren't good enough to overcome that quotient.
It was also humbling to see coach Babers talk about the same standard for coaches. He said that he doesn't consider himself or any of his coaches average, but when they make bad decisions they can't overcome that. Game management could be an example?
This was a conversation that came up when we talked to Chris Coleman from TechSidelines.com. You can check out our interview right here and it's featured on our homepage. We also talked to him on ESPN Radio in Syracuse on Wednesday on Bud and the Manchild.
We talked about how Syracuse could possibly win this game against Virginia Tech on Saturday. He said, "to be honest Syracuse would have to play their A game and the Hokies would have to play their C game for the Orange to have a chance."
I think Chris is right and he reiterated the same points coach Babers did. This team isn't good enough in any phase to overcome average play. While we haven't seen an A game yet from the Orange, it doesn't mean it won't happen.
The only way the Orange can win is if they get some fluky plays. Maybe a special teams touchdown or a tipped ball. Again this is college football so anything is possible and it could salvage SU's season. This may still end up as a 3-9 or 4-8 season, but if they can get a skin it could make it all worth it. We've had this conversation before on this site about which season you'd rather have.
Shockingly people preferred a bowl game over a skin victory. While bowls are nice, they're more conversational pieces. To me, big boy wins count more on the recruiting trail than going to a generic dot com bowl. What do you think? Share your thoughts in the comments below.
More from Inside the Loud House
This article originally appeared on