Syracuse Football: Amba Etta-Tawo is making history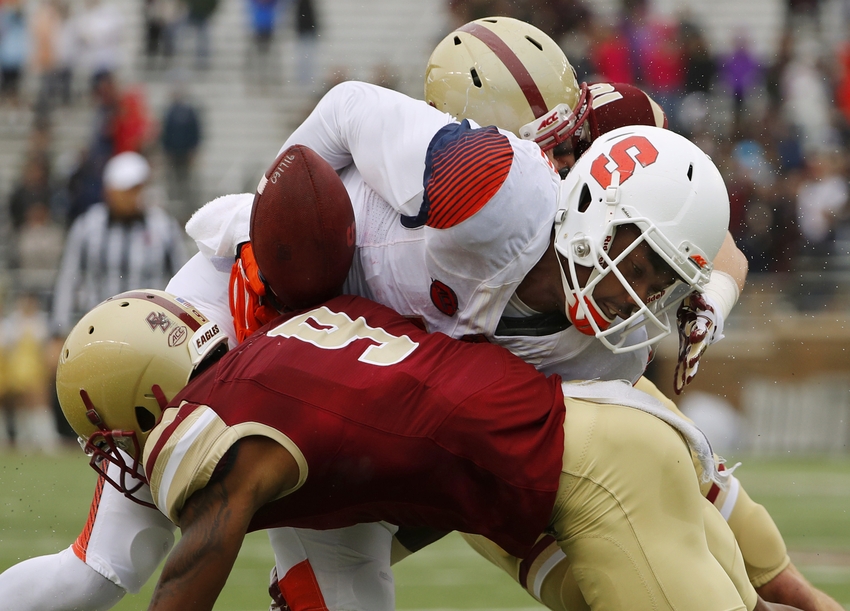 The Syracuse football team got a much needed win on the road against BC. While the star of the game was none other than Amba Etta-Tawo.
Read this carefully: Amba Etta-Tawo is the best receiver in college football. The Syracuse football team got an absolute steal with the college transfer rule.
Jim Boeheim is waiting in the wings for Syracuse basketball to start and he can only hope his transfers are half the player Etta-Tawo is. It's not a fluke and he isn't a product of the system. While I will acknowledge that certainly with this offense he gets plenty of opportunities.
But he's taking advantage of them and he had the game winner in Week 8 with a one-handed 64 yard catch and run to win the game.
Which now gives him 1,074 yards on the season with four games to go. Which puts him at second place all-time behind Pro Football Hall of Famer Marvin Harrison. To put him past Harrison he's going to need less than 60 yards to accomplish the feat.
We spoke about the grad-transfer rule earlier. While this was an amazing get for Syracuse this season, unfortunately this ride will only last one season. Which means more likely than not Etta-Tawo will have his eyes set on the NFL Draft.
According to Syracuse dot com football reporter, Stephen Bailey, the feeling may be mutual.
Seats reserved in the press box for scouts from the Detroit Lions and Washington Redskins

— Stephen Bailey (@Stephen_Bailey1) October 22, 2016
NFL scouts will certainly have their reservations with Etta-Tawo. He has been a bit of a one-year wonder in this offense. He has never shown any of this potential at his previous stop in Maryland. But his physical characteristics will be hard to ignore. He's got great hands, tremendous speed, and phenomenal size for the position.
It's not surprising that NFL scouts are flocking by the herds to see him in person. Look for Etta-Tawo to get invited to the annual NFL Scouting Combine. Right now he projects as a late round flier, but possesses a very high ceiling if he can have a great combine.
More from Inside the Loud House
This article originally appeared on