Syracuse Football: A 5 question sit down with the enemy (Florida State)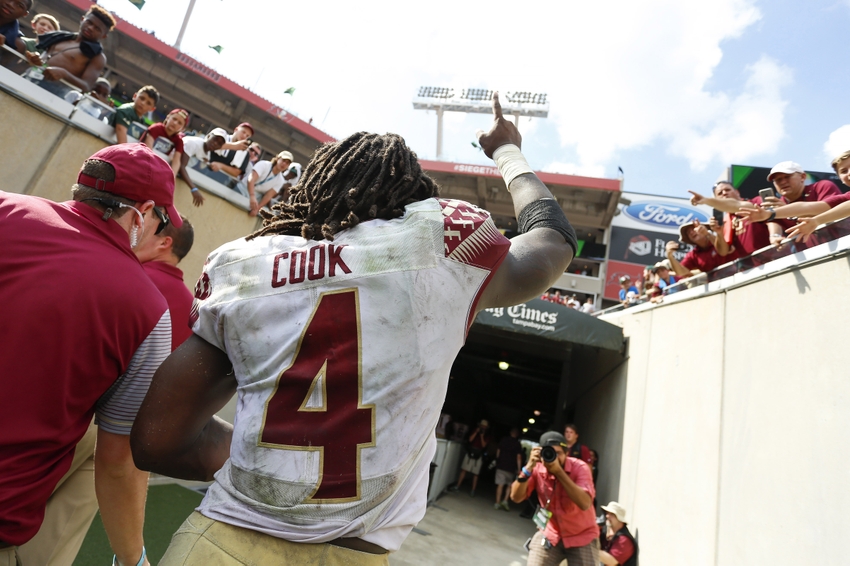 The Syracuse football team is faced with an improbable task of winning out to keep their bowl hopes alive. We sit down with the Chop Chat crew for a breakdown of this game on Saturday.
Every week we do our weekly sit-down with a representative from the opponent. This week we return to the Carrier Dome for the final time this season.
For the first time we speak with two site co-experts and get both of their opinions on this game. Kelvin Hunt (@khchopchat) and Jason Parker (@jpchopchat) share their thoughts on all things Seminole and Orange.
Make sure you give their page a follow (@ChopChat_) and give both of them follows (@jpchopchat) (@khchopchat) for all the latest with Florida State!
So with that being said, lets get right to it. Here's our special weekly sit-down with the enemy segment, lets start the interrogation!
Paul A. Esden Jr: Hey guys, I want to start off with this. Florida State for some reason has started off slow all year long. Going into the BC game, against seven division one opponents, the Seminoles only scored nine points in the first quarter combined in the first seven games of the season. What's the issue?

Jason (@jpchopchat): Some of the credit has to go to the defenses that FSU has played,

More from Inside the Loud House

including teams like Louisville, Miami, and even BC last week being ranked 14th nationally. Starting off slow has been the MO for the Seminoles over much of the last three seasons. The easy answer would be that it takes them a little while to get adjusted to their opponent, but there really is no one answer.
Kelvin (@khchopchat): Man, if I knew the answer to that question…I would be a rich man because all of #Nolenation would probably pay big money to fix this issue. Ultimately, I think it seems to have begun in 2014 with Jameis and all those heroic comebacks to remain undefeated and make the inaugural playoffs. For some reason, they have become comfortable getting behind and trying to roar back for the win.
Paul A. Esden Jr: The face of the franchise so to speak is Dalvin Cook. He's arguably the best back in all of college, but what makes this guy so special? And how good can this guy be at the next level?
Jason (@jpchopchat): Imagine the vision and speed of Warrick Dunn with the strength of a semi truck. That would be Dalvin Cook in a nut shell. Now that he is 100% healthy for an entire season, Cook has been able to show that 2015 wasn't a fluke and he's one of the best. As for the next level, he has the potential to have a long solid career in the pros. it's hard to compare playing against Wake to playing against the Patriots, but his work ethic and talent should keep him in the NFL for a while.

Kelvin (@khchopchat): I do think Dalvin is the best back in college football. Anytime you have a player that can take it to the house on any given play…he's special. Cook is criminally underrated for his ability to break tackles and get extra yards. He's speed/burst is elite. As far as the next level? It'll depend on the team, but if gets on a team with a decent o-line and quarterback play…he's going to be a problem and should play for a while barring injuries.

Paul A. Esden Jr: Your quarterback, Deondre Francois, is often being compared to Jameis Winston and has shown a lot of promise this season. Is the comparison fair?

Jason (@jpchopchat): Jameis used his legs as an added bonus to having a rocket arm. Deondre is having to run the ball more out of the fact that he has no offensive line to keep a pocket around him. That would be the only reason why the comparison might not quite be fair at this point, but check back in another year.
Kelvin (@khchopchat): No, the comparison's are not fair at all. Two completely different players. Jameis was a much more polished passer as a RS Frosh. He threw players open instead of waiting for players to get open and then throw. What I love about Francois is he has done a better job of not turning the ball over than Jameis. Then again, he's not the risk taker that Jameis was either. I love the progression of Francois and think he'll be a excellent college QB, but he'll never be a No. 1 overall draft pick.  

Paul A. Esden Jr: This SU team is battered and bruised and is coming into this game with a noticeable limp in their step. With that being said, does anything about this game make you nervous in anyway? And give us the blue print, what would it take for Orange to get the improbable win?
Jason (@jpchopchat): Any game has FSU fans worried considering the 'noles like to mess around and not play up to their potential. Also the fact that it's the game before a huge rivalry showdown with Florida and one of just three games outside of Florida this regular season also has some concerned. If Syracuse is going to win, they need to believe they can do it. If the defense can play their best game and rattle Francois and keep cook under 100 yards, they have a legit shot.

Kelvin (@khchopchat): No, not really…especially with Dungey out. Now, if he was healthy and the FSU defense from the first five games showed up? Different story. Ultimately, the 'Noles are too talented. It would take multiple turnovers by the FSU offense and probably a big special teams play for Syracuse to pull the upset. 

Paul A. Esden Jr: While the Seminoles aren't having their normal success this season, they're still a powerhouse how do you see this game playing out?
Jason (@jpchopchat): Again, I can see Syracuse keeping it close in the first half as they are playing for bowl eligibility – maybe  17-10 game at the half. Ultimately, I think FSU has too much talent at this point and Syracuse is too battered to play a complete game. Final score 37-17 FSU.

Kelvin (@khchopchat): I hope the 'Noles that showed up against Boston College travel to Cuse. If so, I think FSU wins this one pretty handily. Syracuse's offense is better than Boston College…but Boston College's defense is way better than Syracuse. I think Dalvin Cook and the wide receivers have a big day on offense. I'm not sure they cover the 3 TD spread with Florida on deck…but they should win this one comfortably.

This article originally appeared on