Syracuse Football: 3 Takeaways from loss to Louisville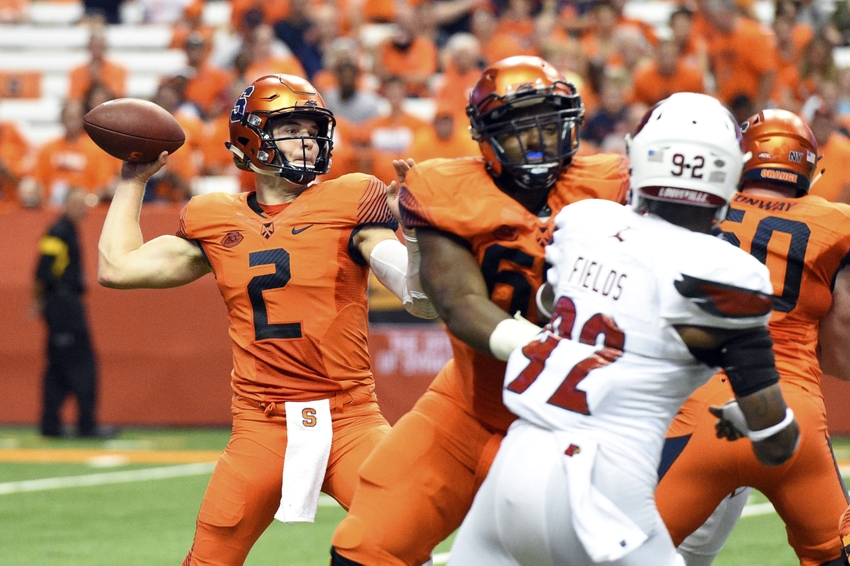 The Syracuse Orange didn't quite match the feat of beating a ranked Louisville team as they did in 2012, but we did learn a few things during this year's contest.

28

62
Syracuse football fans at the Carrier Dome weren't treated to quite the game they'd hoped for (unless they just love tons of scoring on both sides), as No. 13 Louisville (2-0, 1-1 ACC) went on to run past the Orange (1-1, 0-1 ACC) by an ugly 62-28 score on a muggy night inside the dome.
The Orange were hyped up to welcome a ranked team into their home stadium, but it didn't take long for that hype to turn into fright, as Louisville jumped out to an early 28-7 lead in the first quarter. But when some Syracuse teams of recent years may have rolled over, the Dino Babers version of the Orange were not going to quit.
Syracuse made a game of it – for a while – but eventually the wealth of offensive weapons possessed by the Cardinals and the dearth of defense from the Orange took control of the game.
Despite a disappointing loss, there are some bright spots (and some issues) to be taken away from this game. Here are the three biggest takeaways from Syracuse's week two action at home.
Syracuse Offense is Ahead of Schedule, But Defense Needs Help
So things aren't all bad. There were definite signs that this team has not only improved, but is probably ahead of where many thought they'd be.
Louisville vs Syracuse Live Stream: Watch Cardinals vs Orange Online
Louisville is the 13th ranked team in the nation (probably higher by Monday), and there was no quit in the Orange. Last season, Louisville – without Lamar Jackson – routed Syracuse 41-17. The Orange were never even in that game.
But if a few defensive plays had been made rather than nearly missed, and a couple of breaks pointed toward Syracuse instead of Louisville, this could have been a huge upset. The offense did their part, putting up 293 yards on the way to their 28 points.
But the defense needs a lot of work…a lot.
Louisville has an impressive offense, but a Power-5 team shouldn't give up 844 yards and 62 points at home. Ever. The defense was exposed in every aspect of the game, with Lamar Jackson accounting for 610 yards of the Louisville offense. It seemed every time the defense had Jackson dead to rights in the backfield, he found a way to escape.
Granted, the Orange won't be facing a Lamar Jackson every week, but there are plenty of top-line mobile quarterbacks in the ACC who will no doubt take some notes from what they saw against Louisville.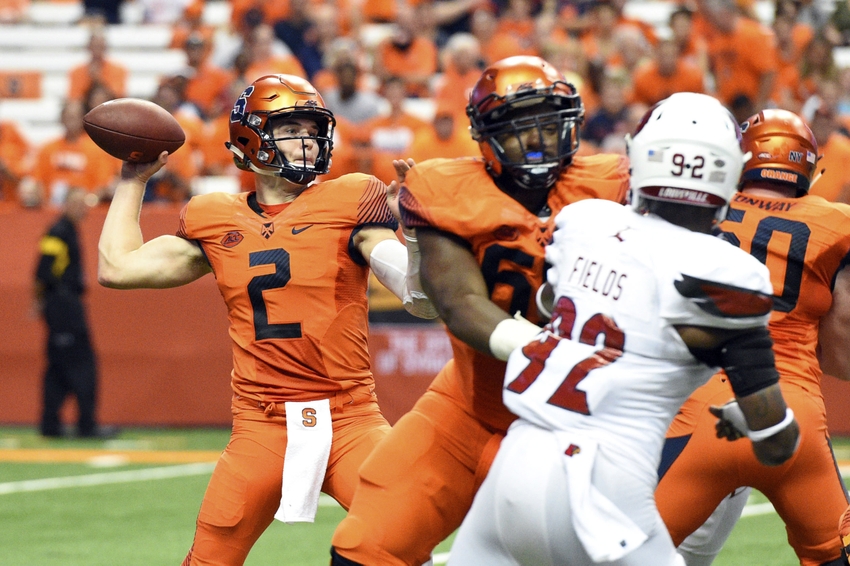 If He Stays Healthy, Eric Dungey Can Lead This Team
Sophomore Eric Dungey showed a lot of poise in this game, despite being knocked around a bit by Josh Harvey-Clemons, James Hearns and the Louisville defense.
Dungey put up respectable numbers, going 25 of 51, for 255 yards, three passing touchdowns, one running touchdown and an interception. That certainly tops last year's 15 for 30, 158-yard, two interception performance against the Cardinals last season. He showed some toughness and some serious drive in not wanting to let this team quit.
But having dealt with concussions in the past, Dungey's offensive line is going to have to do a better job of protecting him, or it will close to impossible keeping him on the field all season.
What we did see was Dungey being mobile in the pocket, using his athletic ability (and hey some actual speed too) to keep the defense on their toes. His accuracy could stand some improvement, throwing under 50 percent completions, but you could see some definite maturation.
As this season progresses, look for a healthy Eric Dungey to put up some pretty impressive numbers.
The ACC Should Take Louisville and Lamar Jackson Seriously
Watch out for Louisville. They served notice tonight that they are a force to be reckoned with in the ACC. While all eyes are turned to Tallahassee, Fl. and Clemson, S.C. the Cardinals are quietly putting together a juggernaut that could surprise a lot of people.
Bobby Petrino's offense is starting to look scarily like a Bobby Petrino offense, and that's not good news for the rest of the ACC.
Syracuse was absolutely snowed by Jackson and the Cardinal spread attack, with passes going to eight different receivers and with six different Cardinals rushing the ball for positive yardage.
Want your voice heard? Join the Inside the Loud House team!
The Cardinals will return home to play Florida State in a crucial early-season Atlantic Division showdown. The Seminoles had better hope they have a lot left in the tank after last week's big comeback win against Ole Miss.
As for Syracuse, the Orange will pick up the pieces and welcome the USF Bulls to the Carrier Dome on September 17, with a kickoff scheduled for 3:30 pm.
More from Inside the Loud House
This article originally appeared on