Sunday Takeaway: Oregon Ducks Quarterback Justin Herbert Turning Into a Leader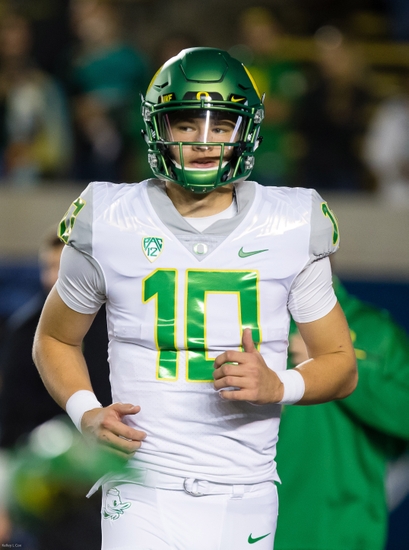 Oregon Ducks Freshman Quarterback Justin Herbert was impressive for the second straight game.
The Oregon Ducks were in need of a win, badly. The team snapped their five game losing streak on Saturday against Arizona State. Both teams have been banged up this season, but the in-game experience factor finally tipped toward Oregon and a win at Autzen Stadium. It was the Ducks first Pac-12 win of the season.
Quarterback Justin Herbert has been quick to learn the position and it is certainly translating onto the field. A week after throwing six touchdowns in a loss at Cal, Herbert tied a passing record from another Oregon Legend in Bill Musgrave. He tied Musgrave passing for 489 yards and hitting 9 different receivers in the process. Both Oregon and Arizona State combined for over 1000 yards of Offense on Saturday.
The Oregon Defense also showed up, but again at key moments. The 4th Quarter saw two of those momentum-shifting moments. Tyree Robinson and Brendan Schooler had interceptions. Throughout the game the Defense again held their own, had three sacks, Jimmie Swain and Troy Dye led the effort with 23 combined tackles.
Entering this week the Oregon Defense is no longer the worst Defensive unit in the Nation. They moved up a spot to 127 our of 128 NCAA Schools. The win was a big confidence boost for a team reeling from five straight losses. Tight End Pharoah Brown said it was good to finally sing the Oregon Fight Song after over a month of losses.
The Oregon Ducks still have a long road to travel to make a bowl game. This week they head to Los Angeles for a matchup on Saturday with the USC Trojans(4pm PT, ESPN) Oregon has one remining home game on November 12th hosting Stanford before finishing the season on the road at Utah and at Oregon State.
This article originally appeared on