CFB AM: Ohio State fans violate Nick Saban, Bear Bryant statues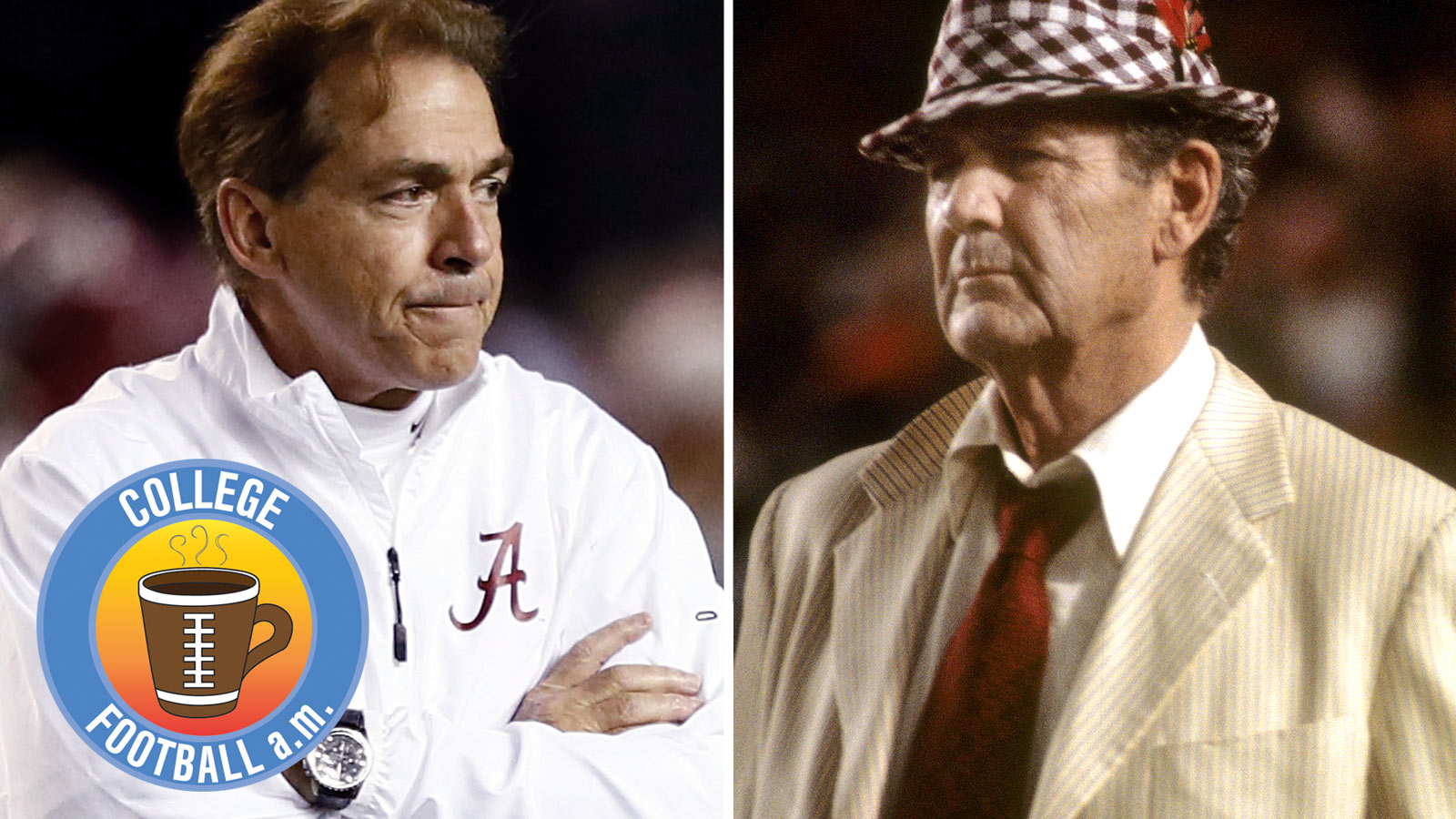 Ohio State will play Alabama today in the playoff, but Buckeyes fans couldn't wait that long to strike against the Tide.
The other night, while Tide fans were presumably sleeping or loudly debating how a fifth-string LB might be huge against the Buckeyes, Ohio State fans stormed into Tuscaloosa to mark their territory.
Yes, you know where they went — Nick Saban's and Bear Bryant's statues outside Bryant-Denny Stadium.
The Buckeyes draped Ohio State colors on the statues and even used Bryant as the "I" in O-H-I-O. That comes with at least a five-year sentence in Alabama.
Here are all the incriminating photos, Tide fans. You can retaliate, but the best response might just be total domination at the Sugar Bowl.
Hey @11W pic.twitter.com/Fkhx6S8QkF

— Jeremy Stoner (@jstone_OSU) December 31, 2014
Thanks for the I Mr. Bryant. #BeatBama @11W @criscarter80 @TweJeff @Bcon249 @MegB412 @moonviers7 @OhioStFootball pic.twitter.com/WYyKjhkDbO

— Matthew A. Viers (@MatthewViers) December 31, 2014
🅾🙌🙏🅾 Go Bucks! @11W @FakeUrban @DustinFox37 @OhioStAthletics pic.twitter.com/USrEYv9TIH

— Collin Schroeder (@PC_Buckeye94) December 31, 2014
THREE THINGS YOU NEED TO KNOW
1. The College Football Playoff has finally arrived. At 5 p.m. ET today, No. 2 Oregon will play No. 3 Florida State in the Rose Bowl, followed by No. 1 Alabama and No. 4 Ohio State in the Sugar Bowl. The winners will meet on Jan. 12 and play for the national championship. At last, after all the build-up, we can play these games. Couple quick things: Alabama RB T.J. Yeldon will be a game-time decision. Buckeyes QB Cardale Jones can craft his Ohio State legacy in only two starts, writes Stewart Mandel. Mandel and Bruce Feldman are both picking an Alabama-FSU national title game. I'll go Bama-Oregon.
2. But before we indulge in the playoff games, we have three other bowl games with ranked teams playing. Here's the slate: Outback Bowl – No. 19 Auburn vs. No. 18 Wisconsin (Noon ET, ESPN2); Cotton Bowl – No. 8 Michigan State vs. No. 5 Baylor (12:30 p.m. ET, ESPN); Citrus Bowl – No. 16 Missouri vs. No. 25 Minnesota (1 p.m. ET, ABC).
Bill Connelly has a thorough guide to the New Year's Day games.
3. Probably the most surprising result from Wednesday's bowl games, and definitely the most dominating performance, was No. 6 TCU's 42-3 lashing of No. 9 Ole Miss in the Peach Bowl. The Horned Frogs didn't play a clean game on offense – they had four turnovers, including three picks from QB Trevone Boykin – but their defense was so dominant that Ole Miss never had a chance. TCU held the Rebs to 0.2 yards per rush on 37 attempts (nine total rushing yards) and forced four turnovers, including three picks from Bo Wallace.
The playoff debate is dead and gone, but whatever pent-up frustration TCU had from being left out of the final four, it unleashed all of it on the Rebels. The Frogs also mocked Ole Miss' "Landshark" thing:
Even Johnny Manziel had to chime in about the hurting TCU's D put on Wallace and the Rebs:
Bad Bo. GO FROGZ 🐸

— Johnny Manziel (@JManziel2) December 31, 2014
So TCU closes out the season 12-1 and sets itself up to be a playoff contender in 2015, with Boykin back for his senior year. The Frogs should be a lot of fun.
THREE THINGS YOU SHOULD KNOW
1. How about the first season for Bryan Harsin at Boise State? When many wondered if the Broncos would take a step back after Chris Petersen left for Washington, Harsin, Petersen's former OC, returned to Boise and led it to a 12-2 season. The No. 20 Broncos capped the year by beating No. 10 Arizona, 38-30, in the Fiesta Bowl. Broncos RB Jay Ajayi ran for 134 yards and three TDs on 22 carries. More importantly, the Broncos brought back the Fiesta Statue of Liberty! Here's Ajayi scoring on it:
Of course, this was made famous with Boise beating Oklahoma in the 2007 Fiesta Bowl on the same play.
2. In the other New Year's Eve game, No. 12 Georgia Tech beat No. 7 Mississippi State in the Orange Bowl, 49-34. The Yellow Jackets rushed for 452 yards, with QB Justin Thomas and RB Synjyn Davis accounting for three rushing TDs apiece. After the game, GT coach Paul Johnson said he was excited that "for at least a week or two we don't have to hear about the SEC." (Click the X in bottom-right corner if you can't hear.)
Zinger! BTW, for those crapping on the SEC after Wednesday: Slow down — the dealing isn't done yet.
Yes, LSU lost to Notre Dame and the Mississippi schools lost yesterday, but Texas A&M beat West Virginia, Arkansas beat Texas, South Carolina beat Miami and Georgia beat Louisville. Today, Auburn, Alabama and Missouri all have chances to win, Tennessee plays Iowa tomorrow and Florida plays ECU on Saturday. Of course, if Bama goes and wins the national title, this won't matter much anyway because the Tide and "S-E-C!" is all we'll hear.
3. The news of LSU defensive coordinator John Chavis to Texas A&M is done. Huge get for Kevin Sumlin. Couple other coaching notes: Arkansas LB coach and former Miami head coach Randy Shannon is joining Jim McElwain's staff at Florida; USC OL coach Tim Drevno is going to Michigan to be Jim Harbaugh's OC.
THREE THINGS YOU MAY WANT TO KNOW
1. High winds hit the Rose Bowl on Wednesday, and caused a scary scene at a fanfest event. Four were reportedly injured, although there are few details on what exactly happened. Hope they are OK.
2. Urban Meyer said he expects Braxton Miller to come back in 2015, although they "have had conversations" about the QB situation entering next fall. Of the three Buckeye QBs — Miller, Jones and J.T. Barrett — Braxton is the most logical choice to transfer since he already has his degree and therefore can play immediately. Florida State and Oregon are two high-profile programs with high-profile QBs on their way out, and the QB job at places like Texas and Florida isn't settled. So if Braxton wants to go, there should be a really good opportunity out there for him.
3. Steven Godfrey on the people of the Sugar Bowl. Fantastic.
LASTLY
* "Ann Arbaugh" has become a popular hashtag on social media lately to welcome Jim Harbaugh back to Ann Arbor, but it's much more than that. Ann Arbaugh is the name of a real person who lives in Ann Arbor — and she's an Ohio State grad.
* Happy New Year! Thank you all for reading CFB AM in 2014 and now following it into the new year. We'll keep it rolling, Monday-Friday, year-round. Let's make 2015 a wonderful and productive year, and hopefully as much fun as this:
Have a great New Year's Day, everybody. Enjoy the games.
Teddy Mitrosilis is an editor and writer for FOXSports.com. Follow him on Twitter @TMitrosilis and email him at tmitrosilis@gmail.com.