Stop Your Whining, Now Is When The Oregon Ducks Need Fan Support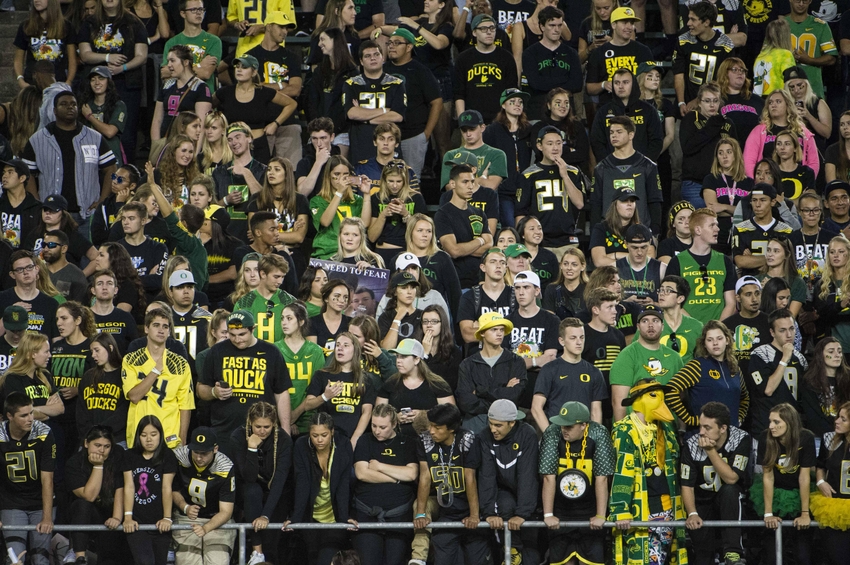 There is plenty to talk about when it comes to the Oregon Ducks, but its time fans give their support, not their opinion.
The Oregon Ducks are in a place they have not been in a long time. They hit four losses last season, but after the Alamo Bowl. In the five years I have been covering the team this is the first time they have four losses six weeks in needing to win out for any chance at a mid level bowl game. The problems are many and if you ask fans there are even ore opinions. Many fans are done with the losing, but this is where perspective comes in and shakes it finger.
It is time to temper you thoughts of 'Fire Helfrich' and End the Trainwreck that is 2016, but guess what? You can't win them all. Others will rise, Your team will fall. It is the nature of College Football and if you have not yet learned the Life Lesson that 'Every Day Is Not Roses' – well it's about damn time you did. Half of all fan bases for College Football have a little crazy in them. They believe that with 10 losses their team will win the National Championship. There is a difference between having passion for your favorite team and the reality of the situation.
When you win, all is great. When you lose is when you need your fanbase the most. Not to ridicule or point fingers, but for support. The losses don't matter as much as shaking your head and saying 'We'll get the next one' – even if the next one is a Dementor vs Harry Potter without a wand. (the six-year-old daughter reference you all wanted was just made)
Nevermind how we got here. Everything has played a factor in the Snowball of 2016 Oregon Football. You name it, it's happened. Injuries, Play Calling, a new 4-3 Scheme on Defense, Changing Quarterback on Offense to 'Spark' the team, Coaches trying to put a positive spin on all of it. But all of this should be better than 2-4 right?
Honestly, if Scott Frost had not left I think, even with the injuries, you have a team looking at 4-2. David Yost may be a great coach, but between Yost, Helfrich, and Offensive Coordinator Matt Lubick you may have the three stooges of Offensive Play Calling in the Pac-12. It simply has not worked. I'm not even going to give the two point conversion fiasco another word(it still happens every game and they got 'lucky' against Washington).
Oregon has so many weapons on Offense. I am stunned that they have four losses. Even with the Defense having a learning period this season, there is no reason that the Ducks should not be rolling on Offense. Quarterback play with Dakota Prukop was not bad, but it wasn't crisp. Vernon Adams last season was crisp in his passes and his footwork. Prukop has been sloppy at times with both. Unfortunately those times were in key moments of the game that could have turned L's to W's.
Changing Quarterbacks now to Justin Herbert should help. Herbert showed solid vision on Saturday against Washington. It was a game that was not easy against the best Defense in the Pac-12. I don't know who plans on showing up the rest of the season for the 2-4 Oregon Ducks. It is clearly a season of rebuilding for a team that had more promise than this at the start.(I don't use the rebuilding word lightly, it is the first time I have written it this year.)
Fans need to be patient the rest of the way. I know you want to win. I know some think that Helfrich IS the problem. You don't need to look a few paragraphs up to see that is not totally the case. Patience in 2016 should prove positive for a return to the polls in 2017. Experience is needed across the board for this team with a new Quarterback and I believe good things are ahead for the Oregon Ducks.
For those of you who disagree with what I've said, Basketball season is now a month away.
This article originally appeared on