Southern Utah talent still regarded across Big Sky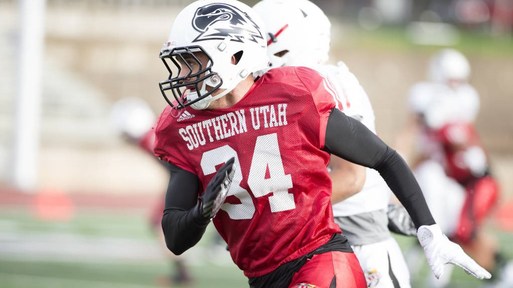 (STATS) – Not so fast, the cupboard isn't bare at Southern Utah.
The defending champions may not be the popular pick when the Big Sky football polls are released Tuesday, but people in the conference still recognize the strong talent in the Thunderbirds' program even after they graduated some dominant players and lost their head coach.
In the nation's largest FCS conference, the Thunderbirds could be picked closer to where they were in last year's preseason coaches and media polls than where they finished – with their first Big Sky title.
Southern Utah had the most selections Monday on the Big Sky preseason team with five – seniors Steven Wroblewski (tight end), Mike Sharp (wide receiver) and Tate Lewis (punter), as wells as juniors Chance Bearnson (defensive tackle) and Mike Needham (linebacker).
New Thunderbirds coach Demario Warren, promoted from defensive coordinator after coach Ed Lamb left for BYU following eight seasons, faces plenty of challenges as his team tries to replace quarterback Ammon Olsen and defensive stalwarts James Cowser, Miles Killebrew and LeShaun Sim, among others.
But Warren returns a strong nucleus, led by Needham, a first-team All-Big Sky choice last season when Southern Utah won the conference title with a 7-1 mark and finished 8-4 overall with a No. 18 national ranking.
Northern Arizona and Weber State tied for the second-most preseason selections with four each. Those two teams, along with Southern Utah, Eastern Washington, Montana, North Dakota, Northern Arizona and Portland State are all part of what should be a wide-open title race in the 13-team Big Sky.
Eastern Washington senior wide receiver Cooper Kupp, the 2015 STATS FCS Offensive Player of the Year, and Montana senior defensive end Caleb Kidder were named the Big Sky's preseason offensive and defensive players of the year.—=
BIG SKY CONFERENCE FOOTBALL PRESEASON TEAM=
Offensive Player of the Year – Cooper Kupp, WR, Eastern Washington
Defensive Player of the Year – Caleb Kidder, DE, Montana
Offense
QB – Case Cookus, Northern Arizona
RB – *John Santiago, North Dakota
RB – Chad Newell, Montana State
FB – *Joe Protheroe, Cal Poly
TE – Steven Wroblewski, Southern Utah
OG – Cameron Young, Weber State
OG – J.P. Flynn, Montana State
C – Blake Porter, Northern Arizona
OT – Jacob Julian, Northern Arizona
OT – Calvin Steyn, Weber State
WR – *Cooper Kupp, Eastern Washington
WR – Mike Sharp, Southern Utah
WR – Emmanuel Butler, Northern Arizona
Defense
DE – Caleb Kidder, Montana
DE – Davond Dade, Portland State
DT – Chance Bearnson, Southern Utah
DT – Chuntony Johnson, Northern Colorado
OLB – Mike Needham, Southern Utah
OLB – Mac Bignell, Montana State
ILB – Emmett Tela, Weber State
ILB – Manoah Pearson, Sacramento State
CB – Xavier Coleman, Portland State
CB – Taron Johnson, Weber State
S – Cole Reyes, North Dakota
S – Yamen Sanders, Montana
Special Teams
PK – Jonathan Gonzales, Portland State
P – Tate Lewis, Southern Utah
RS – Ellis Onic II, Northern Colorado
ST – Hakeem Diggs, Northern Colorado
* – unanimous selection