CFB AM: Southern band performs stellar version of iconic Queen song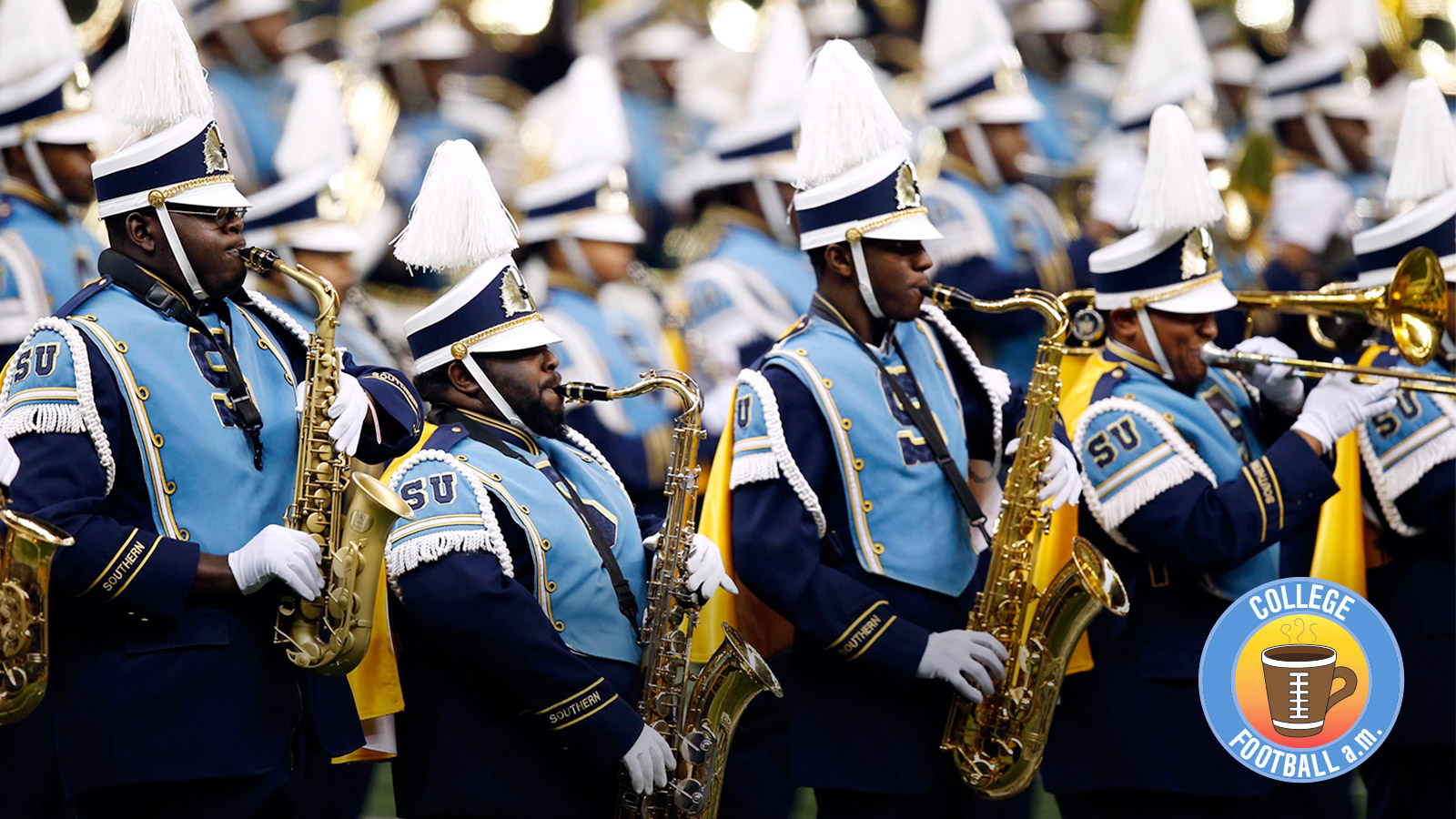 A major part of why we all love college football is its culture.
At nearly every school a significant chunk of that culture is tied to the band.
I never take the appropriate amount of time to appreciate what the best college bands do, so this is one instance that calls for slowing down and enjoying.
This past Saturday, Southern opened its season at Louisiana-Lafayette.
It didn't win the game, but its band – the Southern Human Jukebox – had an awesome moment when it performed this fantastic rendition of Queen's "Bohemian Rhapsody." If you're not familiar with one of the most iconic rock songs ever, here's the original song – it has more than 103 million views on YouTube.
Now here's Southern's version. The chorus hits at the 1:45 mark and then it just gets better from there. Enjoy.
THREE THINGS YOU NEED TO KNOW
1. I'd like to preface the AP poll by reminding everyone this thing does not matter at all in relation to your team's postseason standing. In the committee era, polls have become obsolete. Yet, fans still love to argue about them, so here's the latest AP poll released on Tuesday. Texas A&M was the biggest climber, rising 12 spots to No. 9.
2. UCLA took a big blow Tuesday when running back Steven Manfro had to be carted off the practice field with a knee injury. "Everyone was pretty shook up," head coach Jim Mora said. "It kind of changed the mood of the entire practice." Reports Tuesday evening indicated Manfro suffered a torn ACL and will miss the rest of the season.
3. There's been some strange news around Wisconsin ever since the Badgers' season-opening game against LSU. First there were theories as to why running back Melvin Gordon received only four carries in the second half after tearing up the Tigers in the first half, a question coach Gary Andersen answered after the game with, "I don't know," while Gordon said he wasn't hurt and was perfectly fine. On Monday, Andersen said Gordon was dealing with a hip flexor issue, which was the reason he was cut out of the late-game attack.
Now comes some news on quarterback Joel Stave, who backed up Tanner McEvoy in Week 1. On Tuesday morning, Andersen issued a press release saying Stave would be out indefinitely with a shoulder problem – he hurt the joint in last year's bowl game and had it operated on in the spring. Then after practice Tuesday, Andersen said Stave will miss time not actually because of a physical issue but because he has something best described as the yips. "Is he injured?" Andersen said. "No. Is he ready to play right now? No. I used the word injury, so maybe bad choice of words."
Stave acknowledged that it could be some sort of yips he's dealing with, just this general lack of confidence in his ability to make throws, which churns in his mind and generates more mistakes. Hopefully Stave overcomes the mental issue and can return to playing effectively. For Wisconsin, it presents a big problem, because now they're down to McEvoy – who played terribly against LSU – and a third-string QB. One other note: I don't think Andersen has intentionally lied to the media or is going out of his way to be misleading, but the ineffective communication over the last 72 hours has been jarring. There's a disconnect in the messaging between the coaches locker room and the players locker room.
THREE THINGS YOU SHOULD KNOW
1. Former Texas coach Mack Brown's North Carolina home was destroyed in a fire last week. Brown, who has spent a lot of time in the mountain home since leaving coaching, had just finished moving much of his UT memorabilia there from his Austin residence. After the fire, only the chimneys were left, Brown said. Awful news that makes you feel for Mack and his family. The only positive part is that nobody was hurt.
2. Bruce Feldman wrote a piece on Texas Tech coach Kliff Kingsbury on Tuesday about how his bachelor image is calculated. The real Kingsbury is a football lifer who likes poring over film on a small laptop screen because it reminds him of how he started in the business.
3. Texas A&M quarterback Kenny Hill was probably the biggest star of Week 1 – at worst he tied with Georgia running back Todd Gurley – so of course that means America must now give him a nickname. He didn't like Johnny Manziel's suggestion of 'Kenny Football,' but he's found one that I think will stick: Kenny Trill. Let's bring in our FOX Sports college football nickname insider, and famous Houston rapper, Bun B for more. Bun, what do you think?
Like the idea of "Kenny Trill" but I think @coachsumlin would agree one good game alone doesn't make you trill. He's on his way though!

— Bun B (@BunBTrillOG) September 2, 2014
THREE THINGS YOU MAY WANT TO KNOW
1. Some final Week 1 links before we officially flip our full attention to Week 2 today: Cameron Artis-Payne got whatever attention was allotted for running backs coming out of Week 1, but Corey Grant had himself a nice day and Gus Malzahn noted he liked the way Grant finished runs looking to run people over. Bill Connelly's Numerical column is a good read after each week. Joel Klatt reviews the Power 5 conferences after the first week (video). Clemson OC Chad Morris issued a challenge to his offense: Be part of the problem or part of the solution, but there's no in-between.
2. This is an awesome photo of Beaver Stadium:
Photo creds to "@JoliePSU: Caught this with about 30 seconds before it disappeared. Pretty cool life moment. pic.twitter.com/cPfQynQFj5"

— Herb Hand (@CoachHand) September 3, 2014
3. And this is an awesome graffiti job commemorating Todd Gurley's beastly game against Clemson.
LASTLY
* Every Tuesday at 3:25 p.m. CT during the college football season, I'm jumping on the Eric Hasseltine Show in Memphis to talk all things CFB. We have a good time talking ball. Here's this week's hit if interested.
* After getting thrashed by BYU last season, Texas has an inspired sign hanging around its facilities this week.
* If you're a football junkie and want to understand more about how Texas A&M's offense operates with Kenny Hill at QB, you'll enjoy this piece from Ian Boyd.
* Great Rick Maese piece on NFL insider Adam Schefter, the reporter and news-breaking machine. There's a saying that's useful when you're trying to put together a story and figure out the theme: What's the story about, and what's it really about? Maese's story is about Schefter, but it's really about finding your talent and then committing yourself to getting up every day with an intent to maximize that talent. Everyone can do that.
* Wake Forest has an, uh, interesting way of signaling a certain call from a sideline:
And on that note, have a great Wednesday, all.
Teddy Mitrosilis is an editor and writer for FOXSports.com. Follow him on Twitter @TMitrosilis and email him at tmitrosilis@gmail.com.