CFB AM: Medal of Honor recipient gets special night with Gamecocks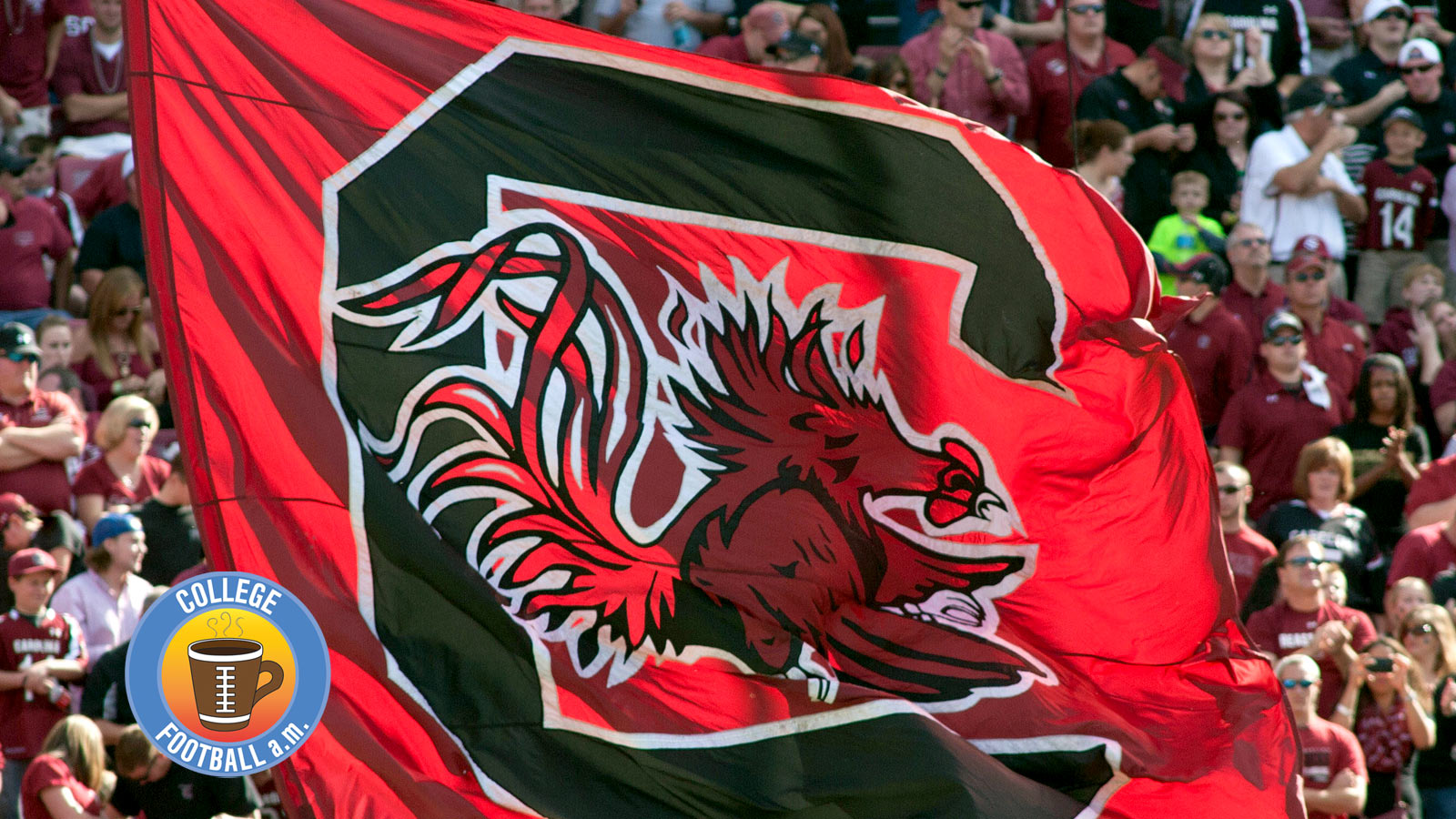 Corporal Kyle Carpenter has done things that require a kind of courage most of us will never understand.
Serving in Afghanistan in 2010, Carpenter stepped in front of a grenade to protect his fellow Marines, an act for which he received the Congressional Medal of Honor this past June. Now, Carpenter will get a different kind of honor, one that has rendered all that courage useless and made him admittedly nervous.
On Thursday night at Williams-Brice Stadium, as South Carolina opens its season against Texas A&M, Carpenter will be the celebrity starter and lead more than 80,000 fans in the "Game-Cocks" cheer, according to the school.
Carpenter, a 24-year-old sophomore from Mississippi, spends his time majoring in international studies with a minor in psychology and flying around the country to do speaking engagements. With the fall semester just underway in Columbia, for the first time in a while Carpenter is enjoying what it's like to be a student with dreams and aspirations and a football team to cheer for.
As for Thursday night, Carpenter will take the mic and encourage Williams-Brice to roar, and then he'll climb into the stands and hope South Carolina begins the season 1-0. After all, these are his Gamecocks now. "I will definitely never bleed anything other than garnet and black now, that's for sure," Carpenter said.
Enjoy opening night, Kyle. Thank you for your service.
THREE THINGS YOU NEED TO KNOW
1. In Tuesday's CFB AM, we had a note about USC cornerback Josh Shaw and the reported story of him injuring both ankles by jumping from a second-story balcony in an attempt to save his 7-year-old nephew from drowning. It was widely praised around the Internet as a heroic story, which on the surface it would seem to be. Later on Tuesday, USC confirmed it had received multiple phone calls contradicting Shaw's story. From there, wild rumors began to spread, with the LAPD mentioning Shaw's name came up in a police report from last Saturday night related to a disturbance at an apartment building in Los Angeles. We'll refrain from spreading every crazy rumor that's out there about Shaw, but the LA Times has some basic facts about the events here.
For the record, Shaw has stood by his original story and it's unclear who made the phone calls to USC's office and why anyone would have a motive to do so. USC spent Tuesday vetting Shaw's story further, and I'd expect some kind of further comment or action from the school today. This story could be explosive with all the rumors swirling, and USC can't allow it to drag on any longer than necessary.
2. Need a little laugh after that discouraging note? OK, here's one for you: West Virginia QB Clint Trickett, whose team opens the season against Alabama on Saturday, mentioned in his Tuesday press conference that his first kiss was with Nick Saban's daughter. Good luck against that Bama D on Saturday, Clint!
3. Let's take a swing through some papers around the country: After feeling like Michigan lacked some leadership last season, Brady Hoke is not naming official team captains until after the final regular-season game of the year, hoping this brings the team together as a unit rather than creating a hierarchy, writes Mark Snyder. It's an old tactic Rich Rodriguez once tried in Ann Arbor.
Keith Marshall is Georgia's forgotten star, writes Seth Emerson.
John Helsley looks at how Oklahoma State plans to get the ball in the hands of junior college transfer Tyreek Hill, a RB/WR who most believe will be one of the Big 12's brightest stars this fall.
NC State quarterback Jacoby Brissett has set high expectations this season, writes Joe Giglio. An example? He changed his cell phone screensaver to a picture of the Heisman Trophy.
THREE THINGS YOU SHOULD KNOW
1. Minnesota Vikings QB Teddy Bridgewater did a pretty cool thing by taking out a full-page ad in the Louisville student newspaper to thank his supporters.
Look at the message from Teddy Bridgewater on the back of the @TheCardinalNews newspaper! How awesome! #ThanksTeddy pic.twitter.com/sZKHxi4FzD

— K a y ℓ a (@kay_antoinette) August 26, 2014
2. Bruce Feldman made 10 bold predictions for 2014, including the first true freshman Heisman winner of all time. Meanwhile, Stewart Mandel ran some preseason bowl projections. Love the idea of Auburn playing UCLA in the Rose Bowl as one of the College Football Playoff's semifinals.
3. This isn't a good sign for Kansas coach Charlie Weis: When the SEC announced earlier this year that members will be required to play a non-conference game against a Power 5 opponent going forward, half the league immediately called the Jayhawks. As Feldman notes in his bold predictions piece above, apparently Weis has been falling asleep in team meetings … (just let that marinate a bit).
THREE THINGS YOU MAY WANT TO KNOW
1. Former Iowa State running back Hiawatha Rutland was found dead in Lake Erie on Monday, and this is unfathomable: the Cyclones' leading rushers from 2000-06 have all passed away. Geez.
2. It looks like Ohio State QB Braxton Miller is in good spirits after getting surgery to repair a torn labrum, as he posted this photo with Dr. James Andrews on Instagram:
Good luck, Braxton, and hopefully we see you back in Columbus in 2015.
3. The Bahamas and fried chicken – I think we've found a new favorite bowl game.
LASTLY
* Every Tuesday this season around 3:25 p.m. CT, I'll be stopping by the Eric Hasseltine Show on 92.9 FM ESPN in Memphis to have some fun talking college football. Here's yesterday's hit looking at some Week 1 games.
* A new season marks the return of Pat Forde's "Forde-Yard Dash" column – always a fun read.
* Texas Tech QB Davis Webb may be new to the Big 12 spotlight, but he already understands how to keep his offensive line happy. He recently dropped $275 on barbecue for the big uglies who protect him.
* Great Kliff Kingsbury profile here by Matt Crossman. Well worth your time.
Have a great Wednesday, all.
Teddy Mitrosilis is an editor and writer for FOXSports.com. Follow him on Twitter @TMitrosilis and email him at tmitrosilis@gmail.com.