South Carolina Gamecocks Football: The Buzz is Back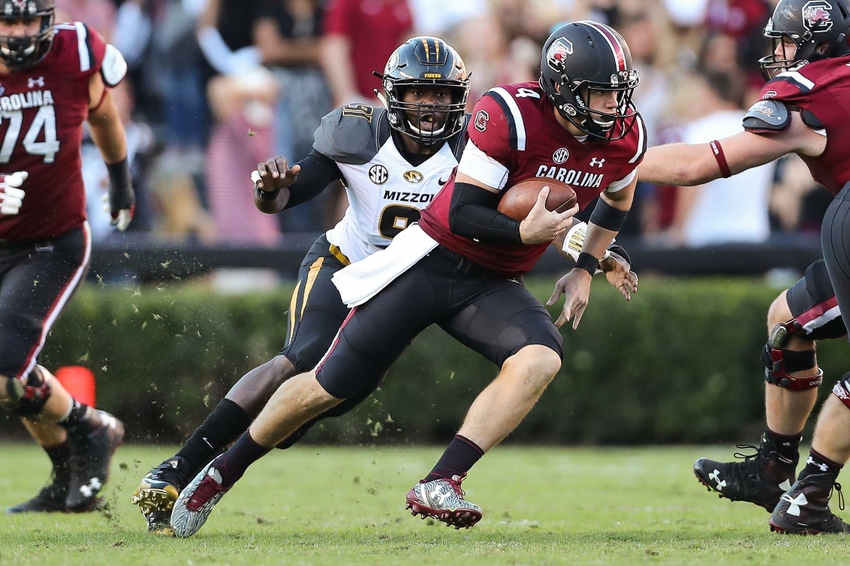 It's been a while since Columbia, South Carolina has had a buzz like this one, and nobody wearing garnet and black is complaining.
If you would have bet anyone that South Carolina Gamecocks freshman quarterback Jake Bentley would have had his redshirt burned, you would have won a few bets. Telling someone he'd be 3-0 as a starter with two victories in the SEC would have sounded crazy. To even imagine that he would have started opposite of Missouri Tigers quarterback Drew Lock and outplayed him would have been completely out of the question. Still, here we are. Every single one of those statements is true. There's a belief that's beginning to grow that hasn't been witnessed since Steve Spurrier paced the sidelines.
This is completely Will Muschamp's team now. The confusion about what to do at quarterback is behind him. The carousel that was Connor Mitch, Perry Orth, Brandon McIlwain and Lorenzo Nunez has now morphed into stability at the position. Since entering the lineup, Bentley has an upset victory over a Volunteers team to his credit who, at the time, was ranked 18th in the country. He can scramble, throw from the pocket and doesn't seem to get rattled regardless of the situation.
Don't look now, but the Gamecocks have a winning record. Following Saturday's victory where they handed Missouri their 11th straight conference loss, this team is now fighting for bowl eligibility. They're actually still in contention for the SEC East, and with the emergence of running back Rico Dowdle and wide receiver Deebo Samuel excitement is high. Former team greats Jadeveon Clowney, Bruce Ellington, D.J. Swearinger, Dylan Thompson and Sharrod Golightly were on the sideline to show support on Saturday and got a lot of love from the crowd.
This Saturday, the Gamecocks travel to "The Swamp" in Gainesville, Florida to meet the Florida Gators. They'll need to bring all the momentum, energy and confidence they've accumulated over the past three weeks, and they'll need to be at their best to walk out of that one with a road victory.
One more win will assure the Gamecocks will play in a bowl game, but it won't be easy. They finish the season in Clemson, but again there's hope. That alone is promising. That's something this program was beginning to lose.
This article originally appeared on