South Carolina Football: Week 11 Status Check and Look Ahead to Florida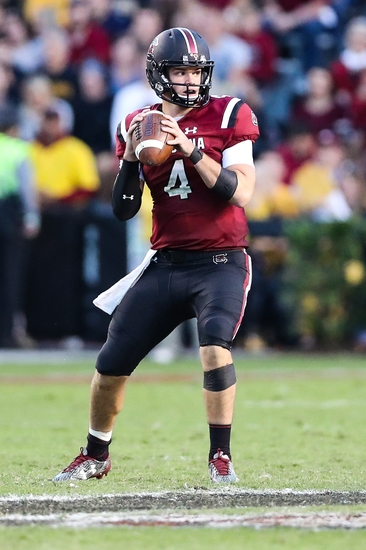 Jake Bentley has to feel pretty good about himself these days. The 18-year-old is supposed to be playing his senior season of High School Football in Opelika, Alabama; but instead has Quarterbacked his once-floundering South Carolina Gamecocks to three straight victories, including a startling upset of ranked but backsliding Tennessee.
Bentley, the son of running backs coach Bobby Bentley, possesses a natural aptitude for signal calling. His strong arm, accuracy, and chemistry with receivers have given Kurt Roper's offense the life it lacked under the leadership of Perry Orth and fellow true freshman Brandon McIlwain. Accolades are pouring in for Jake; the Southeastern Conference named him its Freshman of the Week for a stellar outing against the Missouri Tigers, in which the former four star recruit completed 22 of his 28 passes for 254 yards and 2 scores in a 31-21 home win. Bentley's success has led at least a couple high school prospects to commit to USC.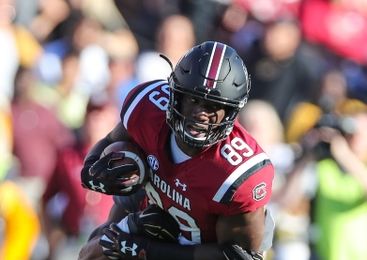 Wide Receiver Deebo Samuel's fortunes have also trended upward, he has 314 receiving yards in the past three games, showing great chemistry with his new pass thrower after missing three games with a hamstring injury suffered in the season's second game against Mississippi State. Bryan Edwards provides another threat at receiver, having also successfully recovered from early injury.
AUSTIN APPLEBY WILL START FOR UF
The hot and cold career of Luke Del Rio (yes, Jack's son) has been paused after a shoulder injury suffered in the Gators 31-10 loss at the hands of Arkansas gradually worsened throughout that game, leading UF coach Jim McElwain to park the Redshirt Sophomore in favor of Senior Austin Appleby. The graduate student is a North Canton, Ohio product and Purdue transfer.
This will not be the first time this year 23-year-old Appleby has subbed for Del Rio following an injury. He started games against Tennessee and Vanderbilt while Del Rio mended from an MCL injury in week 3 vs North Texas. Florida split these contests as Appleby was 44 of 72 passing for 472 yards and a trio of touchdowns in the pair of showings, before giving the starting role back to Luke ahead of the Missouri game.
Appleby has not seen the field since taking the Orange and Blue to victory against Vandy in October, but is not likely to be rusty as his experience at Purdue and his couple games with the Gators will give him the ability to be productive against the Gamecock defense.
THE GATORS ARE RANKED 91st NATIONALLY IN TOTAL OFFENSE, 3rd  IN TOTAL DEFENSE
The contrasting performance of the two units is underscored by Del Rio's struggles since returning from the knee injury and getting re-injured last week. He has completed only half of his passes, largely owing to the fact that he continued to play after being hurt in the Arkansas game. None of the Florida Gators' backs has passed the 500 yard rushing mark, and the same goes for their receivers. The defensive unit allows only 268.1 yards per game led by Linebacker Jarrad Davis, though he's missed the last few games with an ankle injury, a number of younger players have stepped up in his wake. 
This is certain to be a real test for Bentley,Samuel and co, and their response could define a 2016 season where only two games are left after the trip to Gainesville, the home finale vs FCS Western Carolina, and the Palmetto Bowl against a likely heavily favored Clemson in Death Valley. If Bentley can produce against the fierce Florida defenders, not only will USC have a strong finale to 2016 with a possible bowl berth, but momentum could be carried to 2017, where a strong recruiting class is set to take shape. Shawn Elliott's offensive line must play the game of their lives to give SC a shot in this contest.
THE GAME WILL PROVE PIVOTAL IN THE SEC EAST RACE
This great article, by Tom Fornelli of CBS Sports, illustrates the turmoil in the mediocre SEC East. South Carolina could beat Florida and would need to count on Tennessee to lose another game (unlikely due to UT's weak remaining slate), and Auburn to top UGA tomorrow to send them to Atlanta. All UF would need is another Tennessee loss if they beat the Gamecocks. Whoever does represent the division in the 25th SEC Championship Game will be a massive underdog against mighty Alabama. Honestly, SC would be possibly content to miss the Georgia Dome in favor of focus on a bowl game and making a run at the conference title in 2017, where the odds could be more favorable for an East team as the game moves to the new Mercedes-Benz Stadium.
AND SO WE WATCH
The noon kick tilt against the Gators and Gamecocks could be the crowing achievement of a comeback season, or a humbling return to reality, depending on the quality of play on all sides of the ball. Few USC fans are willing to make solid predictions, and nailbiting will be plenty as kickoff in Gainesville approaches.
More from Southbound and Down
This article originally appeared on