Sooner Football: OU Finishes at No. 7 in All Major Rankings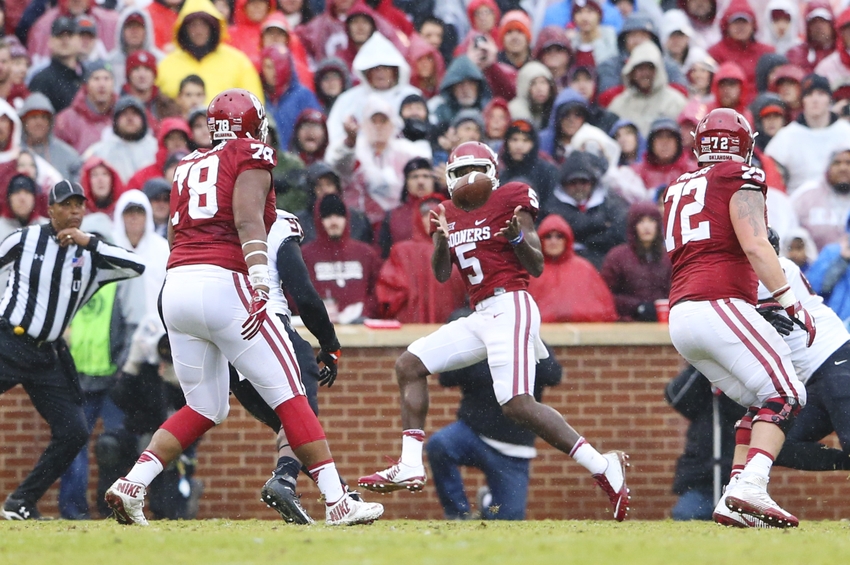 The dust has settled on the college football regular season, and Oklahoma Sooner football came up just short of finishing where it started.
Other than the teams at the very top – Alabama, Clemson, Ohio State and Washington – Oklahoma was one of the few teams in the three major polls (College Football Playoff, Associated Press Top 25 and the Coaches Poll) that remained where it was a week ago.
The Sooners remained a fixture at No. 7 in the AP and Coaches Polls, but moved up two notches, to the seventh spot, in the final CFP rankings as a result of their 38-20 Bedlam win over Oklahoma State in the regular-season finale on Saturday.
While some Oklahoma fans might be openly disappointed that the Playoff selection committee and the college football pollsters didn't show more love toward their beloved Sooner gridiron warriors, the truth is, OU made a remarkable comeback to finish the season where it did.
Consider that Oklahoma began the season as No. 3 in the country in both the AP and Coaches Polls and one of the favorites of most college football experts to make a trip to the College Football Playoff for a second straight season. The season had barely gotten underway – and before the Sooners had even begun the Big 12 portion of their schedule – and OU's most difficult of nonconference slates had risen up to bite them in the you know where.
A somewhat surprising upset loss to Houston in the 2016 season opener, followed two weeks later by a humbling loss at home to perennial college-football powerhouse Ohio State, all but left the Sooners for dead as far as the College Football Playoff was concerned.
By Week 5 in the season, Oklahoma had gone from No. 3 to completely out of the top-25 rankings. Wins at TCU and in the annual Red River Showdown game with Texas returned the Sooners to over .500 for the season with three wins and two losses and back into the rankings at No. 19.
Oklahoma went 5-0 in October, 3-0 in November and finished off an undefeated conference season and nine consecutive wins since the loss to Ohio State with the victory over Oklahoma State on Saturday, earning a 10th Big 12 title in the process and 44th conference crown all-time.
The Sooners almost made it all the way back, finishing No. 7 behind Alabama, Clemson, Ohio State, Washington, Penn State and Michigan in that order. Not bad company considering where Oklahoma was when the pumpkin carriage arrived at the midnight hour on Sept. 17.
It's not where you start but where you finish – and in Oklahoma's case the journey itself – that counts.
Boomer Sooner!
More from Stormin in Norman
This article originally appeared on