Smoke 'Em if You Got 'Em!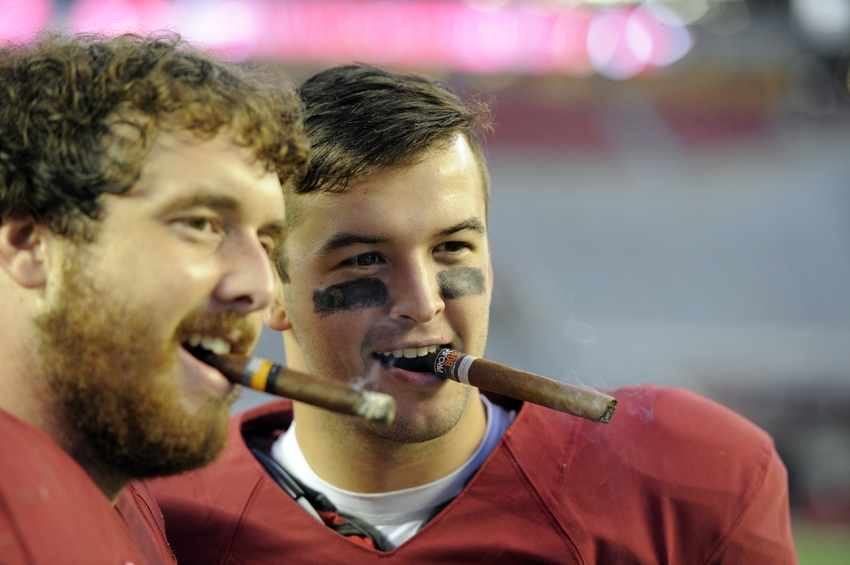 In the world of the electric Twitter machine, MySpace, 500 channels of televised junk and push notifications directly to the cerebral cortex, certain traditions are lost – but not with Alabama football.
You know, traditions. Those quaint beliefs or behaviors handed down from father to son, mother to daughter, group to group. Traditions are things that bind us to our past and simpler times. They have symbolic meaning or special significance with origins to the past.
Families have traditions as sacred as who says the prayer at Thanksgiving dinner, or as lighthearted as opening Christmas presents on Christmas Eve vs. Christmas Morning. Religious traditions are even more sacred, some as old as 3,000 years. Societal traditions – like a bride wearing white on her wedding day – have morphed less toward tradition and more to retail opportunity.
While we weren't there way back in the 1950s, we are relatively certain that good ol' Jim Goostree knew what he was doing when he stowed a few boxes of stogies away in baggage in anticipation of the Third Saturday in October.
ICYMI: Crimson Tide trio honored by SEC
Goostree's employer, the University of Alabama, was having a bit of a tough go against their hated rival from the state to the north. With Gen. Robert Neyland at the helm at the start of the 50s, that sherbet-colored squad doled out a six-game winless streak to the Tide. Neyland might have retired after 1952, but Alabama football only won one more game in the decade against the hated checkerboards.
"I'd have them packed away, but it was coach Bryant who would
give them out. I don't recall anybody ever turning one down." – former
Alabama football trainer Jim Goostree
Goostree saw a lot of that losing in person, and was ready for when Alabama started rolling again with Paul W. Bryant at the helm.
Ready with raft of cigars and lighters in tow.
"Coach Bryant brought the cigar tradition with him when he came to Alabama," said Goostree years ago. "I'd have them packed away, but it was coach Bryant who would give them out. I don't recall anybody ever turning one down."
And so the tradition started – every time Alabama football whipped Tennessee, the Crimson Tide would celebrate in the locker room with a fine cigar. Whether it be at Legion Field or in Knoxville, a victory on the field meant some of the finest long-rolled tobacco available.
Smoking Out Loud
The Volunteers eventually caught on, and started their own cigar celebration when they got the best of the Tide – with both teams keeping the tradition on the down-low so as not to alert the NCAA to the nefarious use of such an illegal product inside football facilities.
But the tradition grew, passed down from team to team, coaching staff to coaching staff. Every year, boxes of cigars at the ready on both sides in preparation for a winning puff.
Live Feed

college football
No one would cop to the tradition out loud, of course – as an innocuous free cigar might unwittingly draw an NCAA investigator into seeing something a touch more damaging. But you better believe cigars continued to be passed around throughout the 1990s and 2000s. Fans eventually caught on as well, leading to a massive cloud of cigar smoke hovering over either part or all of Bryant-Denny or Neyland Stadium every year.
Finally, in 2005, Alabama football said "the heck with it …" and publicly copted to the tradition -accepting the self-reported minor violation that goes with it. Perhaps not coincidentally, a few years later the Crimson Tide started its current nine-game winning streak against the Volunteers that could also potentially double as a boom period for tobacco emporiums throughout Alabama.
Since then, players have utilized all forms of social media (especially their MySpace) to publicly show off their stogies lit up in their locker rooms and on the field after a big win. No matter what, count on shirtless athletes polluting their lungs/disregarding local fire codes in the vein of their forefathers all over your kid's smartphone by morning.
So while Saturday isn't technically the Third Saturday in October this year, you better believe somewhere among the equipment stashes of both teams are a few hundred cigars – ready to be enjoyed and remembered forever.
Smoke 'em if you got 'em!
More from Bama Hammer
This article originally appeared on