Should Miami Hurricanes Be Concerned With Mark Walton's Struggles?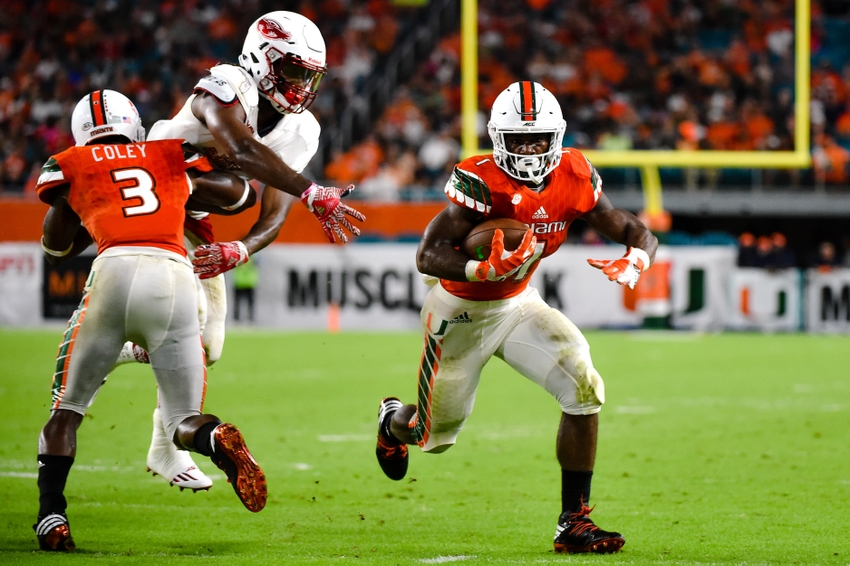 In the first three weeks of the season, Miami Hurricanes Running Back Mark Walton seemed poised to make a run at getting an invite to the Heisman Trophy Ceremony in December. After three games the Sophomore was averaging 133.7 rushing yards per game.
That put Walton seventh nationally in rushing. Walton and Joseph Yearby both went over 100 yards in the Hurricanes season-opening victories over Florida A&M and Florida Atlantic. The rushing yards for the team and Walton has fallen off significantly since ACC play began against Georgia Tech October 1.
The Hurricanes averaged 272 rushing yards per game through three weeks. That has dropped to 105 yards per game in ACC Play. Even with the 373  rushing yards against Football Championship Subdivision Florida A&M taken out, the 'Canes still averaged 221.5 RPG against FAU and Appalachian State.
Walton impressed Mark Richt enough to earn the starting Halfback job to start the season. Yearby was Miami's leading rusher a year ago with 1,002 yards. Walton had 461 backing him up. Yearby had a 4.9 to 3.5 yards per carry advantage in 2015.
Want your voice heard? Join the Canes Warning team!
Since ACC play began, Walton's average has dipped over 75 yards per game on the ground. His ACC average is just 55 yards per game. He ran the ball much better against North Carolina than he did versus Georgia Tech and Florida State.
Walton had 82 yards rushing against the Tar Heels but on 24 carries. Walton's explosiveness early is going to carry his stats through the rest of the season. He was toting the ball at a clip of 8.35 yards per carry before conference season began. In the three games against Georgia Tech, FSU, and UNC.
Walton has 165 yards on 53 carries for a 3.1 YPC average in conference play. Yearby has picked up the slack for Walton in conference play. They are listed as the co-starters at the H or Halfback position.
Live Feed

Miami Hurricanes
In the three ACC games, Yearby has 178 yards on 29 carries for an average 6.1 YPC. They are built almost exactly the same. Walton is listed at 5'9 205 pounds and Yearby 5'9 200. The tandem backs have worked but is it time for Richt to give Yearby more carries?
Walton has almost double a number of carries than Yearby has in ACC play. Walton has toted the ball 53 times to Yearby's 29 in conference play. Walton is the only running back in the ACC top 10 in carries averaging under four YPC. Yearby is ninth in the ACC in yards per carry and tenth in rushing yards per game.
For Walton to have more success he's going to have to get more of a push from the offensive line. Playing against FCS, Conference USA, and the Sun Belt, the Hurricanes had a huge advantage in size on both sides of the ball.
If Miami wants to turn their season around and make runs at the ACC Coastal Division title and possibly a Big Six Bowl, the running game is going to have to improve.
This article originally appeared on