Several SEC teams involved in college football's greatest rivalries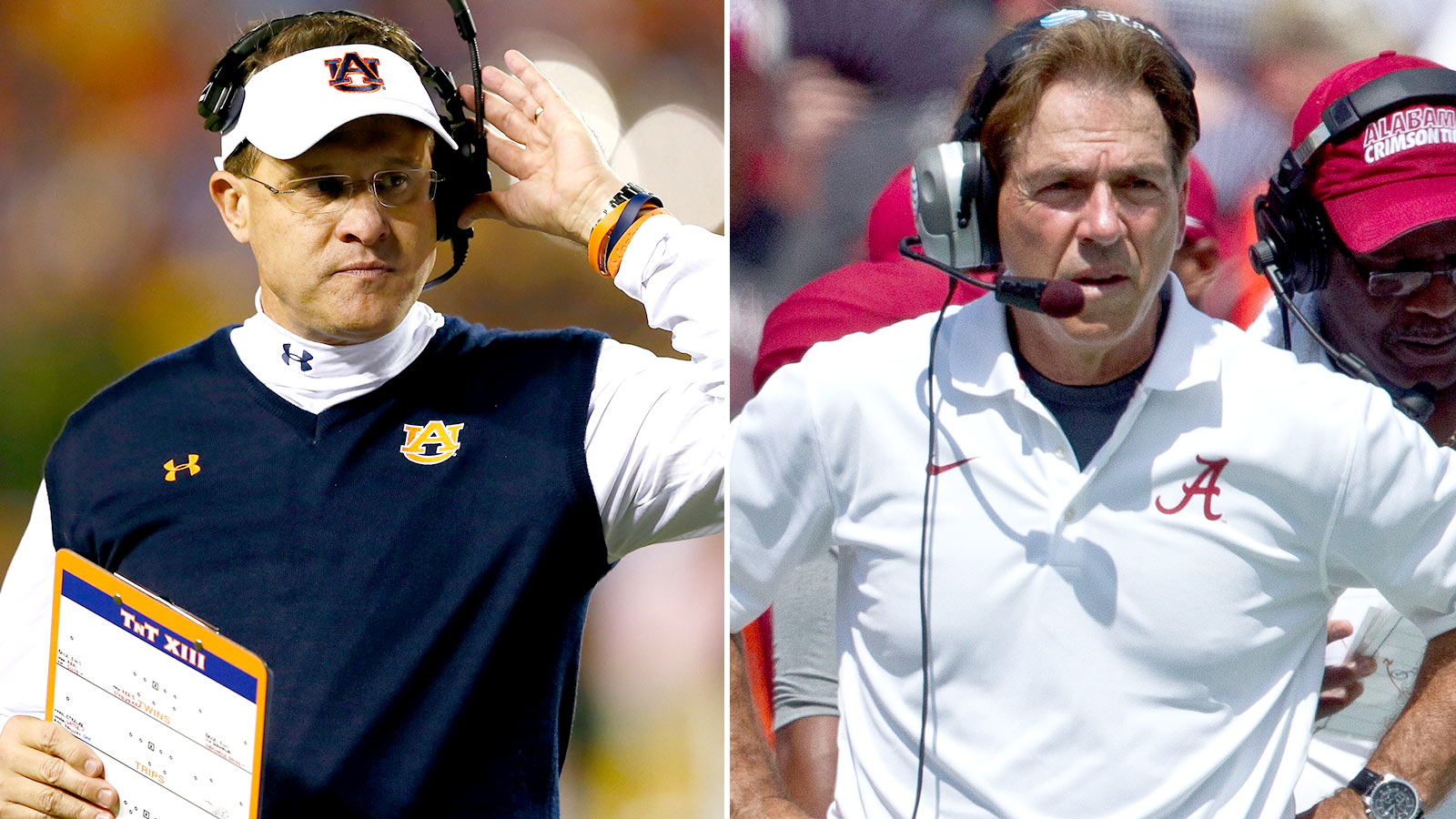 One of the greatest aspects of the college game are the rivalries that drive the sport. True fans live and die with the results of these games in particular each and every year. Either your school has bragging rights for a year or you live in shame until there's an opportunity for revenge.
NFL.com released published their list of the 15 greatest rivalries in college football today:
15) Alabama vs. LSU
All-time series record: 49-25-5 in favor of the Crimson Tide
These two schools annually hold one of the most anticipated games of the regular season, with the winner not only taking the lead in the division race, but in the national title race as well in recent seasons. The Tide have won the previous four matchups in the series with the first game in the streak having the most significance, as it was in the 2011 BCS National Championship Game won by Alabama, 21-0.
These two will meet yet again this season on Nov. 7 in Tuscaloosa.
14) Oregon vs. Oregon State
13) Ole Miss vs. Mississippi State
All-time series record: 62-43-6 in favor of the Rebels
Known as the Egg Bowl, the Magnolia State's two teams meet every season at the end of the schedule. This series has been won by the home team four years in a row. Now that both schools are contenders in the West, the series has ratcheted up the pressure to win significantly and now carries national implications. Dan Mullen has a 4-2 record against Ole Miss, while Hugh Freeze is 2-1 and will look to steal one in Starkville on Nov. 28 this season.
12) Arizona vs. Arizona State
11) Florida State vs. Miami
10) UCLA vs. USC
9) South Carolina vs. Clemson
All-time series record: 66-42-4 in favor of the Tigers
The Palmetto State's greatest rivalry has been known to get a little testy over the years including a brawl in 2004 that lead to both teams forfeiting their opportunities to go to a bowl game. The Gamecocks had enjoyed a five-game streak over Clemson until last year in which Clemson won 35-17. Words have been exchanged this offseason between Clemson's QB Deshaun Watson and incoming South Carolina recruit Ulric Jones, needless to say this rivalry won't be dying down anytime soon. The two teams will end their 2015 regular season in Columbia on Nov. 28.
8) Florida vs. Florida State
All-time series record: 34-23-2 in favor of the Gators
Neither team can seem to be on the right track at the same time in recent history, as the Noles have owned the Gators winning four of the last five games while the Gators had won the six contests leading up to the current streak. This game typically features a laundry list of NFL prospective talent as well as national implications for one, if not both, schools. This year's game is in the Swamp on Nov. 28.
7) Cal vs. Stanford
6) BYU vs. Utah
5) Army vs. Navy
4) Oklahoma vs. Texas
3) Notre Dame vs. USC
2) Michigan vs. Ohio State
1) Alabama vs. Auburn
All-time series record: 43-35-1 in favor of the Crimson Tide
The game to rule all rivalry games is of course the Iron Bowl. Located roughly 94 miles apart, these schools and their fans loathe one another to a degree not seen in any other rivalry. What other rivalry could resort to tree poisoning? The stakes are always high for both coaches going into this game, as they know the fan base demands this victory over all others. Tommy Tuberville managed to win six in a row before being fired for losing 36-0 in 2008. Gene Chizik was let go after losing 49-0 only two years removed from winning a national title at Auburn. The winner of the Iron Bowl had went on to the title game five years in a row until last season. That incredible streak would have reached six had Alabama not been upset by Ohio State last season. With both teams projected to be in the preseason top 10 poll, this year's game in Auburn on Nov. 28 could add the lengthy history of classics played between the two schools.
(h/t NFL.com)