SEC West: Alabama seeking revenge versus an explosive Ole Miss offense in Tuscaloosa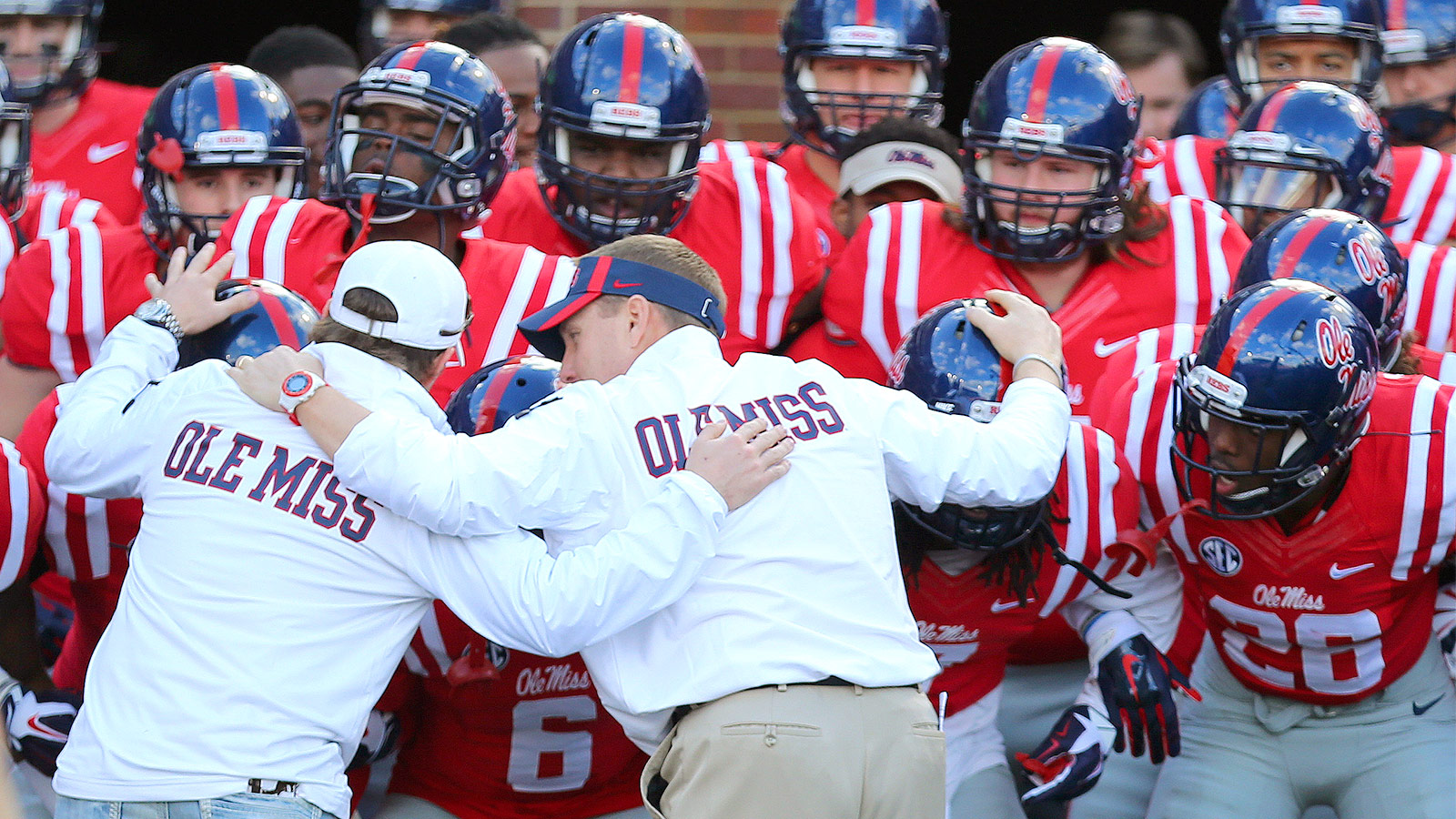 In 2014, Ole Miss unceremoniously upset the then-ranked No. 3 Alabama Crimson Tide by a score of 23-17. It ended a 10-game winning streak Nick Saban's program enjoyed over the Rebels.
Fast-forward one year, and the Crimson Tide are looking to avenge the surprise loss at home on Saturday at 9:15 p.m. ET. Unfortunately for Alabama, it'll be going up against what appears to be a far more potent offense.
Hugh Freeze's team ranked No. 49 nationally in total offense a season ago. While there were some moments of brilliance, inconsistency at the quarterback position likely prevented Ole Miss from reaching its considerable potential.
The addition of quarterback transfer Chad Kelly has completely changed the outlook of Freeze's offense. Through two games, Ole Miss is averaging an eye-popping 74.5 point per game. The Rebels scored 76 points in the season opener versus UT-Martin. In week two, Ole Miss tacked on 73 more against Fresno State.
Kelly's ability to drive the ball down the field has been on full display. He's formed a great rapport with receivers Cody Core and Quincy Adeboyejo. Adeboyejo had three touchdown receptions and 120 yards receiving in last week's game. Additionally, Kelly has other targets such as the ultra-talented Laquon Treadwell, Washington transfer Damorea'ea Stringfellow, Evan Engram, and Markell Pack.
The rushing attack has been equally effective. Jaylen Walton and Eugene Brazley are both averaging over 10 yards per carry. Kelly has two rushing touchdowns on the season, and DeVante Kincade has turned into a very nice change-up on quarterback-designed run plays.
Even stud defensive lineman Robert Nkemdiche has gotten into the mix. Not only does he have a rushing touchdown, but he also caught a 31-yard touchdown in the opener. He personifies the term "freak" in the absolute best sense of the word.
Simply put, Ole Miss has an incredibly diverse and deep offensive attack. It needed a maestro to control the rhythm, and it appears as if Kelly is filling this role quite nicely.
Alabama desperately wants a victory in this contest. For one, it'll get the Crimson Tide off to a perfect start in conference play. Saban's team also doesn't want to lose a second-straight game to Ole Miss…especially considering this contest will be played at Bryant-Denny Stadium in Tuscaloosa.
Arkansas is looking to bounce back
The Razorbacks suffered a bizarre loss at home this past weekend to Toledo by a score of 16-12. From a statistical standpoint, it didn't appear as if this was a Bret Bielema-coached team.
Quarterback Brandon Allen threw the ball 53 times on the afternoon. Arkansas only had 103 yards rushing on 31 carries. This equates to a 3.3 yards-per-carry average.
For a team with the hopes of contending for a potential SEC West Division crown, losing at home to a MAC team isn't a good sign. Arkansas seemingly went away from what made it successful down the stretch in 2014. This includes playing with emotion and passion, along with a ball-control style of play offensively.
This week, Bielema's team gets Texas Tech at home. Kliff Kingsbury's team is averaging 64.0 points per game on the season. Arkansas' secondary should be prepared to backpedal a bunch…
Significant game this weekend:
Auburn at LSU ; 3:30 p.m. ET
LSU is coming off of a hard-fought 21-19 victory over Mississippi State. The Tigers exclusively relied on a rushing attack led by Leonard Fournette. The Heisman Trophy contender accrued 159 rushing yards and three touchdowns on 28 carries in the opener. In fact, Les Miles' team had 266 yards on the ground to only 71 yards through the air.
As for Auburn, Gus Malzahn's team had to go to overtime (at home) to narrowly defeat FCS competition Jacksonville St. by a score of 27-20. There was a general lack of both sharpness and energy in regards to the Tigers' play. Signal-caller Jeremy Johnson threw two interceptions, and looked somewhat shaky.
Much like in the case of the Alabama-Ole Miss contest, the winner of this game will get off to a nice start in conference play. If LSU wins, it'll be 2-0 in division play. This scenario would set Miles' team up well for the remainder of the conference slate.
Quick hits: Texas A&m head coach Kevin Sumlin's decision to play both Kyle Allen and Kyler Murray is a fascinating one. At some point, does he opt for one over the other? Murray might be too dynamic to keep off of the field…Mississippi State will look to get back on the winning track versus Northwestern St. Dak Prescott rushed for -19 yards versus LSU this past Saturday. He should improve on those numbers this weekend.