SEC Football: What We Saw, What We'll See in Week 12-13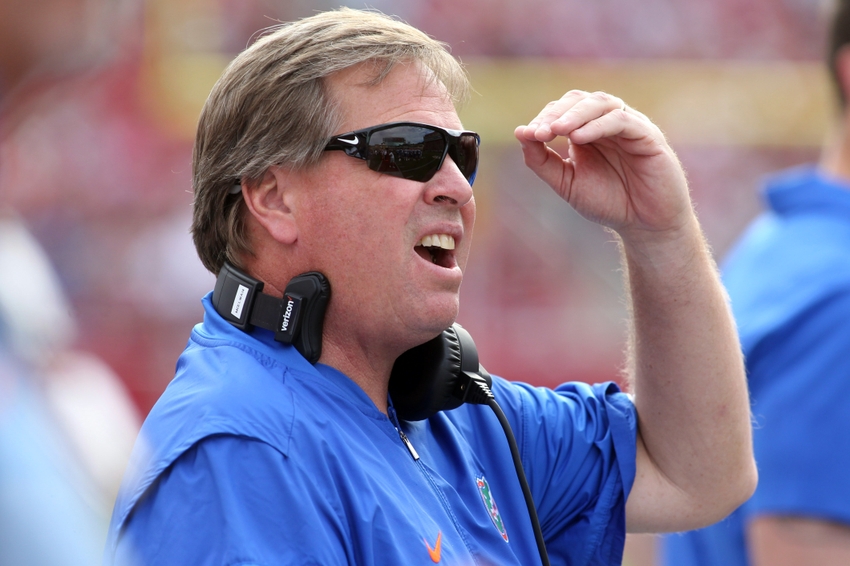 SEC football had a strange week, and here are some of the things which stood out to us as the season draws to a close.
It sounds strange, but Florida Head Coach Jim McElwain is probably grateful for Hurricane Matthew. The storm necessitated that the University of Florida not play their game against LSU on October 8. As QB Luke Del Rio was returning from a week 3 injury with a rusty skillset, this news was welcome.
The decision was made to move the game to November 19, by which time Del Rio had returned from his injury while his backup Austin Appleby – 2-1 in three relief starts – was playing strong enough football to give his Gators a shot to beat the Bayou Bengals and capture the SEC East.
The odds for the orange and blue were much better than in early October, and it showed when UF knocked off Louisiana State 16-10 in Baton Rouge, sending them to the 25th SEC Championship to face usual Atlanta opponent Alabama in the game's final Georgia Dome edition.
The loss is a tough blow for LSU's Interim head coach Ed Orgeron, who, according to at least one media observer, may be removed from contention for the permanent job due to the defeat. If Dennis Dodd's premonition is true, it will be another painful setback for a man who has proven a talented coach but been repeatedly spurned by the politics of college football.
Also on this day, Vanderbilt took a step toward bowl eligibility with a surprisingly convincing 38-17 win over a sinking Ole Miss, Arkansas came up on the long end of a 58-42 shootout with Mississippi State, and UT's Joshua Dobbs shone in his Neyland Stadium finale, with 413 all purpose yards as his Tennessee Vols outpaced Missouri by a 63-37 count.
Aside from conference games, FCS opponents peppered the SEC schedule, with Auburn slaughtering Alabama A&M, Alabama going easy on UT-Chattanooga as South Carolina and Kentucky earned bowl eligibility.
With rivalry week approaching, games against mid-major and lower division opponents are now staples of the third week of November. We'll take a closer look at what we saw, and what we'll see on thanksgiving weekend, below.
WHAT WE SAW: FLORIDA TAKES OUT LSU; WINS SEC EAST
The idea of "delay of game" as a good thing certainly applies for the Florida Gators. When Hurricane Matthew set its sights on Gainesville and shuttered Ben Hill Griffin Stadium before UF's October 8 date with LSU, Jim McElwain's group was in a tough spot.
Sophomore QB Luke Del Rio had finally mended from a knee injury sustained against North Texas, but the time off left his ability to handle the LSU defense a question mark. Austin Appelby, his backup, split the two September games he started in Del Rio's absence.
Florida Gators Football Recruiting: Malik Davis Update
While Del Rio's play showed bright spots, his faltering performance in the 2nd half against Tennessee (in which the Gator offense had only one drive over nine yards in length) raised concerns among the UF contingent about his ability to handle the LSU defense.
As some accused the University, particularly AD Jeremy Foley, of trying to dodge the contest; officials from Birmingham, Baton Rouge, and Gainesville agreed to move the game to November 19, necessitating a change of site to Tiger Stadium and the buyout of two mid-major schools (South Alabama and Presbyterian, respectively) which LSU and UF were scheduled to play this week; they ended up playing each other, with USA winning 31-7.
By this time, Del Rio had sustained another injury, to his shoulder, against Arkansas, and Appelby again stepped in, starting a November 12 game against South Carolina. He showed great improvement, completing 17 of his 21 passes for 201 yards and two scores in a 20-7 win over the Gamecocks. With a top ranked defense and  LSU's offense mired in futility, conditions were ripe for a Florida win as McElwain and company reached the bayou.
Defense was indeed the name of this game, which was preceded by a scuffle in which Leonard Fournette allegedly shoved a Florida assistant coach. A punt filled opening half ended with LSU holding a 7-3 lead. The Tigers opened the second half by capping a 73 yard drive with a turnover on downs.
After a 98-yard touchdown pass from Appelby to wide receiver Tyrie Cleveland, Florida had the lead, which it padded with a couple field goals to extend the verdict to 16-10, as LSU's offense failed to click with several blocking errors.
The end of this game would prove to be one of the most painful in LSU history. Florida's highly regarded defense orchestrated a goal line stand in the closing seconds, forcing Tiger running back Derrius Guice to fumble at the Florida 1-yard line, sealing a victory and trip to Atlanta for the orange and blue.
Not only did Ed Orgeron lose this game, but many observers believe that the loss will keep the popular 55 year old from finally losing an interim title. Detractors state that he eliminated himself from contention for the permanent LSU job with this defeat as well as a 10-0 loss to Alabama on November 5.
WHAT WE'LL SEE: JOB JEOPARDY FOR COACH "O", FLORIDA-LSU
Ed Orgeron began the year as LSU's defensive line coach, before taking the interim head coach title after Les Miles was let go following a tearjerking loss to Auburn. Coach "O" began restoring some momentum for the LSU squad, leading them to three straight wins including a dominant performance against Ole Miss.
However, the aforementioned losses to UA and Florida apparently have LSU brass unsure if Orgeron is worth a head coach's salary, with Dennis Dodd of CBS Sports calling Florida State's Jimbo Fisher the favorite to replace Miles in 2017. If he is correct in his prediction, it will not be the first time Orgeron has been passed over for the full time job.
SEC Football: Takeaways for Each Team from Week 12
Orgeron, once the head coach at Ole Miss from 2005-2007, led the 2013 USC Trojans to a 6-2 mark in his eight games as interim coach after the early season firing of Lane Kiffin. However, he was not given the full time job; he himself believes that he was snubbed by Southern Cal due to not having the right image for the school.
Coach O is affectionately known as the people's coach due to his cajun accent and down to earth demeanor. Even if he doesn't get the LSU nod, he'll at least receive consideration for some openings that emerge in the 2016-2017 college football offseason. He deserves that, at least. LSU will close its regular season vs Texas A&M on Thursday night.
A win over the up and down Aggies, plus a good showing in a bowl game may give Coach O the shot he deserves.
Florida will travel to Tallahassee to take on their in-state arch-rival  Florida State, and then face  Alabama in the SEC Championship Game. The Tide will be heavily favored, and barring a shocker in the Auburn game this week, undefeated.
It is fitting that Alabama and Florida face each other in Atlanta. Gator-Crimson Tide contests are the game's most  frequently occurring matchup, the December 3rd game will the ninth SEC title game to pit Florida against Alabama, the two schools have split the games at 4 a piece, with Alabama outlasting UF by a 29-15 count last year.
Their square offs include the first three SEC championship games ever played, the first at the Georgia Dome in 1994; the December 3rd game will be the final one for that stadium, as the conference moves to Atlanta's new Mercedes Benz Stadium next year. It is a watershed moment to have Florida and Alabama play the 25th SEC title game, but Florida must bring its A game to have any shot against Nick Saban and his seemingly unbeatable group.
WHAT WE SAW: A SLEW OF CUPCAKES
The only other conference games on the 19th saw Arkansas manhandle Mississippi State, Tennessee take its aggression out on Missouri, and Vanderbilt smash Ole Miss. However, the week before thanksgiving could be called "Cupcake Saturday" for the bevy of games between SEC teams and FCS or Group of Five squads in recent years.
These games are a polarizing issue for fans,  with detractors arguing that easy wins diminish the quality of a team's record and are embarrassing for the often heavily outmatched opponent, while supporters defend these games on the grounds that the major schools pay big money to these underfunded programs for playing these games, and the importance of having as few losses as possible in the chase for a national title.
Get the Saturday Blitz App
Occasionally, as seen in the 2013 Florida-Georgia Southern game and the 2015 South Carolina-Citadel match, the "cupcake" may taste sour, as the Gators and Gamecocks were beaten by their small-time foes in those tilts.
While some conferences discourage, or in the Big Ten's case, disallow future scheduling of these programs, they do benefit the small budget schools involved.
The 19th saw  Alabama put down UT-Chattanooga, Kentucky and South Carolina both gain bowl eligibility with wins over Austin Peay and Western Carolina,respectively, while Georgia handled UL-Lafayette, and Auburn dismissed Alabama A&M. All five of these squads play major rivalry games next week, so scheduling lighter challenges could be a wise move.
WHAT WE'LL SEE:RIVALRY WEEK
Thanksgiving weekend is a time for relentless smack talk among  friends,family and coworkers, as it is on this weekend that classic rivalry games are contested. A theme among the SEC is in state rivalries with ACC schools.
South Carolina hopes to derail Clemson's national championship hopes, but will need a remedy to their defensive inconsistencies and QB Jake Bentley to play beyond his years to have any hope of doing this.
Georgia welcomes a momentum riding Georgia Tech to Athens in the latest showing of "Clean, Old Fashioned Hate", and Florida will try to dodge an upset when it travels to Doak Campbell Stadium and plays a Florida State team bitter over missed opportunities. Vandy hosts Tennessee as it looks to clinch bowl eligibility, Missouri meets Arkansas while Texas A&M hosts LSU in a pair of conference border wars.
Perhaps the most intriguing SEC-ACC rivalry tilt of this year is the newest one, Kentucky-Louisville. The 'Ville had their feelings hurt when Houston ended their College Football Playoff hopes, while Kentucky won game number six over FCS Austin Peay State.
The Kentucky defense is ranked #105 against the rush this season, so containing Cardinal QB Lamar Jackson could be a chore for the Wildcats. The game will be played in Louisville, so the emotions of senior day and the home field advantage are obstacles for Stoops and company.
Want your voice heard? Join the South Bound & Down team!
WE'LL SEE YOU NEXT WEEK
We'll look back at rivalry week, look ahead to the SEC title game and possible bowl destinations for SEC teams, but for now, enjoy bonding with your family in the glow of your TV over the long gridiron weekend.
More from Southbound and Down
This article originally appeared on