SEC Football: Week Eleven Predictions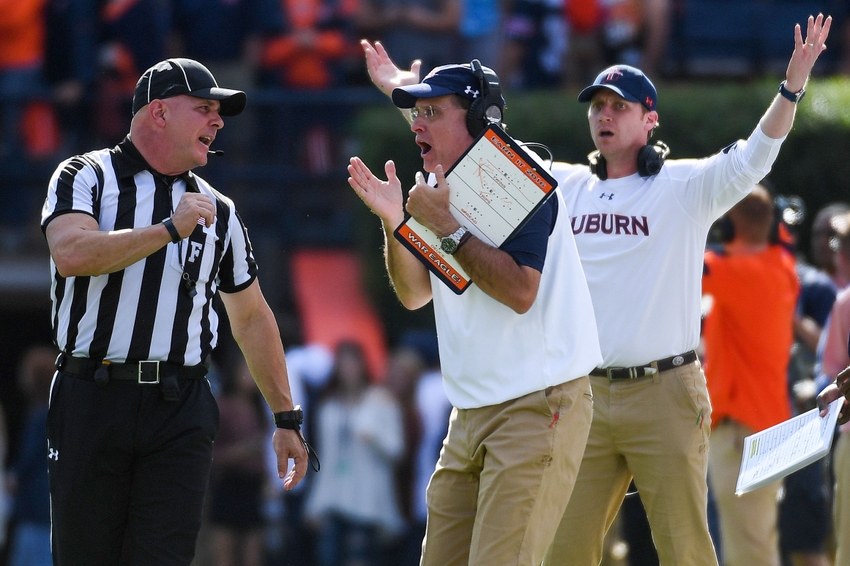 After another .500 week, I'm ready to entertain the possibility that I've been cursed with a season of mediocrity. What other explanation could there be for my poor predictions these last few weeks? Actually, don't answer that question.
Morale may be low, but I refuse to stand idly by as my record continues to suffer. That's why I have decided to add a new rule to my set.
5. At some point, Texas A&M will pull a Texas A&M no matter how good they appear to be.
I have also decided to revise rule #2. It shall now read as:
2. You are always wrong about Arkansas. Whatever your initial reaction is, go opposite of that.
Hopefully, these revisions are step in the right direction toward overcoming the .500 barrier.
Florida over South Carolina (+14.5), Saturday 11:00 AM (CT), Ben Hill Griffin Stadium
For several reasons, this game is a lot more intriguing than it might appear from the surface. On one hand, we have Will Muschamp's first trip to Gainesville since being fired by Florida two years ago. There's also the added layer that Steve Spurrier is now a consultant for the Florida program after quitting on the Gamecock's midseason a year ago. Also, both teams still have a lot to play for as the Gators are still in the driver's seat for the SEC East and the Gamecocks are fighting for bowl eligibility. How sweet would it be for the Will Muschamp to ruin Florida's season while also becoming bowl eligible?
Last week, I wondered about how good Florida actually was. The answer to that question is obvious to me now: They're mediocre at best. The Gators offense is even worse than I thought it and the defense isn't quite good enough to make up for it. The Gamecocks aren't a great team, but they're their best football of the season and seem to have found a future star at quarterback in true freshman Jake Bentley. I feel good about South Carolina's chances of giving Florida a scare, but I'm not sure they can knock of the Gators in Gainesville. I think Florida finds a way to survive in a defensive struggle. Florida 21, South Carolina 17
#9 Auburn over Georgia (+10), Saturday 2:30 PM (CT), Sanford Stadium
Georgia isn't very good, but I feel like getting 10 points at home is a little too much. Also, the Bulldogs have won the last four games played in Athens in the rivalry. The Bulldogs are far from figuring things out under Kirby Smart, but I think they can keep things close against the Tigers. Despite the scare last week against Vandy, Auburn looks like one of the best teams in the country. Unfortunately for Auburn, breakout star Kam Pettway appears unlikely to play. The Tigers still have Kerryon Johnson, but he doesn't bring quite the same spark as Pettway.
Despite my concerns, I expect Auburn to win in a close one. I think Jacob Eason will play well, but I don't think he has the weapons at receiver to pull of the upset. Georgia will rise to the occasion and play up to their competition, but Auburn's defense will prove to be too much. Look for Auburn to win behind the leg of Daniel Carlson in a narrow, low scoring game. Auburn 27, Georgia 24
#24 LSU over #25 Arkansas (+7), Saturday 6:00 PM (CT), Razorback Stadium
It's remarkable, but I've somehow managed to miss on every prediction I've made about Arkansas this season. I've been guilty of both underestimating and overestimating the Razorbacks and I still don't have a good read on them. Unlike Arkansas, there's no mystery about who LSU is. They remain an ultra talented, yet severely flawed team. Their issues were never more glaring than in their loss to Bama last week. The Tigers defense was phenomenal against the Crimson Tide, but the offense struggled to the point where it was obvious that they had no chance of scoring.
The good news for the Tigers is that Arkansas' defense is nowhere near the caliber of Bama's. The bad news is that LSU's season usually bottoms out after the Alabama game. I expect things to be slightly different in that regard under Ed Orgeron, but I do expect the Tigers to suffer a bit of a let down after the physical matchup with Bama. I feel like LSU is the better team, but all of the above factors lead me to be believe that this game is virtual toss-up. Ultimately, I'm going with LSU, but with no real conviction or confidence.
Elsewhere around the SEC:
Alabama (-29) over Mississippi State
Tennessee (-13.5) over Kentucky 
Vanderbilt (+3.5) over Missouri 
Texas A&M (-10.5) over Ole Miss
Record: 41-41 ATS, 66-16 Straight-up
This article originally appeared on