SEC Football Week 13 Preview and Picks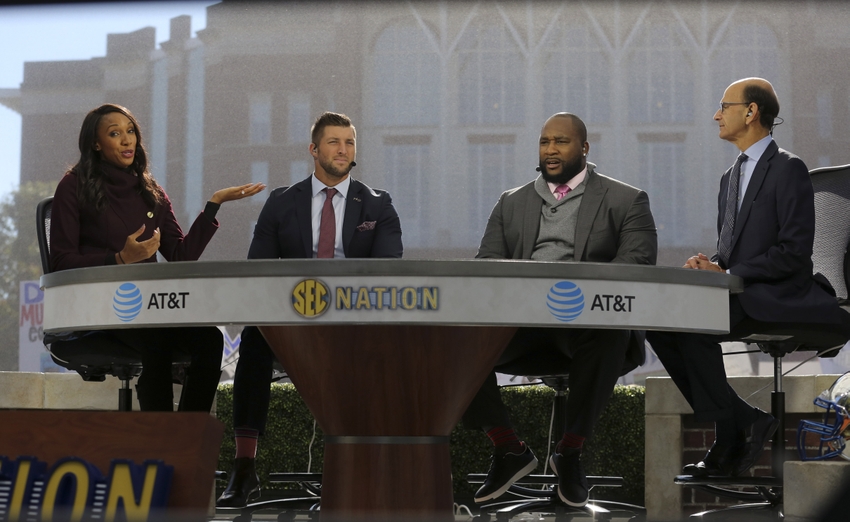 Here we give a quick preview of each SEC football game this weekend and who we think will win.
It's Thanksgiving Week and the East and West has already been wrapped up, but there is still a lot to play for in SEC football.
LSU at Texas A&M – 6:30 – ESPN 
Why we care: This game carries a lot of importance for each head coach.
After getting off to another hot start, Kevin Sumlin and Texas A&M have cooled off. Another loss for the Aggies and Sumlin goes right back on the hot seat.
Meanwhile, Coach O still auditioning for the LSU coaching job, and desperately needs a win against Texas A&M. I think the loss to Florida may have ended his chances though.
The news that Leonard Fournette is not playing tells me that LSU is kind of giving up on the season and Coach O.
Prediction: LSU – 17 Texas A&M – 24
Arkansas-Missouri – Friday – 1:30 – CBS
Why we care: To be honest, we really don't care about this game other than its something to watch on a Friday afternoon.
The Razorbacks are already bowl eligible, and Missouri is still horrible.
It's possible Missouri pits together a good performance to make this one interesting, but the outcome doesn't really matter.
Prediction: Arkansas – 42 Missouri – 31
Georgia Tech at Georgia – 11 a.m. – SEC Network
Why we care: This is one of the many conference bragging rights games in the final week.
Both teams enter with a. 7-4 record. As bad as the Bulldogs have been this year, if they can knock off their in-state rival they'll have a chance at a 9-win season, which should give them some nice momentum going into next season.
Prediction: Georgia – 24 Georgia Tech – 17
Kentucky at Louisville – 11 a.m. – ESPN
Why we care: It's another chance for an SEC East team to knock off someone from the ACC.
This would be the most unlikely win for the SEC, but the Wildcats are much improved from the beginning of the season, and Louisville has shown some kinks in the armor.
The Wildcats are already bowl eligible, but a win over their rival and 11th ranked Louisville could secure Mark Stoops' job for a while.
Prediction: Kentucky – 21 Louisville – 42
Auburn at Alabama – 2:30 – CBS
Why we care: It's the Iron Bowl.
Certainly this game has lost a lot of its luster after Auburn lost to Georgia, but it's the Iron Bowl.
Teams will fight to give their fans bragging rights for the next year. Alabama could go on to win the National Championship, but it won't matter if they lose this game.
Prediction: Coming in game preview
Mississippi State at Ole Miss – 2:30 – SEC Network
Why we care: The Rebels will be trying to gain bowl eligibility – if they can go to a bowl game – while the Bulldogs will try to salvage a lost season.
This has been a terrible season for both Mississippi schools, but the season can be saved for either team with a win.
Prediction: Miss. St. – 27 Ole Miss – 34
South Carolina at Clemson – 6:30 – ESPN
Why we care: A chance to ruin Clemson's season.
South Carolina has a chance to ruin Clemson's and the ACC's season by possibly knocking them out of the College Football Playoff picture.
The Gamecocks are a 24 point underdog, but Clemson has proven that they can be beaten by anybody.
Will Muschamp's squad has surpassed expectations this season, but a win over Clemson Saturday might earn him a statue.
Prediction: South Carolina – 17 Clemson – 31
Tennessee at Vanderbilt – 6:30 – SEC Network
Why we care: Vandy has a chance to get Butch Jones fired and gain bowl eligibility.
Vanderbilt has to be kicking themselves for an early loss to South Carolina, but they still have a chance to get six wins with a win over their rival Saturday.
Tennessee's season is already a disappointment, but a loss to Vanderbilt might get Butch Jones run out of town.
Prediction: Tennessee – 27 Vanderbilt – 17
Florida at Florida State – 7 – ABC
Why we care: Conference bragging rights. College Football Playoff implications.
After a surprise win over LSU, the Gators are in the SEC Championship game for the second straight year. A win over their rival Florida State, followed by a win over Alabama could put them in the College Football Playoff discussion.
You wonder how much effort Florida will give knowing they need to be at full strength for Alabama the following week.
This is the Seminoles season, so they'll be going all out to be their rivals.
Prediction: Florida – 13 Florida State – 17
Happy Thanksgiving!
This article originally appeared on