SEC Football: Week 13 Power Rankings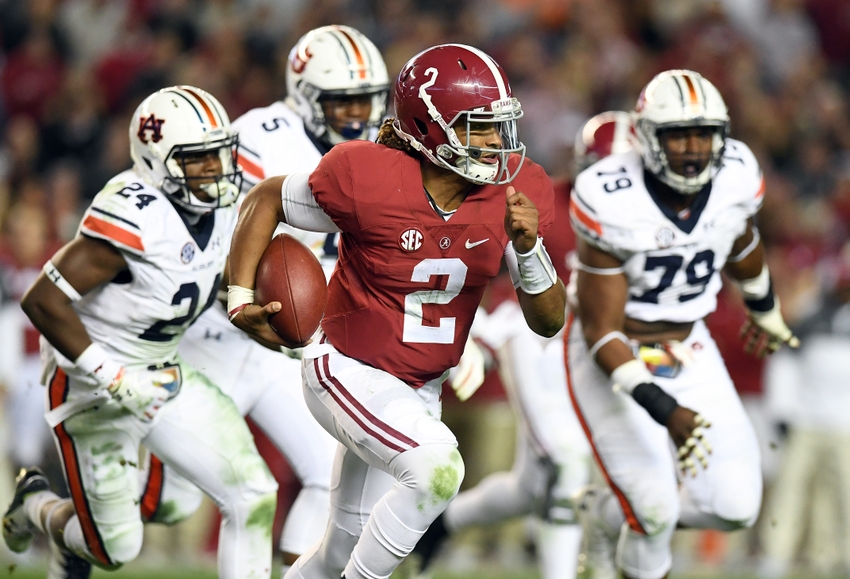 The regular season has ended in the SEC, and now all that is left is for Alabama and Florida to face off in the SEC Championship Game. Here are the final regular season power rankings for the southeastern conference.
As hard as it is to believe, the regular season of the 2016 college football season has ended. Now we shift to conference championships and bowl games. In the SEC, 11 teams will be heading to a bowl game, which will be announced this upcoming Sunday.
Rivalry Week was full of many great games for teams in the conference. The shocker of the day was Kentucky's upset win over Louisville. The Wildcats looked like a team left for dead in September, but have found a way to become a good team as the season progressed. Vanderbilt's upset of Tennessee was great for their program, renewing confidence in the direction head coach Derrick Mason has the Commodores headed in, as well as bowl eligibility for the first time in three years.
Here are the final regular season power rankings, beginning with number 14, Missouri:
14
Missouri
Tigers
4-8
Last week:
W 28-24 Arkansas
Last rank:
14
While it has been a dismal season for Missouri, the Tigers ended 2016 on a high note with an upset victory over Arkansas.
Missouri showed in their final game that they have the tools to be a much better team in the future. The pieces on offense and defense are there, they just have to mature and get better. Arkansas is a great team, a team that can score and had just got done putting up over 600 yards of offense on Mississippi State last week. With the win, Missouri has given its fans at least a small glimmer of optimism heading into the 2017 season.
Missouri has weapons, and improvement will be expected in 2017, particularly against the top teams that the Tigers struggled against in 2016.
13
Ole Miss
Rebels
5-7
Last week:
L 55-20 Mississippi State
Last rank:
12
2016 will forever be known as the season that could have been for the Ole Miss Rebels football team.
From injuries to young players and coaching changes, 2016 has not been a year to remember for Ole Miss. Hugh Freeze has work to do in the offseason with an announced reevaluation of his coaching staff, and the retirement and replacing of defensive coordinator, Dave Wommack, as well as the continuation of the pending NCAA investigation; this offseason will be the most important in his tenure as head coach. The season was full of problems as a team, particularly on defense and the loss to Mississippi State was the actual embodiment of these problems. The Bulldogs went in to Oxford determined to get a win and keep the Rebels out of a bowl game and that is exactly what happened.
For the Rebels, next year cannot get here soon enough.
12
Mississippi State
Bulldogs
5-7
Last week:
W 55-20 Ole Miss
Last rank:
13
Credit goes to the Bulldogs, they went into Oxford and beat a team that should have had more motivation to win the game than Mississippi State had, as the Bulldogs had already dropped from bowl eligibility, and they absolutely dominated the game.
The Bulldogs won back the Egg Bowl for the first time in two seasons, and sent a message to Ole Miss that the Bulldogs were not going to be intimidated and were there to win. Quarterback Nick Fitzgerald ran, yes ran, all over the terrible no dreadful, Ole Miss defense. Fitzgerald also scored five total touchdowns, and set himself up nicely for some preseason 2017 hype. A defense that had given up over 600 yards of offense to Arkansas, made the necessary adjustments to win and limited a young and injured Ole Miss offense.
Mississippi State will be expected to improve their defense in 2017, as well as to have Fitzgerald continue to mature at the quarterback spot.
11
South Carolina
Gamecocks
6-6
Last week:
L 56-7 Clemson
Last rank:
10
The Gamecocks were not expected to beat Clemson, but they might have been expected to at least be competitive against them.
The Gamecocks were not able to establish any semblance of offense in this game and their defense was outmatched against the ever so potent Clemson offense. South Carolina quarterback Jake Bentley continues to struggle against top defenses, but I believe he is still the future for the Gamecocks, he is just young and needs to mature on the field. I fully expect him to remain the starter for the bowl game and heading into 2017. South Carolina has already secured bowl eligibility and will now have to wait and see where they will be heading.
10
Vanderbilt
Commodores
6-6
Last week:
W 45-34 Tennessee
Last rank:
11
What a win for the Vanderbilt Commodores, and for head coach Derek Mason, not only did they upset their rival, Tennessee, but they also became bowl eligible with the win.
Vanderbilt has come a long way since Mason's first season, and while this season has had some bumps, the Commodores have continued to improve as the season has gone on and will now play in a bowl game for the first time since 2013. The Commodore defense has been the strength of the team throughout the season, but the offense has really come on in the last two weeks since the loss to Missouri. Quarterback Kyle Shurmur has played incredibly, which has allowed the offense to become more versatile and take some of the load off of running back Ralph Webb.
Enjoy this win, Vanderbilt fans, your team is now going bowling.
9
Arkansas
Razorbacks
7-5
Last week:
L 28-24 Missouri
Last rank:
7
A good season for Akansas has now been somewhat spoiled due to the loss to the Missouri Tigers but the Razorbacks still have a bowl game to play.
Arkansas was expected to handle Missouri, unfortunately for the Razorbacks, that didn't happen and they are now left searching for some answers before their bowl game. Arkansas's offense had worked over Mississippi State, yet was not able to score enough on Missouri. The Razorbacks were an interesting team this year, normally they get better as the season progresses, but as the Missouri game showed, this team was somewhat sporadic all year in its games.
2017 is a big year for Brett Bielema at Arkansas, he'll need to show that his team can produce better on the defensive side of the ball, at least we know the offense will remain good if not great.
8
Georgia
Bulldogs
7-5
Last week:
W 28-27 Georgia Tech
Last rank:
8
An up and down regular season for the Bulldogs, ended Saturday with a loss to arch-rival Georgia Tech.
The Bulldogs probably should have won this game, but the Yellow Jackets were the better team on Saturday, and Kirby Smart's first season as head coach of the bulldogs will continue with a bowl game, but the first season has not been that of what many would call successful. Sure, the Bulldogs are young, and they will have to improve in 2017, but there it too much talent at Georgia to be 7-5 on the season. A better and more mature Jacob Eason at quarterback, certainly helps when looking at the future of the Bulldog program.
Smart will be expected to compete for the SEC East division next year, as well as produce a much better defense.
7
Kentucky
Wildcats
7-5
Last week:
W 41-38 Louisville
Last rank:
9
Talk about a program defining win. Kentucky was already feeling good after earning bowl eligibility last week, but the one over Louisville is a program changer for Mark Stoops and Wildcats.
Remember when Kentucky was 0-2, and we (I) were pretty sure that Mark Stoops would be fired at the end of the year and Kentucky would continue to not get over the hump? Well the Wildcats made sure that wouldn't happen, and they stopped Louisville and their potential Heisman winner, Lamar Jackson. The victory over Louisville is huge for Kentucky, it shows that this program is turning a corner and just might challenge for SEC East titles in the near future. A win over the Cardinals gives Kentucky all the confidence they need to go win their bowl game and continue elevating the program.
6
Tennessee
Volunteers
8-4
Last week:
L 45-34 Vanderbilt
Last rank:
6
Remember when this was Tennessee's year and they were going to challenge for the SEC title and possibly get into the playoff? Well they just lost to Vanderbilt.
Injuries have plagued Tennessee but lets be honest, the Volunteers were overrated. This team never could put it all together to achieve the goals that were expected of them. Tennessee is not back yet, and the loss to Vanderbilt proves it. The Commodores have improved this season yes, but for a "good" defense to allow Vanderbilt to score 45 points, somethings wrong. Tennessee could still get into a pretty good bowl game, but Vols fans are mainly just stuck wondering what happened this season.
The hot seat is getting hotter for Butch Jones. The Volunteers have to show improvement in 2017 or Jones could be out of a job.
5
Texas A&M
Aggies
8-4
Last week:
L 54-39 LSU
Last rank:
4
Another November collapse for the Aggies has many looking at Kevin Sumlin and his coaching abilities, but A&M still had a great season when not much was expected of them.
The loss to LSU hurts. The Aggies were at home and needed a win to get a possible trip to the Sugar Bowl, but LSU had other plans and did whatever they wanted on offense to get a huge win in College Station, a win that might have ultimately won Ed Orgeron the head coaching position. The Aggies need get something to work on the defensive side of the ball because whatever they're doing now, is not working. The offense has been fine in the past and will continue to be fine, but for this team to ever really make noise, change has to occur on the defense.
2017 could be the make or break year for Kevin Sumlin. The offense should be fine next year but a lack of defensive improvement, could cost hime his job.
4
LSU
Tigers
7-4
Last week:
W 54-39 Texas A&M
Last rank:
5
LSU wrapped up the regular season with an impressive and dominating win over Texas A&M, and then Ed Orgeron was officially named the head coach of the LSU Tigers.
LSU has been an interesting team all year. Sometimes their offense is hot and sometimes its not, Ed Orgeron and his new staff will look to fix those problems heading in the 2017 season, but for now, LSU has done enough to be one of the better teams in a struggling 2016 season for SEC teams. LSU had an offensive explosion to the tune of 622 yards of offense against A&M and that will be exactly what fans want to see in the future, a more wide open and productive offense. For now, the Tigers will prepare for their bowl game, while the future of the program looks much better than it has in recent years.
3
Florida
Gators
8-3
Last week:
L 31-13 Florida State
Last rank:
3
Someone needs to poke Florida's offense with a stick. They are going to need some life next week when they take on Alabama in the SEC Championship game.
Theres no easy way to put this, Florida was just outright manhandled by Florida State. The Gators defense hung in tough and did all they could to stay in the game, but with the offense being as anemic as it was, the Gators didn't have a chance. That will have to change next week if Florida wants to win an SEC Championship and dethrone Alabama. Florida does have a good shot however. If the Gators can confuse and pressure Jalen Hurts and keep the Alabama offense off of the field, then who knows what could happen.
Next game: December 3, vs Alabama, SEC Championship, 4:00pm ET, CBS
2
Auburn
Tigers
8-4
Last week:
L 30-12 Alabama
Last rank:
2
No Sean White? That's a problem. No Kamryn Pettway? That is also a problem, and explains just why the Auburn Tigers never stood a chance in the Iron Bowl against Alabama.
Auburn was without its two best offensive playmakers in quarterback Sean White, and Kamryn Pettway, the teams leading rusher. That is usually not a recipe for success and the Tigers found out all about it. Auburn has had a miraculous turnaround from the dumpster fire that was last season, and Gus Malzahn found himself off of the hot seat at Auburn, at least for now. 2017 will be critical as the defense will be expected to remain good while the offense continues to improve. If Auburn has both White and Pettway back from injury for their bowl game, then the Tigers will be able to go toe to toe with anyone.
1
Alabama
Crimson Tide
12-0
Last week:
W 30-12 Auburn
Last rank:
1
The Alabama Crimson Tide started off the Saturday Blitz power rankings holding on to the top spot in the SEC and in the final regular season rankings of 2016, the Crimson Tide remain in that spot.
Alabama wasn't clicking on all cylinders last Saturday but it did not matter. The Alabama defense was suffocating for the Auburn offense and Jalen Hurts played through perhaps his worst game from an interception point of view, to help lead the team to get the victory over their arch-rivals in the Iron Bowl. The Crimson Tide have been impressive this year, their defense is perhaps the best I have ever seen and their offense gets more and more dynamic. Hurts has progressed as a quarterback all throughout the season and barring an upset by Florida, it will be interesting to see how he and the rest of the team fare in the college football playoffs.
Next game: December 3, vs Florida, SEC Championship game, 4:00pM ET CBS
This article originally appeared on