SEC Football: Week 12 Power Rankings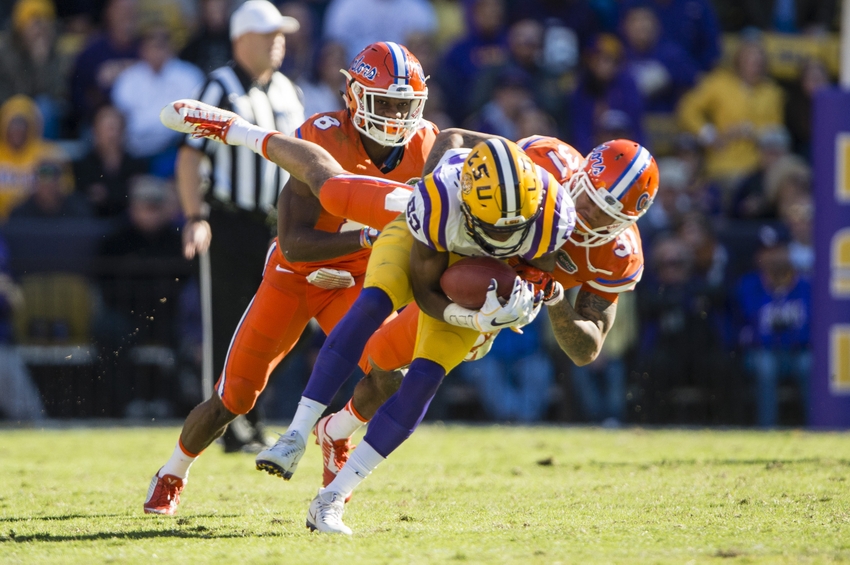 In the second to final week of regular season games in the SEC, the Florida Gators secured a spot in the SEC Championship Game, where they will face the Alabama Crimson Tide.
The LSU, Florida game was the most anticipated SEC matchup of the weekend, as the game had previously been postponed due to Hurricane Matthew, and had been sort of controversial in that the schools could not decide on when to play the game and where. What was at first a home game for Florida became an away game in Baton Rogue, and Florida head coach Jim McElwain alluded to his feelings about the game shortly after the win was secured.
While that matchup was the most intriguing, there were other games played on Saturday; here are the week 12 power rankings for the SEC, starting with Missouri:
14
Missouri
Tigers
3-8
Last week:
L 63-37 Tennessee
Last rank:
13
The hapless Tigers kept it close for awhile, but Tennessee eventually exerted their dominance, handing Missouri their eighth loss of the season.
On the bright side, Missouri only has one game left and then their season can be over, at least from a fan perspective. The season has not been what many had hoped it would, at times the Missouri offense has looked great. At times the Tigers defense has looked great, but rarely have the offense and defense looked good in the same game. Missouri just doesn't have the talent to compete right now, maybe next season.
Next game: November 25, vs Arkansas, 2:30pm ET CBS
13
Mississippi State
Bulldogs
4-7
Last week:
L 58-42 Arkansas
Last rank:
12
Mississippi State gave it their all on Saturday, but their loss to Arkansas ensures that the Bulldogs will miss out on a bowl game for the first time since the 2010 season.
At this point, the only thing the Bulldogs really have to play for is pride, and to keep their arch-rival, Ole Miss, from reaching a bowl game of their own in the Egg Bowl this weekend. Mississippi State has the offense to score, they scored plenty on Arkansas, but their defense is too susceptible to the big play, and they'll have to be sound on defense against Ole Miss. While the Rebels are young, they have plenty of offensive playmakers. As always, Mississippi State will be highly motivated for this game.
Next game: November 26, at Ole Miss, 3:30pm ET SEC Network
12
Ole Miss
Rebels
5-6
Last week:
L 38-17 Vanderbilt
Last rank:
8
How do you know your defense is really bad? When the Vanderbilt Commodores score 38 points and beat you.
This has been a season to forget for Ole Miss, and it only got worse as the Rebels young defense allowed a normally un-explosive Commodore offense to go off. The Ole Miss offense wasn't much better either while freshman quarterback Shea Patterson played well, he was not helped out by his receivers who were dropping balls all night. Vanderbilt has a very stout defense so this was never going to be an easy game for Patterson, but this was game the Rebels were expected to win. Ole Miss will now head home to Oxford for the Egg Bowl game against Mississippi State, a game in which Ole Miss will be playing for bowl eligibility and state bragging rights.
Next game: November 26, vs Mississippi State, 3:30pm ET SEC Network
11
Vanderbilt
Commodores
5-6
Last week:
W 38-17 Ole Miss
Last rank:
14
The Commodores needed a win to stay in the hunt for a bowl game and running back Ralph Webb made sure that Vanderbilt would win.
Webb rushed for 123 yards and three touchdowns as the Commodores routed the Ole Miss Rebels in Nashville. Vanderbilt now sits at 5-6 on the season and just has to beat Tennessee to become bowl eligible. Not exactly the last game most teams would want to play to become bowl eligible, but the Commodores have the confidence that they can win it, and the game is at home in Nashville. If Vanderbilt wins next week, it will be the first bowl game opportunity for the Derek Mason era.
Next game: November 26, vs Tennessee, 7:30pm ET SEC Network
10
South Carolina
Gamecocks
6-5
Last week:
W 44-31 Western Carolina
Last rank:
10
The game was not the prettiest that one would expect for an SEC team playing against an FCS team, but nonetheless, South Carolina got the win and is bowl eligible.
The Gamecocks' normally good defense seemed to struggle on Saturday, but then again, teams don't always give their all against lower competition. What matters most for head coach Will Muschamp and his team is that South Carolina will once again be in a bowl game. Muschamp needed to show that he could progress this team, when many questioned his hiring after being fired from Florida only two seasons ago. The Gamecocks has progressed and the future looks good for South Carolina.
Next game: November 26, at Clemson, 7:30pm ET ESPN
9
Kentucky
Wildcats
6-5
Last week:
W 49-13 Austin Peay
Last rank:
11
The Wildcats started the game by falling behind Austin Peay 13-0, but quickly righted the ship before the half to have a 21-13 lead, and never looked back.
For the first time under Mark Stoops, the Wildcats are bowl eligible. Hats off to this team, they started the season with a loss to Southern Mississippi and a blowout to Florida, but the Wildcats never wained and they find themselves with a winning record and hopefully have their fans excited about something other than basketball season. The Wildcats will face Louisville to end the season, an upset in that game, would be huge for this program.
Next game: November 26, at Louisville, 12:00pm ET ESPN
8
Georgia
Bulldogs
7-4
Last week:
W 35-21 ULL
Last rank:
9
The Bulldogs followed up their upset win over Auburn with a win over out of conference team, Louisiana-Lafayette.
The Bulldogs were never in danger of losing to ULL, and an excellent game from Nick Chubb was nice to see in what could have been one of his last games at Georgia. It has been an up and down season for Georgia, but the Bulldogs are finishing strong and will look to get a rivalry game win next week when they play Georgia Tech. A strong finish and a good bowl game will be enough for head coach Kirby Smart in his first season at the helm. The future certainly looks bright for the Bulldogs. Oh and the black jerseys were nice to see again.
Next game: November 26, vs Georgia Tech, 12:00pm ET SEC Network
7
Arkansas
Razorbacks
7-4
Last week:
W 58-42 Mississippi State
Last rank:
7
The Razorbacks put up some impressive offensive numbers in a high scoring win for the Razorbacks over Mississippi State.
Arkansas set the tone early and boy did their offense do whatever it wanted against the Bulldogs. The Razorbacks had 661 yards of total offense, led by running back Rawleigh Williams III, who rushed for 205 yards and four touchdowns, as well as a touchdown throw on a trick play. The Razorbacks defense was just as susceptible to the big play as Mississippi State, but they made more stops at the end of the day in the high scoring affair. Arkansas has secured a winning season and will face Missouri in the final game of the regular season.
Next game: November 25, at Missouri, 2:30pm ET CBS
6
Tennessee
Volunteers
8-3
Last week:
W 63-37 Missouri
Last rank:
6
Tennessee looked to be in some trouble early on in against Missouri, but the Volunteers quickly got on track and left the Tigers in the dust.
For Tennessee, this game was mostly meaningless, they already knew that Florida had beaten LSU, and won the SEC East because of it, meaning that Tennessee would not be in the SEC Championship Game this year. But the Volunteers responded to the game at hand and sent their seniors out right for their last game in Neyland Stadium. Quarterback Josh Dobbs was at his best in the game, throwing for 223 yards and three touchdowns, as well as two rushing touchdowns. The Volunteers finish out their regular season schedule on the road this weekend against Vanderbilt.
Next game: November 26, at Vanderbilt, 7:30pm ET SEC Network
5
LSU
Tigers
7-4
Last week:
L 16-10 Florida
Last rank:
2
LSU had all of the momentum that they needed to win this game and they just could not get it done.
Would having Leonard Fournette have made a difference? I'm not sure. LSU was in prime position to get to the Sugar Bowl and yet the team fell flat, particularly down on the goal line where the Gators stuffed them multiple times. Ed Orgeron might have suffered the loss that will keep him from getting the full time head coaching job at LSU, but that remains to be seen. He could increase those chances again with a win against Texas A&M this Thursday. Regardless of what happens in the game against the Aggies or whether or not Orgeron does get the full time job, he has kept this team together and turned them around this season when things were looking dire.
Next game: November 24, at Texas A&M, 7:30pm ET ESPN
4
Texas A&M
Aggies
8-3
Last week:
W 23-10 UTSA
Last rank:
4
Texas A&M seemed to still be stunned from their loss last week to Ole Miss early on against UTSA, but eventually the Aggies put it together and did enough to get a win.
Texas A&M had to win the game and most people would think that they would win it easily, and they did, but they definitely seemed to be sleep walking for most of the first half. The loss of Trevor Knight at quarterback is still hurting this team, the offense just has not been the same since he got hurt. Lucky for A&M, the defense came to play today and never let the Roadrunners pull close after the Aggies got the lead in the game.
Next game: November 24, vs LSU, 7:30pm ET ESPN
3
Florida
Gators
8-2
Last week:
W 16-10 LSU
Last rank:
5
Florida was playing for more than a win on Saturday. They were playing for the SEC East, pride, and respect. They garnered all of those and more on Saturday.
Florida had been seemingly given no chance to win this game, especially with all that came with it; from the postponement of the game and the athletic administrations feud with the LSU administration on how to make up the game. At the end of the day, the Florida Gators got the last laugh and became SEC East champions. Congrats Florida, you now get to go to Atlanta and face the Alabama Crimson Tide. Credit to Florida's defense, they made plays all over the field and stopped LSU on the crucial goal line stand at the end of the game. Quarterback Austin Appleby also deserves credit, its never easy to go into Death Valley and get a win, but he helped the Gators do just that.
Next game: November 26, at Florida State, 8:00pm ET ABC
2
Auburn
Tigers
8-3
Last week:
W 55-0 Alabama A&M
Last rank:
3
Auburn won easily over FCS team, Alabama A&M, and now the Tigers prepare for the Iron Bowl against the Alabama Crimson Tide.
The Tigers were never in danger of losing this tune up game before the Iron Bowl this Saturday. Auburn's biggest worry at this point is the health of quarterback Sean White. Jeremy Johnson started the game against Alabama A&M, but Auburn knows that they will need White if they want to be abel to upset the Crimson Tide, with White, their odds of winning that game become slimmer. Alabama is in the SEC Championship Game no matter what, but the Tigers could play spoiler and knock the Crimson Tide from the college football playoff.
Next game: November 26, at Alabama, 3:30pm ET CBS
1
Alabama
Crimson Tide
11-0
Last week:
W 31-3 Chattanooga
Last rank:
1
From week one to week twelve, there has been one constant in the Saturday Blitz SEC power rankings, and that is the Alabama Crimson Tide being the top team in the conference.
Alabama continued its winning ways on Saturday with an easy win over Chattanooga. The Crimson Tide will now get ready for the Iron Bowl game against Auburn, and it won't be an easy win for Alabama. The greatest threat to the Crimson Tide in this upcoming game is the Auburn defense. Jalen Hurts hasn't faced a defense on that level this season, the closest would be LSU and even then theres big difference. One thing Alabama might not have to deal with is Sean White, the starting quarterback for Auburn who was out with injury last Saturday and might possibly be out against Alabama. Either way, the Iron Bowl is a game that no college football fan should miss.
Next game: November 26, vs Auburn, 3:30pm ET CBS
More from Saturday Blitz
This article originally appeared on