SEC Football: Week 12 Power Rankings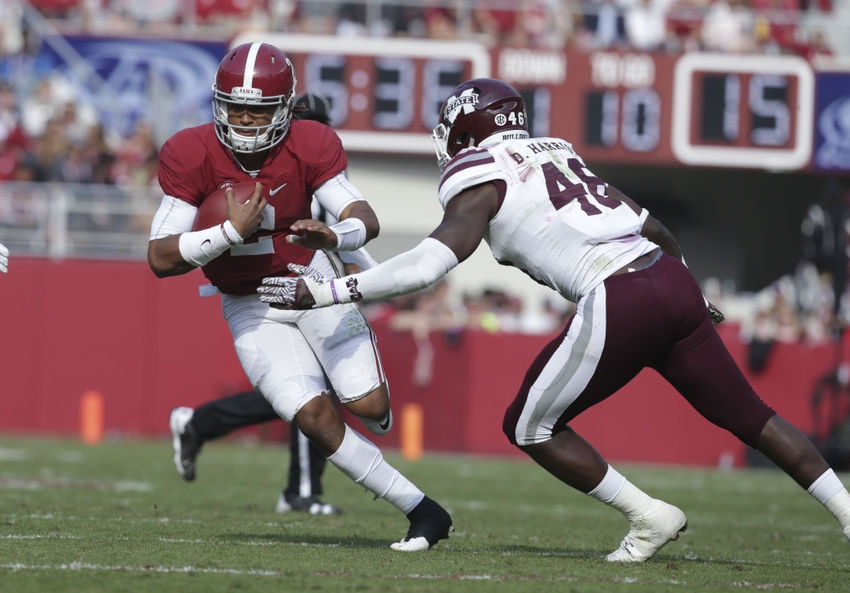 The SEC Football season is almost done. As conference play continues we are starting to see things clear up in regards to our power rankings. Today we will give you our Week Twelve Rankings.
We'll do the power rankings for all the SEC football teams like we did last time.  We'll give a few reasons why they're there, though we'll do it in three sentences or less. The number to the right of the team's name is their overall record, followed by their conference record, and then finally by their ranking in last week's Southbound and Down SEC Football Power Rankings. Let's dive in.
14. Vanderbilt 4-6 (1-5) LW: 13
The Commodores drop to 14th after an ugly loss against Missouri. Without a healthy Ralph Webb, the Vanderbilt offense is just completely anemic.
13. Missouri 3-7 (1-5) LW: 14
The Tigers got a win against Vanderbilt at home, which is hardly anything to get too excited about these days. However, when you've only won three games on the season, you take joy where you can find it.
12. South Carolina 5-5 (3-5) LW: 11
The Gamecocks traveled to the Swamp for a showdown with the Florida Gators. They lost, but the defense acquitted themselves well. Jake Bentley remains one of the more talented young signal-callers in the conference.
11. Kentucky 5-5 (4-4) LW: 12
Kentucky lost to Tennessee, which shouldn't surprise anyone. The Wildcats are a talented, albeit one-dimensional offensive team. Their defense remains a dumpster fire.
10. Mississippi State 4-6 (2-4) LW: 10
Mississippi State got annihilated by Alabama this past weekend. The Bulldogs are clearly the worst team in the SEC West. Their record would look much better if they played in the SEC East.
9. Texas A&M 7-3 (4-3) LW: 3
Don't look now, but the Aggies are in the middle of their usual November collapse. Without Trevor Knight the A&M offense doesn't run quite as smoothly. The defense remains incredibly soft against the run.
8. Georgia 6-4 (4-4) LW: 9
The Bulldogs got a big win this week against one of their most hated rivals. However, they still have a lot of flaws. Even so, the Bulldogs should coast to an eight win season.
7. Ole Miss 5-5 (2-4) LW: LW: 8
The Rebels looked like they were done after Chad Kelly tore his ACL. However, they have found new life under the leadership of freshman Shea Patterson. He is exciting to watch.
6. Florida 7-2 (5-2) LW: 6
Luke Del Rio is injured again, but Austin Appleby played well in his absence. Coach McElwain might be best served by leaning heavily on Jordan Scarlett. He is a talented young running back.
5. Arkansas 6-4 (2-4) LW: 5
The Hogs are an unusual team this season. They played great against Florida and then got dominated by LSU the very next week. I don't really know what to make of it.
4. Tennessee 7-3 (3-3) LW: 7
The Volunteers have finally started to look like the SEC East front-runner they were expected to be. Unfortunately, that is more of a reflection on how bad the East is than how good Tennessee is. If the Volunteers make it to Atlanta, Alabama will undoubtedly smack them around again.
3. Auburn 7-3 (5-2) LW: 2
When Auburn is healthy they are one of the best teams in the SEC. The Tigers weren't anywhere close to healthy against Georgia. It will be interesting to see if they can heal up before the Iron Bowl in two weeks.
2. LSU 6-3 (4-2) LW: 4
The Tigers demolished the Arkansas Razorbacks a week after dropping a tight game against Alabama. As of now that's good enough to earn them the number two slot. I'm eager to see how they play against Florida on Saturday.
1. Alabama 10-0 (7-0) LW: 1
There's Alabama, and then there's everyone else. Nobody in the SEC has what it takes to stop the Tide from making a third straight playoff appearance.
Thanks for Reading!
More from Southbound and Down
This article originally appeared on