SEC Football: Week 11 Power Rankings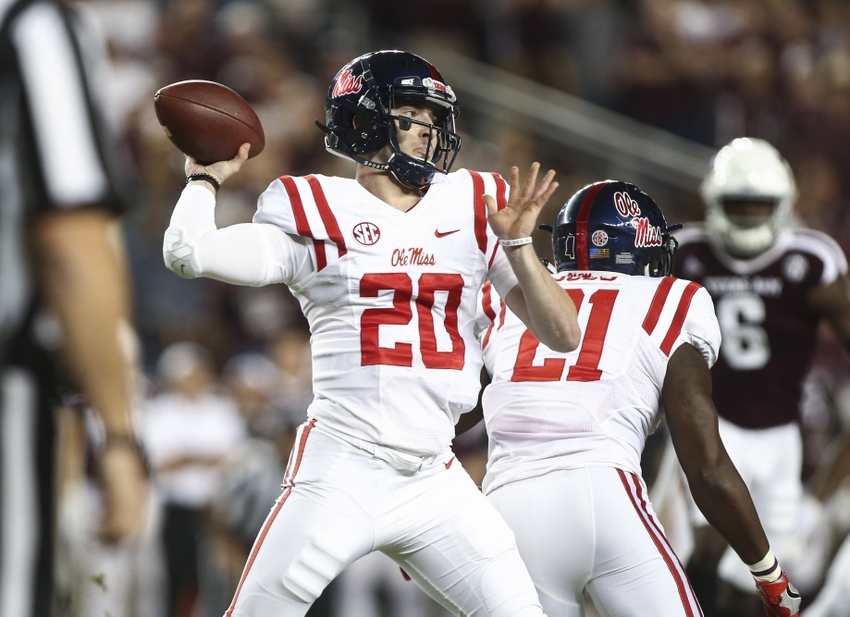 A mostly dull slate of games in the SEC , was saved by the thriller that was the Texas A&M, Ole Miss game, which provided the most suspense of any game in the conference, other than Georgia and Auburn. Here are the Week 11 Power Rankings.
It has been a rough couple of weeks for Texas A&M in SEC games, has they have now lost to both Mississippi schools and dropped out of the top 10 in the nations rankings. It now seems that the Aggies aren't even in the mix for a New Years Six game at all. Ole Miss was one of the most impressive teams this weekend, as their defense finally stepped up in a game and the college football world was introduced to Ole Miss freshman quarterback, Shea Patterson, who engineered the comeback that gave Ole Miss the win over A&M.
While Alabama has already won the SEC West, the SEC East is still up for grabs between Florida and Tennessee, and could be decided as early as this coming Saturday if the Gators beat LSU. Enough of that though, here are the Week 11 Power Rankings for the SEC.
14
Vanderbilt
Commodores
4-6
Last week:
L 26-17 Missouri
Last rank:
13
Vanderbilt had a shot to get even closer to bowl eligibility with a win over Missouri, but the Commodores dropped the ball and lost, and will now have to win out to reach a bowl game this season.
This was a game that Vanderbilt had a good shot at winning going in, but their defense laid an egg and the team suffered for it. While the offense wasn't at its most explosive, the defense, which has been very good for most of the season, could not get key defensive stops against the Tigers. As stated, the Commodores will have to win out if they want to get to a bowl game. That will not be any easy task as Vanderbilt faces both Ole Miss and Tennessee at home, to finish out the season.
Next game: November 19, vs Ole Miss, 8:00pm ET SEC Network
13
Missouri
Tigers
3-7
Last week:
W 26-17 Vanderbilt
Last rank:
14
It is times such as last Saturday where Missouri makes one scratch their head and wonder how this team was not better this season.
Granted, the Tigers played Vanderbilt, not a world beater, but a solid team with a very good defense and sporadic offense. Missouri's offense was good, they did enough to get the job done and the defense, which in recent weeks had all but forgotten to get off the bus for the game, did well for the first time in awhile. The Tigers were not able to put all of the pieces of the puzzle together this season, but they do have the pieces to be a solid team in future seasons, they just need time to mature as a team.
Next game: November 19, at Tennessee, 3:30pm ET CBS
12
Mississippi State
Bulldogs
4-6
Last week:
L 51-3 Alabama
Last rank:
12
The Bulldogs were fresh off an upset win over Texas A&M and were looking to continue their momentum against Alabama, and then the game started.
The Bulldogs were immediately blown off of the field against Alabama, as the Bulldogs lingering defensive problems were exploited to their fullest potential. Mississippi State was not expected to win this game, I think most would have expected a little bit more fight out of the team, but it just was not there. The Bulldogs will have to win their last two SEC games against Arkansas and Ole Miss, if they want to reach a bowl game.
Next game: November 19, vs Arkansas, 7:00pm ET ESPNU
11
Kentucky
Wildcats
5-5
Last week:
L 49-36 Tennessee
Last rank:
11
I'll just ask what everyone is thinking, how does Kentucky rush for 443 yards and still lose a football game?
The Wildcats had a hot start in this game and looked like they could be able to pull of the upset, but as the game went on Tennessee began to pull away. The loss leaves Kentucky still in search of that elusive sixth win (they'll get it this weekend). The Wildcats have improved as the season has gone on, there is no doubt in my mind about that, they just have to continue to learn how to win and close games out. With a win against Austin-Peay this weekend, Kentucky will become bowl eligible.
Next game: November 19, vs Austin-Peay, 4:30pm ET SEC Network
10
South Carolina
Gamecocks
5-5
Last week:
L 20-7 Florida
Last rank:
9
Jake Bentley may have struggle in his first career start on the road, but the future remains bright for the freshman quarterback.
The future also remains bright for the entire South Carolina Gamecocks team. Will Muschamp has done very well this year, a year in which no one expected much out of South Carolina. While the loss to Florida was disheartening, particularly from the way in which the defense played, the Gamecocks still have a shot at bowl eligibility next weekend when they take on Western Carolina, in a non conference matchup at home in Columbia. I would expect South Carolina to win that game, convincingly.
Next game: November 19, vs Western Carolina, 4:00pm ET SEC Network
9
Georgia
Bulldogs
6-4
Last week:
W 13-7 Auburn
Last rank:
10
Who would have thought that the Georgia defense would be able to impose its will on the Auburn offense?
That is exactly what happened as both teams were in a defensive struggle in this game, but Georgia's defense got the only touchdown of the game for Georgia on an interception return and the offense was able to do just enough to get some late field goals, as the Bulldogs upset Auburn. The loss effectively knocked the Tigers out of contention for the SEC West title. The win extended Georgia's winning streak to two in a row. Georgia can only improve their bowl standing with wins now, as they are out of contention for the SEC East title.
Next game: November 19, vs ULL, 12:00pm ET SEC Network
8
Ole Miss
Rebels
5-5
Last week:
W 29-28 Texas A&M
Last rank:
8
Ole Miss was in desperate need of a win, and boy did they get a huge one.
The program, in my opinion, had not been this low on morale since the disastrous 2011 season. With losses pilling up and the loss of Chad Kelly to injury, there was not a lot to really be inspired about when looking at the Rebels for the end of the 2016 season. Enter Shea Patterson. The true freshman quarterback guided the team in his first start ever and led the Rebels to the upset win. While yes, he started the game slow, Patterson showed the abilities that he has, finishing with 338 passing yards, 2 touchdowns and 1 interception.
Credit should also go to the Ole Miss defense, they finally made the necessary plays they had too and only allowed A&M to score once in the second half and made the game sealing interception. Ole Miss now has the momentum it needs to finish strong and make a bowl game.
Next game: November 19, at Vanderbilt, 8:00pm ET SEC Network
7
Arkansas
Razorbacks
6-4
Last week:
L 38-10 LSU
Last rank:
5
After their demolishing of Florida last week, Arkansas found out once again what it is like to be the team getting demolished.
Arkansas had no answers on Saturday, as the LSU Tigers roared into Fayetteville and once the got started, they never looked back. Arkansas has been up and down all year. One week they look like a team that should be undefeated and in the playoff hunt. Then the next week they seem lost and cannot move the football. Arkansas' defense has been susceptible to giving up the big play this season and that continued against LSU. Arkansas is already bowl eligible, and can only improve their standing. This team has enough talent to close this season strong and then make some noise going into next season.
Next game: November 19, at Mississippi State, 7:00pm ET ESPNU
6
Tennessee
Volunteers
7-3
Last week:
W 49-36 Kentucky
Last rank:
6
It has been quite the season for Tennessee, for better or worse, but this team is still in contention for the SEC East title.
Tennessee was in trouble early in this game, but they eventually pulled away from Kentucky to get a win. Tennessee's defense, mostly due to injury, has not been what many thought it would be this season, they allowed 443 yards rushing by Kentucky and with numbers like that, the Volunteers are lucky that they were even able to still win this game. Had they lost, I cannot even imagine the increase in temperature of the hot seat for head coach Butch Jones. The Volunteers have underachieved again, but if they can still get to the SEC Championship Game, then their season could still be deemed something of a success.
Next game: November 19, vs Missouri, 3:30pm ET CBS
5
Florida
Gators
7-2
Last week:
W 20-7 South Carolina
Last rank:
7
Florida got back on track with their win against South Carolina, after they were soundly defeated by Arkansas last week.
The Gators did what they needed to do to keep their chances at a SEC East Championship alive, as their defense suffocated the Gamecocks and their offense was efficient enough to get a win against an ever improving South Carolina team. Florida now faces the tough task of heading to Baton Rogue and facing the LSU Tigers, a game that was originally supposed to be in Gainesville but was postponed due to the Hurricane Matthew. The Gators have to win to win the SEC East, if they do not win, Tennessee will be the division champions.
Next game: November 19, at LSU, 1:00pm ET SEC Network
4
Texas A&M
Aggies
7-3
Last week:
L 29-28 Ole Miss
Last rank:
3
It goes without saying, but I will say it anyway, it has been a couple of rough weeks for the Texas A&M Aggies.
First they were upset at Mississippi State, and then the Ole Miss Rebels rolled into town with their true freshman quarterback, and they too upset the Aggies. November has not been kind to Texas A&M, not this season and not in recent past seasons either. Granted, the Aggies were without starting quarterback Trevor Knight, but the Aggies offense was completely shut down in the second half by perhaps the worst defense in the SEC. Texas A&M's defense wasn't any better either, as they allowed freshman quarterback Shea Patterson, to continually carve them up through the air. Texas A&M is still a good team but problems are rearing their ugly head again late the season.
Next game: November 19, vs UTSA, 12:00pm ET SEC Network.
3
Auburn
Tigers
7-3
Last week:
L 13-7 Georgia
Last rank:
2
Auburn's offensive woes from last weeks win against Vanderbilt, followed them to Athens, Georgia, as the Tigers just never got anything going and are now out of SEC West contention.
The Tigers have been great on offense this season, but that offense has really disappeared since the win at Ole Miss, two weeks ago. Georgia has not been known for their defense this season, but they sure looked like a strong defensive team against Auburn, which should have shocked any person that knew anything about either of these teams. The Auburn Tigers will now look to play the role of spoiler in the Iron Bowl in two weeks when they travel to Tuscaloosa to take on the Crimson Tide of Alabama.
Next game: November 19, vs Alabama A&M, 7:30pm ET SEC Network
2
LSU
Tigers
6-3
Last week:
W 38-10 Arkansas
Last rank:
4
What Alabama hangover? LSU responded from their tough loss to the Crimson Tide, with a very convincing win over Arkansas.
LSU's offense was something to see on Saturday, particularly on the ground thanks to Leonard Fournette and Derrius Guice. The two running backs combined for 350 yards rushing and 5 touchdowns in the game. Needless to say, there was never any doubt that the Tigers were going to win this game. Ed Orgeron continues to show that he has what it takes to motivate this LSU team, and that he is more than capable of being the head coach in the future. The only question is, will the administration give him a shot? LSU will take on Florida this weekend, and a win for the Tigers could go a long way in deciding Orgeron's future with LSU.
Next game: November 19, vs Florida, 1:00pm ET SEC Network
1
Alabama
Crimson Tide
10-0
Last week:
W 51-3 Mississippi State
Last rank:
1
If there was anyone in the country who might have thought that Mississippi State had a shot in this game, that thought went away early.
Alabama did whatever they wanted against the Bulldogs, moving the ball seemingly at will, as the Mississippi State defense, which has been woeful all year, never could figure out Jalen Hurts and the Crimson Tide offense. Alabama has now wrapped up yet another division title, and will look to take out Chattanooga this weekend and then follow that up with an Iron Bowl victory over Auburn in route to the SEC Championship Game. Alabama is far and away the best team in the SEC, they have been all year and that will not be changing any time soon.
Next game: November 19, vs Chattanooga, 7:00pm ET ESPN2
More from Saturday Blitz
This article originally appeared on