SEC Football: Week 10 Power Rankings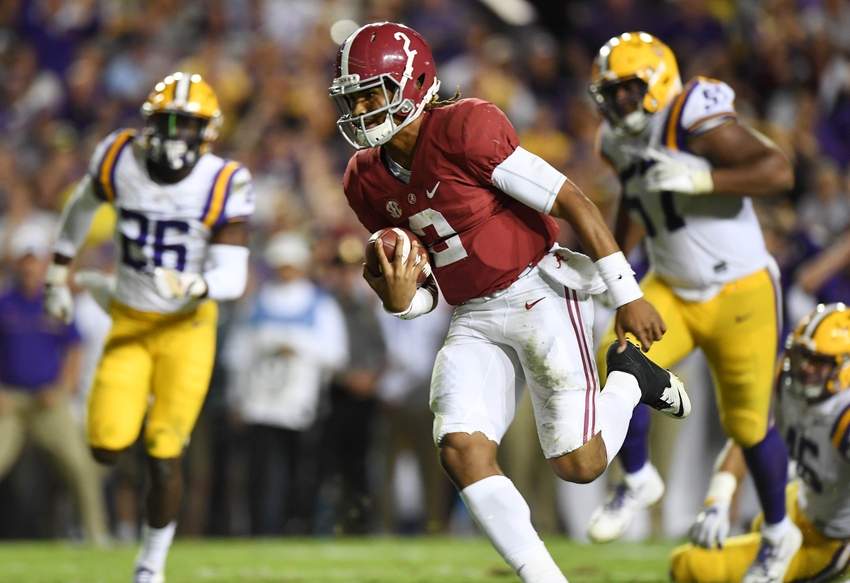 Week 10 in the SEC was full of many great games between division contenders in the East and the West. Now the the dust has settled, here is how the teams sit after this weeks games.
Alabama and LSU dominated the headlines for their matchup, and while the Crimson Tide did come out victorious in 10-0 win, the game was not as close as the score would say. Alabama defense just flat out dominated in the game, limiting Leonard Fournette to just 35 yards rushing and LSU quarterback Danny Etling to just 92 yards passing.
The shocker of the weekend was Mississippi States upset of Texas A&M. The Bulldogs sprung out to a 28-14 lead before the half and never looked back. The Georgia-Kentucky matchup was another great game, in which Georgia came out on top 27-24. The loss leaves Kentucky still within one game of being bowl eligible. Elsewhere in the SEC, Ole Miss snuck by Georgia Southern and Arkansas upset the Florida Gators.
Here are the power rankings for this week, beginning with Missouri:
14
Missouri
Tigers
2-7
Last week:
L 31-21 South Carolina
Last rank:
14
Missouri played a close game with South Carolina, but they once again did not have enough offense to win.
Drew Lock and the offense played efficient but South Carolina's defense was too much in this game, showing once again that Missouri's offensive problems are still dire when they face better defensive teams. The Tigers are now officially out of bowl contention and can only play for pride for the rest of the year. There is a lot to like about Missouri and their future, but the offensive problems are going to be a lot to overcome.
Next game: November 12, vs Vanderbilt, 3:30pm ET SEC Network
13
Vanderbilt
Commodores
4-5
Last week:
L 23-16 Auburn
Last rank:
12
The Commodores gave Auburn more of a game than many thought they would and had a chance to win but they came up just short.
Vanderbilt's defense showed up once again, and the Commodore offense was there when it needed to be until the end of the game. Vanderbilt seems to be improving at the end of the season and gave one of the better teams in the conference a game, when most would have expected Vanderbilt to be blown out. With the way that the Commodores are playing, its not out of the picture for them to still find two more wins this season to be able to get to a bowl game for the first time since the 2013 season.
Next game: November 12, at Missouri, 3:30pm ET SEC Network
12
Mississippi State
Bulldogs
4-5
Last week:
W 35-28 Texas A&M
Last rank:
13
Mississippi State pulled off the shocker of the weekend and perhaps one of the biggest shockers of the season with their upset victory over Texas A&M on Saturday.
Quarterback Nick Fitzgerald was lights out in the game, with four total touchdowns and 209 yards passing. The Mississippi State defense was the real surprising part of the Bulldogs in the game. A unit that has often struggled this season, put it all together and while the defense did let A&M pull close in the fourth quarter, the game was already in hand for Mississippi State. The win keeps the Bulldogs in bowl game contention.
Next game: November 12, at Alabama, 12:00pm ET ESPN
11
Kentucky
Wildcats
5-4
Last week:
L 27-24 Georgia
Last rank:
11
The Wildcats fell just short of a win against Georgia, and are still one game away from bowl eligibility.
While Kentucky did play well, the defense was not able to do quite enough in slowing down Sony Michel on the ground and Jacob Eason through the air. Kentucky has improved this season, that shows in the way that it plays against top level talent teams like Georgia, not that Georgia is a great team this season but they certainly have a more talented roster than Kentucky does.
Kentucky still has a lot to lay for this season, as they look for that elusive sixth win this weekend at Tennessee.
Next game: November 12, at Tennessee, 12:00pm ET SEC Network
10
Georgia
Bulldogs
5-4
Last week:
W 27-24 Kentucky
Last rank:
10
Georgia got a crucial road win against Kentucky on Saturday, proving that the Bulldogs do have some fight in them.
Georgia has been an interesting team all year, they started hot with a win against North Carolina and then quickly sputtered in losses to Ole Miss, Tennessee, Vanderbilt and most recently Florida. Georgia and first year head coach Kirby Smart needed a win against the Wildcats and that is what they got. It wasn't pretty but it was a win. The defense made the crucial plays that it needed to, something that had been lacking of late for Georgia. They'll need more of that kind of defense as they face Auburn at home this Saturday.
Next game: November 12, vs Auburn, 3:30pm ET CBS
9
South Carolina
Gamecocks
5-4
Last week:
W 31-21 Missouri
Last rank:
9
Besides Auburn, South Carolina is arguably the most improved team in the SEC, as they now find themselves a win away from bowl eligibility and are on a three game winning streak.
Quarterback Jake Bentley has proven to be the guy at quarterback for the Gamecocks as he continues to show poise and be able to handle leading the Gamecocks in big games. Will Muschamp might finally have good quarterback play for multiple seasons, but that remains to be seen; for now however, Bentley is playing lights out and so is the South Carolina defense. That combination gives South Carolina a good shot against Florida this Saturday.
Next game: November 12, at Florida, 12:00pm ET CBS
8
Ole Miss
Rebels
4-5
Last week:
W 37-27 Georgia Southern
Last rank:
8
After a sluggish start, the Rebels asserted themselves and ended their three game losing streak with a win over the Georgia Southern Eagles.
The win, however, came at a price, as quarterback Chad Kelly was injured, tearing his ACL and meniscus, and will miss the rest of the 2016 season. The Rebels now will most likely start redshirt freshman Jason Pellerin, who will be backed up by Shea Patterson, whom Freeze has to decide whether or not to pull his redshirt. The Rebel defense was better than it has been, but it was also against a less talented team, against Texas A&M the defense will have to be better than it has been all season as the Rebels do not want to put the game all on the shoulders of Pellerin.
Next game: November 12, at Texas A&M, 7:30pm ET SEC Network
7
Florida
Gators
6-2
Last week:
L 31-10 Arkansas
Last rank:
5
Florida walked into a buzzsaw in Fayetteville, earning their second loss of the season to the Razorbacks.
Like Ole Miss, the Florida Gators lost their starter at quarterback to injury. Luke Del Rio injured his shoulder in the loss and head coach Jim McElwain has stated that Del Rio will be out for a while, which could mean the rest of the season. Florida is still in position to win the SEC East but will have no room for errors with Tennessee breathing down their necks. The Gators defense was terrible, which is not how that defense normally performs and will have to improv to beat a hot South Carolina team this Saturday.
Next game: November 12, vs South Carolina, 12:00pm ET CBS
6
Tennessee
Volunteers
6-3
Last week:
W 55-0 Tennessee Tech
Last rank:
7
After their upset loss to South Carolina, Tennessee got a nice easy win on Saturday against Tennessee Tech.
The Volunteers were in need of a win after their season seemingly went down the tank after their losses to Alabama and South Carolina. The Volunteers needed this win and lets be honest, they were never in trouble of losing this game, but it should serve to give this team confidence heading into their last three games against Kentucky, Missouri and Vanderbilt.
Next game: November 12, vs Kentucky, 12:00pm ET SEC Network
5
Arkansas
Razorbacks
6-3
Last week:
W 31-10 Florida
Last rank:
6
Arkansas came back from their bye week and destroyed the Florida Gators, much in the same way that the Razorbacks were destroyed by Auburn the week before their bye week.
Arkansas has been a hot or cold team this season but they were on fire on Saturday, as they worked over a normally stout Florida defense in Fayetteville. The Razorbacks offense used the bye week to their advantage as they put up 466 yards of total offense on the Gators. Raleigh Williams lead the way for Arkansas with 148 yards and two touchdowns.
Next game: November 12, vs LSU, 7:00pm ET ESPN
4
LSU
Tigers
5-3
Last week:
L 10-0 Alabama
Last rank:
4
For the first time under interim head coach Ed Orgeron, the LSU Tigers suffered a loss and a severe lack of offense.
The Alabama defense did more than contain the LSU offense, they never even let it get off the bus. Leonard Fournette was held to 35 yards rushing and the passing game was contained to the tune of 92 yards. The Tigers defense was the only bright spot for the team and that only lasted until the fourth quarter when the Crimson Tide got their first points of the game, and the only points that they would need for the night. LSU played a tough game and still has plenty to play for, as does Orgeron, who still has a shot at the job at LSU.
Next game: November 12, at Arkansas, 7:00pm ET ESPN
3
Texas A&M
Aggies
7-2
Last week:
L 35-28 Mississippi State
Last rank:
2
To say that Texas A&M's loss to Mississippi State was shocking, would be a major understatement.
The loss of Trevor Knight to a shoulder injury in the game, definitely hurt the Aggies as the were unable to ever overcome the Bulldogs' quick start in the game as Mississippi State scored 28 points before the half and never looked back. It was a disappointing loss for a team that started out in the first college football playoff rankings of the season at number four. A&M's lack of defense might be most shocking, as their defense has been much improved this season but looked lost against Mississippi State until late in the game.
Next game: November 12, vs Ole Miss, 7:30pm ET SEC Network
2
Auburn
Tigers
7-2
Last week:
W 23-16 Vanderbilt
Last rank:
3
Auburn was in an unexpected dogfight with Vanderbilt, but the Tigers responded with a winning effort.
After John Franklin III got the start due to Sean White after suffering an unspecified injury, Gus Malzhan sent in White after Franklin III was mostly unsuccessful in leading the Tigers, who were down 13-10 at the half. White came in and helped lead the Tigers to a win. Auburn has continually improved this season and has made their way all the way up the power rankings to the number two spot. All that stands in their way of reaching the top spot is Alabama, who Auburn will face in the Iron Bowl at the end of the season.
Next game: November 12, at Georgia, 3:30pm ET CBS
1
Alabama
Crimson Tide
9-0
Last week:
W 10-0 LSU
Last rank:
1
Alabama was in a defensive slugfest with LSU but then its offense made the necessary plays in the 4th quarter, like all championship teams, and got out of Baton Rouge with the win.
The Crimson Tide have all but assured that they will be the SEC West champion, once again. The only hurdle left in their way at the moment, is Auburn. Sitting at 9-0, the Crimson Tide have left no doubt that they are the best team in the SEC and in the country. Thanks to Jalen Hurts the Crimson Tide have been and continue to be, more dynamic and dangerous on offense than they have before. The freshman is playing well headed into the final three games of the year.
Next game: November 12, vs Mississippi State, 12:00pm ET ESPN
This article originally appeared on