SEC Football: Three Things We Watched for in Week Nine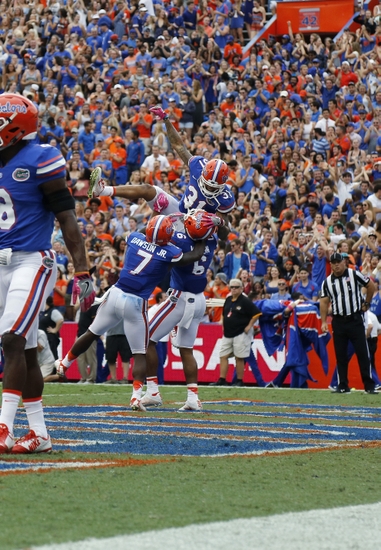 Week Nine of SEC Football is officially in the books. That means it's time for us to take a look back at our three things we watched for this week. Without further ado, let's just dive right in.
3. How Will Jacob Eason fare Against a Nasty Florida Secondary?
Poorly. He completed just 15 of his 33 passes for 143 yards. That won't win you many games in the SEC. In fairness to Eason, he didn't have a lot of help. His offensive line is atrocious, as is his receiving corps. Plus, his running game left him out to dry, gaining only 21 yards on the day.
Georgia is just not a very good team this year. Mark Richt left the cupboard bare in a couple of key areas, and that has crippled the Bulldog offense this season. Kirby Smart is going to have to hit the recruiting trail hard after the season ends. He desperately needs to find some talented offensive linemen. If he can do that, Georgia will be much better next season.
2. Is Ole Miss Done?
They weren't done, but they might be now. Chad Kelly went out guns blazing, but the Ole Miss defense let him down in a big way. The drop off from last season in Oxford is staggering. What's unfortunate for Rebel fans is that it's only going to get worse.
Chad Kelly will be leaving for the NFL, along with Evan Engram and several other key players. In addition, the looming threat of NCAA sanctions should make recruiting difficult. Ole Miss may simply be returning to their rightful place in the SEC West basement.
1. Can South Carolina Shock the World?
Yes they can, and yes they did. The Carolina defense did a good job of limiting Tennessee's offense. Plus, the Carolina offense looks to have turned the corner. Jake Bentley looks like the real deal at quarterback. Next season the Gamecocks will be looking to make some serious noise in the SEC East.
Tennessee, on the other hand, is a veteran team. This was their year. They've completely squandered it. Butch Jones should be fired. However, he won't be, because Tennessee has come to expect, and accept, mediocrity.
Thanks for Reading!
Be sure to "like" us on Facebook and "follow" us on Twitter. Also, share what three things you watched for during this week's SEC Football slate.
More from Southbound and Down
This article originally appeared on