SEC Football: Takeaways for Each Team from Week 9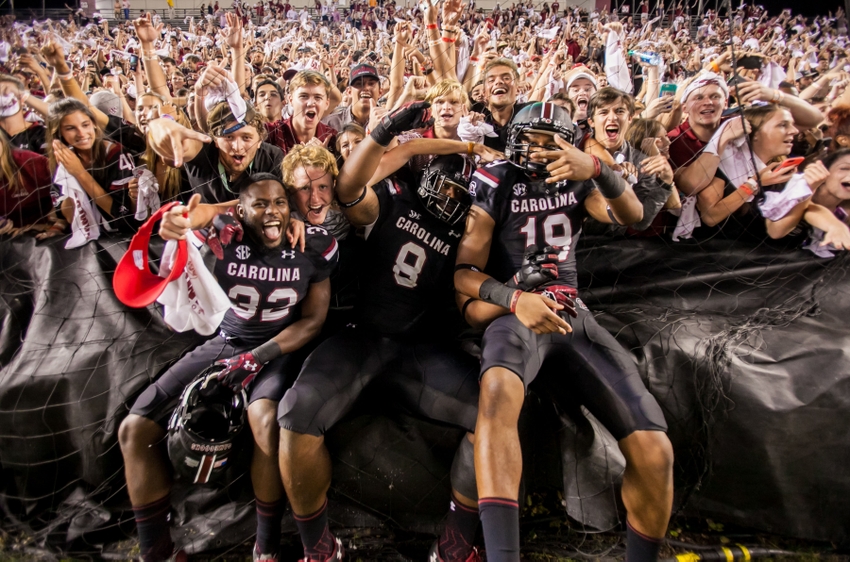 After another week of separation in SEC football, it is time to identify the biggest takeaways for each team.
Week 9 of SEC football has come and gone, and left us with more confusion than ever. I told you not to buy into the Tennessee hype long ago, but no one saw the Volunteers falling like Saturday. Georgia looks worse, as does Mississippi.
No, I'm not like the broadcasters who incessantly get the two schools mixed up. Both, though, look worse after this week despite one of them getting a win.
Auburn continued their ground and pound, while Florida cleared another hurdle on their path to
the SEC Football Championship Game. Other teams had big days, while others remained stagnant or had their bye week. SEC football as a whole received a boost from top 10 teams losing, thus providing pathways for hot SEC teams to climb the rankings.
Which teams woke up Sunday full of refer? What teams are still aiming for an SEC Football Championship berth? Read on to find the answers to those questions and more as we identify the takeaways for the SEC football teams that were in action this weekend.
Georgia Bulldogs
Georgia 10-Florida 24
The Georgia Bulldogs are struggling in Kirby Smart's first year at the helm, and he knows it.
"We are 4-4. That's a fact. That's a reality…What can we do about it? Get our butts ready to play Kentucky…There's some frustrated kids in that locker room, and I'm frustrated for them. But I also know they will fight."
I'll leave it at that, as the head coach said it best.
Impact Moving Forward
-Potential problems brewing
Georgia's defense played well, as Florida's offense only provide 231 yards combined between rushing and passing. The problem, though, was that Georgia could never get the run game going. As a team, the Bulldogs rushed 19 times for 21 yards. There were no turnovers for Georgia, though Georgia did cause one.
What all that adds up to is there are problems brewing in Athens. Georgia was flat-out outplayed and now sits at 4-4. Mark Richt was shown the door, but the team has regressed instead of progressing. Kirby Smart will get a pass in year one, but he could have some serious doubters moving forward if the outcome against Kentucky is the same.
Florida Gators
Georgia 10-Florida 24
Jim McElwain has the Florida Gators on track for a second straight SEC Football Championship appearance. While it looked like Tennessee could still overtake them due to the Vols easy remaining schedule, particularly if the Gators lost to LSU, that seems like a long shot now. Tennessee dropped a game to South Carolina and Florida knocked off Georgia.
Those two facts combined clear the path for the Gators to head to Atlanta. Of course nothing is sewn up yet, but Florida fans have to like their odds.
Impact Moving Forward
-Sustaining/extending momentum
Although McElwain has been somewhat of a flop offensively, his teams win ball games. The Gators team again looked mediocre at best on offense, but the team again won to improve their record to 6-1. Am I the only one who feels like they're watching what the Gators used to be under Muschamp, but with better injury luck?
Regardless, McElwain's teams win. That is what matters and more and more highly regarded recruits will continue heading to Gainesville and buy McElwain time to get his offense truly rolling. McElwain isn't going anywhere anytime soon.
Mississippi State Bulldogs
Mississippi State 56-Samford 41
While Mississippi State did win, the Bulldogs did not impress the way they hoped this weekend. Sure the team racked up yards and scored 56 points – led by Fitzgerald's 7 touchdowns. The problem, though, is that despite picking off Samford 3 times, the inferior Bulldogs still put up 41 points on Mississippi State's D.
Fans went into this game hoping for a reason to believe the Bulldogs could upset 3 teams remaining schedule. Those teams, though, are Texas A&M, Alabama, Arkansas and Ole Miss. While two of those games are at home, the defense abysmal showing doesn't create in belief among Mississippi State faithful.
I don't mean to be all doom and gloom, but this is not what Mississippi State needed defensively.
Impact Moving Forward
-None
It had to feel good for fans to see their beloved Bulldogs win a home game, but this doesn't have any long term impact on the team. Fitzgerald looked like a beast, but he hasn't been the problem this season. If Mississippi State can win 3 SEC football games this season (2 upsets needed), Mullen will restore some of the lost faith fans had in him.
This game in particular, though, provided no boost or loss of momentum. That has to be considered progress this year, however, as State has lost some ugly games.
Kentucky Wildcats
Kentucky 35-Missouri 21
Look out world, Kentucky is at 5 wins for the third straight season. The difference this year, though, is that the Wildcats still have Austin Peay still remaining on their schedule. While the Wildcats may not win another SEC football game, odds are distinctly in their favor to make a bowl appearance this year. Who knows — as bad as Georgia and Tennessee have been lately, Kentucky may reach 7 or 8 wins.
Impact Moving Forward
-Large momentum boost
Mark Stoops was sitting on one of the hottest seats in America before back-to-back-to-back SEC football victories. While those teams were Vanderbilt, Mississippi State and Georgia, Kentucky is usually on the wrong side of that streak. All Stoops has to do is win one more game this year and he'll be able to carry the momentum through with his Wildcats into recruiting season.
Stoops hasn't done a poor job recruiting without bowl games. Imagine, though, if elite prospects think they can win big playing for Stoops. How much better might the Wildcats be then? We'll just have to wait and see, however, as nothing is guaranteed with Kentucky.
Missouri Tigers
Missouri 21 – Kentucky 35
The Tigers are already missing Gary Pinkel. Like I said in this same section last week, Barry Odom's calling card was supposed to be defense. Instead, though, his Tigers got tuned up by 'offensive juggernaut' Kentucky for tons of offensive yards. Maybe Barry Odom wasn't ready for a head coaching gig just yet. It's possible he takes more control of his sinking ship, like Derek Mason did. Or it is even possible that Gary Pinkel was an excellent coach, but not a great recruiter and the cupboard is dry for Odom.
Impact Moving Forward
-Restlessness and Frustartion
In addition to fans growing tired of seeing Missouri get whipped by nearly everyone over the last two years, the players have to be tired of losing so much too. Players join SEC football to play in the biggest games in the country. Most know they have at least a few losses headed their way, but players expect to beat lower-tier SEC football teams.
What Missouri is quickly realizing after a 2-year honeymoon period, though, is that it is quickly becoming one of those lower-tier schools. Although Missouri got off to a hot start, the last two seasons have shown that Missouri football has a lot of catching up to do. Whether or not Barry Odom is the man to lead that charge will be the biggest question moving forward.
Texas A&M Aggies
Texas A&M 52-New Mexico State 10
Unlike their former Big 12 brethren, Texas A&M has acquainted themselves to SEC football quite well. While the Aggies haven't won an SEC West Championship, they have been more consistently relevant than the Tigers. That holds true again this year, as Texas A&M is quite possibly the second best team in the SEC West. Christian Kirk returned 2 punts at least 70 yards for touchdowns to lead the head for this beatdown of New Mexico State.
Impact Moving Forward
-Refocused Aggies
While the Aggies limped away from their loss at Alabama, this game was the perfect remedy. A&M was able to move the ball at will and use a very vanilla game plan to easily defeat the 'other' Aggies. It didn't provide a huge boost of momentum, but it did allow Texas A&M to refocus and try to make it to a  New Year's Six bowl. Although this win won't impress anyone, the margin was what it should be. In some cases, that is all a team and a head coach can hope for in a weekend.
Ole Miss Rebels
Ole Miss 29-Auburn 40
While I'm sure it does little to console the Ole Miss faithful, the Rebels are no doubt the best 5-loss program in the country. Ole Miss has not lost a single game to a bad opponent and has beaten some decent teams. The Rebels are likely a Top 25 team in many conferences, but their SEC football schedule has gotten the best of them this year. Ole Miss needs a big win at some point this year. The only opportunities the Rebels have left, though, are Texas A&M and their potential bowl game.
Yikes.
Ole Miss football is beginning to slip back into irrelevancy.
Impact Moving Forward
-Impossible to tell…and not in a good way
Can Hugh Freeze keep this team together? This team had big time dreams to begin the year, but now sit at 3-5. The only goal remaining on the Rebel's preseason goals list has to be winning the Egg Bowl and a bowl game. While each of those would allow this team to end their season on a high note, it is impossible to tell whether or not Freeze and his staff can keep this team together to reach that point.
Speaking of Freeze's staff, though, some major changes will need to happen this offseason.
Just a side note here. I was able to attend this game and had a disappointing takeaways from the Ole Miss fan base. To be fair, though, it was only the student section. The student section at Ole Miss clearly had Halloween plans, because that section started emptying before halftime. For shame Ole Miss students, shame!
Auburn Tigers
Auburn 40-Ole Miss 29
Auburn is one of those teams I always hate predicting before the season starts. LSU, Auburn, Texas A&M all are maddeningly inconsistent, but consistently recruit like elite programs. It is always impossible to tell how a season will play out, and that appears to have been the case this year as well.
Not many people would have said Auburn would be bowl eligible after 8 games this season. While that isn't a particularly impressive feat by itself, it does show how wrong so many people were before the season started. I don't think anyone wants to have to slow down the Auburn defense at this point.
Impact Moving Forward
-Big momentum boost
While their 3-5 record may indicate otherwise, beating Ole Miss is still a quality win in 2016. The Rebels are talented and likely have the best quarterback in SEC football. This was a big win for Auburn and should help continue building momentum for them. While an SEC Football Championship berth is unlikely, it is not yet out of the cards.
South Carolina Gamecocks
South Carolina 24-Tennessee 21
I'm on the record as saying Will Muschamp and Kurt Roper are an underrated coaching tandem. I think it would have worked in Florida, and I think it can work in South Carolina. I'm not taking one big win over an overrated Tennessee team saying the combo has arrived, but it does bode well for the future.No one expected South Carolina to contend for a bowl this year, but that is exactly where the Gamecocks are at after 8 games in the season.
Impact Moving Forward
-Huge momentum boost
While few thought South Carolina would win 6 games this year, no one thought the Gamecocks would be able to defeat Tennessee this year. The Gamecocks now have a quality win under their belt, to go along with 3 others. Even better? South Carolina has games left against Missouri and Western Carolina. Look out SEC football, the Gamecocks are likely going bowling this year.
Tennessee Volunteers
Tennessee 21-South Carolina 24
Before the season started, I made a claim. I said the Volunteers would win the SEC East, but wouldn't finish in the top 3 in the SEC West. While Alabama and Texas A&M proved half my point, the Volunteers are making me look silly. While I don't feel I overrated Tennessee (I said their CFP Playoff dreams were a joke), I did think too little of the SEC East.
I formally apologize SEC East.
Tennessee, though, owes their fan base an apology. This was supposed to be the culmination year for Butch Jones. This is a senior-driven team, and it will be interesting to watch if Jones can put it all together the rest of the way out. If he can't, prospects aren't particularly bright for next year.
Impact Moving Forward
-Butch Jones' seat warming again
Butch Jones began to feel his seat get a little warm up getting drubbed by Alabama, but it mostly subsided. After losing to South Carolina, though, his seat will again begin to warm up. I have often compared Butch Jones to Hugh Freeze. Before this season, it was meant positively as both are great recruiters. With each failing to meet expectations this year, though, the comparison seems more accurate than ever.
More from Saturday Blitz
This article originally appeared on