SEC Football: Takeaways for Each Team from Week 12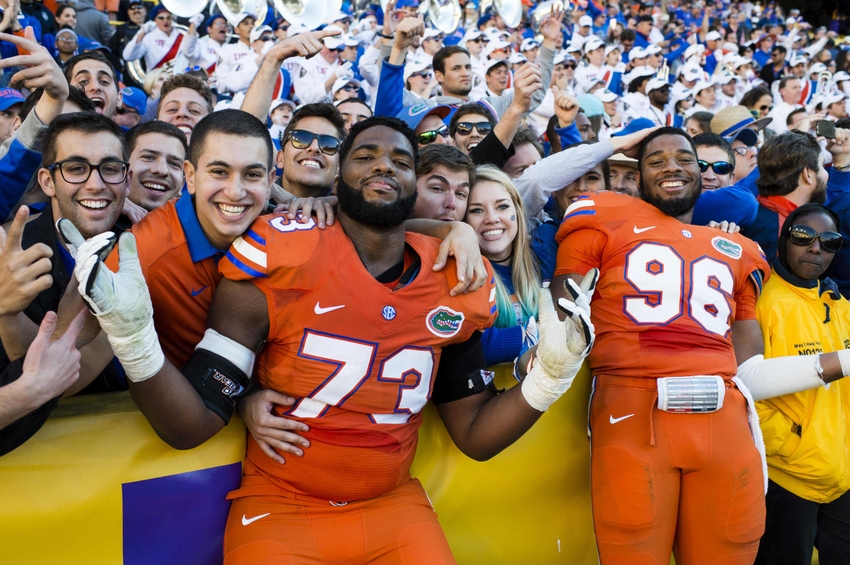 It is time for us all to acknowledge it: SEC football is mediocre at best in 2016.
You can talk about past glory all you want, SEC football fans. One thing that will not change, though, is how mediocre the conference is. Not in general; just this year.
SEC football cannot be saved by bowl season. No matter what happens, the conference has shown how mediocre it is. Even the once-great SEC West has fallen. Aside, of course, from Alabama — who is still killing it this year.
The Florida Gators again won the SEC East, but no one is impressed. No one thinks the Gators would have a snowball's chance in hell in the College Football Playoff. No matter how much Jim McElwain wants to puff his chest with pride about being a Gator.
SEC football has fallen on rough times. The good news, though, is that the SEC will rise again. It just won't be until September 2017. Bowl games, regardless of results, cannot help SEC football save this season.
Ole Miss Rebels
Rebels 17 – Vanderbilt 38
Ole Miss lost to Vanderbilt. Let that sink in a moment. One team was supposed to contend for the College Football Playoff. The other is an SEC football doormat. One team just beat Texas A&M last week. The other just lost to MIZZOU!
No disrespect to Missouri, but the jumbled mess of teams behind Alabama is perfectly represented by the mess we saw in Nashville Saturday night.
Impact Moving Forward:
-Huge loss of momentum
After last week's thrilling victory against Texas A&M, fans had hope. There was potential for a 4-4 SEC football record and a winning regular season. Instead, though, fans have to hope the Rebels can overcome Mississippi State to reach a bowl.
It is tough to tell where it went wrong, but this is just the latest proof that coaching changes are needed. There was a repeated graphic last night about Vandy averaging less than 20 a game before last night. Yet the Commodores put up 38 against this SEC West defense.
Time for some coaching changes indeed.
Vanderbilt Commodores
Ole Miss 17-Vanderbilt 38
The Vanderbilt Commodores now have the same record as the Ole Miss Rebels. I can't give too much credit to Derek Mason and Co., however. I made that mistake after the Commodores beat Georgia.
What Vanderbilt did do last night, though, is show off consistency. With so many SEC football programs being lost in terms of identity, Vandy continued to show how comfortable they are with theirs.
If Mason is allowed to stay and continue building the Commodores, the team could consistently reach bowl berths.
Impact Moving Forward:
-New Momentum
As unlikely as it may seem, last night's win kept Vandy alive for a bowl game. I don't believe the Commodores can knock off Tennessee, but crazier things have happened.
Regardless, though, Vandy showed how strong the team is under Mason. Each season the Commodores get a little better. While it isn't monumental progress, it is sustainable at Vanderbilt
Mississippi State Bulldogs
Arkansas 58 – Mississippi State 42
Rawleigh Williams loves the state of Mississippi. If he played Ole Miss or Mississippi State every week, he'd be in the thick of the Heisman race. Mississippi State gave up an entire game of offensive statistics to Williams after eight carries.
Many will blame the loss of Dak Prescott for the woes of Mississippi State this season, but that couldn't be further from the truth. Nick Fitzgerald topped the 3,100 total yard mark Saturday. Only one other player has done that in Mississippi State football history: Dak Prescott.
Fitzgerald has not been the problem for Mississippi State. The joke of an SEC football defense, has.
Impact Moving Forward:
-None
Ole Miss losing had more of an impact on Mississippi State than this game. Now Dan Mullen has a chance to keep his streak of keeping the Bulldogs out of the cellar alive.
It's sad, really.
The last two Egg Bowls have meant so much. Now the game will determine who finishes last in the SEC West.
Arkansas Razorbacks
Mississippi State 42 – Arkansas 58
Arkansas got to remind SEC football that they're not as bad as the state of Mississippi this year. That's about it, but it was an impressive offensive showing.
Rawleigh Williams III absolutely crushed while cruising to 205 yards and four rushing touchdowns, to go along with his passing touchdown. The offense looked great and Allen barely missed all night.
Impact Moving Forward
-Feel good momentum mixed with doubt
Yes, this was a great game for the offense of Arkansas.
But is this the plateau under Bielema? I've made comparisons to Houston Nutt before, and I don't think they're inaccurate.
The Razorback's D again showed that Arkansas can't hang with even average offenses. As long as this is the case, the Razorbacks will hoover around 8 wins every season.
It's pretty good, but not what Arkansas fans were hoping for.
Missouri Tigers
Tennessee 63 – Missouri 37
This was actually a really tight game through three quarters. Missouri fell apart after being down only eight going into the fourth, though, and watched Tennessee nearly double their score.
Missouri's offense continues to improve, though it could not hang with the Volunteers putting up 63. There is no shame in that, however. Missouri putting up 27 through three quarters had them in a competitive spot.
What happened in the fourth, however, is indeed embarrassing.
Impact Moving Forward
-Doubts about Odom
Last week's surprise victory was an uplifting moment for Missouri, but the Tigers have sunk back to reality. Missouri somehow has to fix their defensive woes, which was supposed to be a strength under Odom. If the Tigers cannot, former DC Barry Odom's tenure as head coach will be very short.
Tennessee Volunteers
Missouri 37 – #19 Tennessee 63
The Volunteers are near the top of SEC football. Unfortunately for the conference, though, that doesn't mean very much.
Tennessee's offense exploded and the Volunteers got a win that should see them jump a few spots in the rankings.
On the same day, though, Florida won the SEC East.
Impact Moving Forward
-None
Tennessee is the Arkansas of the SEC East. Each has some impressive victories to pair with head scratching losses. Thankfully for Butch Jones, Tennessee plays more bad teams than Arkansas.
That's good news, though, as it buys Butch Jones more time to turn Tennessee back into an SEC football contender.
Georgia Bulldogs
Louisiana Lafayette 21 – Georgia 35
All three phrases of Georgia's team showed up in the first quarter Saturday, as the Bulldogs had a rushing touchdown, interception and punt return for a touchdown. Isaiah McKenzie had a huge day. Georgia jumped out to a 21-0 lead and did enough to hang on.
As a side note, though, Anthony Jennings reminded us he couldn't play SEC football. The former LSU quarterback threw three interceptions, and no touchdowns.
Impact Moving Forward
-None
Year one of Smart has been nothing. A huge win against Auburn gave Bulldogs encouragement, but this year hasn't seen any huge differences for Georgia football.
Whether or not the investment in Smart was worth it will be seen over the next few years. After one season, though, nothing feels or seems different.
Don't forget, however, that Smart started a true freshman quarterback all season. He'll be back next year, and Georgia could be on the way to something special.
Then again.
We've also heard that every year, though.
Auburn Tigers
Alabama A&M 0 – #15 Auburn 55
Auburn destroyed A&M.
Alabama A&M, that is.
Ho-hum.
The story here was that Jeremy Johnson looked like the supposed Heisman contender he was entering 2015. He looked great, but he won't be taking Sean White's job.
Impact Moving Forward
-None
Yes it was impressive, but no one is impressed. Auburn should be on a momentum train heading into the Iron Bowl, but Kirby Smart and Georgia exposed the Tigers last week. Alabama will mimic the game plan en route to an easy victory.
Too blunt?
Oh, uh, sorry.
Did I mention Jeremy Johnson looked great?
Texas A&M Aggies
#25 Texas A&M 23 – Texas San Antonio 10
Three weeks ago, this would have mattered. Texas A&M losing to both Mississippi schools, though, has ruined any chance of this being significant.
No College Football Playoff. No Sugar Bowl.
Impact Moving Forward
-Uneasiness
Kevin Sumlin and Co have to be feeling uneasy about the LSU game Thursday. LSU's defense is much better than San Antonio's, as is their offense. Texas A&M wasn't focused, but they should have been as they're still working in a quarterback.
Kevin Sumlin has done enough to secure his job going into the offseason. Whether or not his seat will be hot, though, will be determined by the LSU game. This victory over San Antonio was nice, but has no impact on the big picture.
Florida Gators
#16 LSU 10 – #23 Florida 16
I like Jim McElwain's swagger. That's the takeaway here.
McElwain expressed his disgust at all the shade thrown the Gator's way during a time of tragedy, but he wasn't done there.
Check out the excellent work done over at sbnation to see the players and others respond to this game. If all of LSU's accusations are legit, every bit of this response was appropriate.
Impact Moving Foward
-Continued Momentum Growth
No, Florida is not 'back', but that is the scary part. Jim McElwain has used a weak SEC East to stockpile a few wins in his early seasons in Florida, and recruits will no doubt jump on board.
The Gators still have to find a new identity under McElwain, as they're essentially still playing Muschamp ball with Muschamp players. But if Florida does put an offense together under McElwain, watch out!
LSU Tigers
#23 Florida 16 – #16 LSU 10
LSU  held the Gators to three points in the first half, and failed to score inside the Gator's 10-yard line. Only one of those trends continued in the second half, though.
The Tigers botched an opportunity inside the 5, and failed to get a kick in on a field goal attempt. Immediately after, Florida scored a dagger of a 98 yard touchdown.
Rinse and repeat a few times, minus any touchdowns for the Tigers.
LSU had plenty of chances, but found a way to lose.
Impact Moving Forward
LSU won this game everywhere except the scoreboard. The Tigers had plenty of chances to score and put this game away. It never happened.
Turnovers, bad reads, and terrible angles all happened, and Ed Orgeron is likely out as the next coach of the Tigers.
LSU showed they were the better team, but still lost the game. So the Tigers proved they're still very Les Miles-esque after all.
South Carolina Gamecocks
Western Carolina 31 – South Carolina 44
South Carolina has done it! Congratulations to Will Muschamp and Co, as the Gamecocks are bowl eligible in year one of Will Muschamp. Jake Bentley and Deebo Samuel led the charge offensively, while the defense did just enough.
South Carolina should have won by a bigger margin, but that isn't what is important here.
Impact Moving Forward
-Huge Momentum Boost
South Carolina doesn't need the Clemson game to become bowl eligible, but they'd sure take a victory in that rivalry. That rivalry has been flipped on its head after Spurrier went on an extended win streak. Clemson is the one looking to build a win streak now, though, and it doesn't appear South Carolina can stop them.
South Carolina did make a bowl, however. That is progress that many of us did not expect to see under Muschamp in year one.
Kentucky Wildcats
Austin Peay 13 – Kentucky 49
We continue with the good vibes of the SEC East section, as Kentucky also became bowl eligible. I predicted this back in the summer, but admittedly had my doubts after the season opening loss.
Kentucky prevailed, though, and will go bowling after the season. While we expected to see it sooner under Stoops, it is still a huge accomplishment for his regime. Stoops and Co are officially off the hot seat for the remainder of the season.
Impact Moving Forward
-Huge sigh of relief
As the Wildcats stumbled out of the gate, many in Big Blue Nation turned their attention to basketball. Fortunately for those that stuck around, the football team turned it around.
No, bowl eligibility isn't a huge deal to all schools. But programs like Kentucky aren't shoo-in's for bowl games, so there's reason to celebrate in Lexington.
It is also a huge relief for Mark Stoops after getting Kentucky to 5 wins early in the last two seasons, but failing to make a bowl.
Alabama Crimson Tide
Chattanooga 3 – Alabama 31
Alabama had their annual ho-hum performance the weekend before the Iron Bowl.
No, I'm not going to read into the slow start or worry about a few minor injuries. Nick Saban expects everyone that missed playing time Saturday to play against Auburn, but of course nothing is guaranteed.
Impact Moving Forward
-None
Alabama looked sloppy against an inferior opponent, but who didn't expect this?
Honestly?
I've been around SEC football long enough to know the following:
Alabama will look terrible the week before the Iron Bowl and Nick Saban will go on a rant. End of story. Nothing less, and certainly nothing more.
This article originally appeared on