SEC Football: Rivalry Week Doesn't Disappoint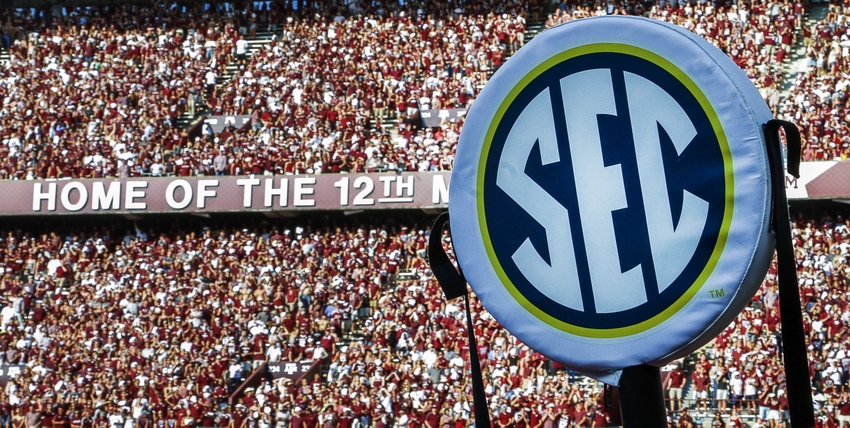 The regular season came to an end on Saturday for SEC football. Alabama and Florida will square of in the SEC Championship game next week in the SEC finale.
Thursday
LSU 54 – Texas A&M 39
Both teams were already bowl eligible coming into their Thanksgiving match up. LSU, under the leadership of newly hired head coach Ed Orgeron, improves to 7-4 (5-3 SEC). Texas A&M finishes 8-4 (4-4 SEC).
Friday
Arkansas 24 – Missouri 28
Battle Line Rivalry
The Razorbacks led 24-7 at halftime before getting blanked in the second half by Missouri. At the break, FPI gave the Hogs a 94.7 percent chance of victory over a Missouri team that had one conference win this season.
Nate Strong converted a pair of goal line touchdown runs in the second half as the Tigers stunned Arkansas. Many are calling this the worst loss of the Bret Bielema era. Missouri finishes the season 4-8 (2-6 SEC). Arkansas drops to 7-5 (3-5 SEC), but will have a bowl to look forward to before their season is through.
Saturday – 12:00 ET
Georgia Tech at Georgia
Clean, Old-Fashioned Hate
This one had all the markings of an SEC slug fest. The teams traded touchdowns in the first half and were deadlocked at 14-14 at the break. Sony Michel (19 carries for 170 yards and a touchdown) and Nick Chubb (22 for 88 and a touchdown) carried the ball efficiently for Georgia, but at the end of the day it was the triple option that reigned supreme.
Four different Yellow Jackets picked up rushing scores on Saturday, including a Qua Searcy touchdown run with 30 seconds left in regulation to tie the game. Tech would take the lead for good on the extra point. Georgia fell to 7-5 (4-4 SEC) and finished in third place in the SEC East.
Kentucky at No. 11 Louisville
Governor's Cup
Kentucky QB Stephen Johnson connected with Garrett Johnson on a 75 yard touchdown on the Wildcat's first play from scrimmage. Two drives later a Boom Williams 36 yard touchdown run would give Kentucky a 14-7 lead over Louisville. The Wildcats came to play on Saturday, scoring double digit points in every quarter except for the second.
Uncharacteristically it was the passing attack that carried the day for Kentucky as Johnson threw for a season high 338 yards. On the other side of the ball, Lamar Jackson wasn't quite as impressive through the air. Jackson had two passing touchdowns but threw three interceptions. He was effective on the ground, rushing for 171 yards on 25 carries with two scores.
Ultimately it was a Lamar Jackson fumble that killed a Cardinals drive and set Kentucky up for a seven play, 60 yard drive to attempt a game winning field goal. Junior kicker Austin Macginnis drilled a 47 yard try to give the Wildcats the upset victory. Kentucky ends it's regular season in fourth place in the SEC East with a 7-5 (4-4 SEC) record.
Saturday – 2:30 ET
Mississippi State at Ole Miss
Egg Bowl
Nick Fitzgerald ran for 258 yards against the Rebels, bringing his total for the year to 1,243 yards. That's the third most rushing yards by a quarterback in SEC history. Fitzgerald would add three touchdowns through the air to the pair of touchdowns he picked up with his legs in what quickly became a route in Oxford.
The Rebels trailed 27-20 going into half behind a pair of touchdown passes by freshman Shea Patterson. The Bulldogs put an exclamation point on the victory with a 74 yard touchdown return on a Patterson interception. With the win, Mississippi State avoids the bottom spot in the SEC West, edging out Ole Miss by one conference win. Mississippi State finishes their season 5-7 (3-5 SEC). Ole Miss finishes dead last in the West with a 5-7 (2-6 SEC) record.
No. 13 Auburn at No. 1 Alabama
Iron Bowl
These odds makers are good at their jobs. Alabama was an 18 point favorite in this installment of the Iron Bowl, and the Crimson Tide won by exactly 18 points. Freshman quarterback Jalen Hurts turned in a solid performance, throwing two touchdowns and two interceptions.
Auburn managed to hang around in this one because of the interceptions. The Tigers went into halftime down 13-9, but they had only managed 31 yards of total offense before the break. Alabama locked down in the second half, holding the Tigers to just a field goal over the final 30 minutes. Even with the loss Auburn still finishes second in the West to Alabama with an 8-4 (5-3 SEC) record. Alabama, on the other hand, now sits at 12-0 (8-0 SEC) high atop the SEC.
Saturday – 6:30 ET – 7:00 ET
South Carolina at No. 4 Clemson
Palmetto Bowl
Deshaun Watson racked up 347 yards and six touchdowns in three quarter of play against the Gamecocks. Nine different Tigers had a reception of 10 yards or more as the Clemson offense rolled over South Carolina quickly and efficiently. If anyone has a chance to catch Lamar Jackson for the Heisman trophy, it might be Watson who seems to be playing his best football at the most important time.
Regardless of the outcome, South Carolina had already done enough to ensure their bowl eligibility. Their regular season record will end at 6-6 (3-5 SEC), 5th best in the SEC East.
Want your voice heard? Join the Gig Em Gazette team!
No. 17 Tennessee at Vanderbilt
This game was one of our must watch games of the week, and we were dead on. Not only did the Commodores cover the eight point spread, they won outright.
Vanderbilt quarterback Kyle Shurmur had never passed for more than 300 yards in his career, but he torched the Vols defense for 416 yards. Tennessee has now given up 36 points or more in three consecutive SEC games – Kentucky, Missouri, and Vanderbilt.
Tennessee 8-4 (4-4 SEC) remained in the second spot in the SEC East, while Vanderbilt stayed in sixth place with a record of 5-6 (2-5 SEC).
No. 15 Florida at No. 14 Florida State
Florida Cup
The Gators best drive might have been their first possession following the opening kick off. Austin Appleby led a nine play, 73 yard yard drive that got Florida down to the two yard line. The drive would end their on a failed fourth down conversion and the Gators offense would get no credit for their opening drive. FSU missed two first half field goals, giving the Gators hope that they might find a way to stay in this game.
That hope was short lived. The only Florida touchdown was scored by their defense as the Seminoles pulled away from them with relative ease for a 18 point victory. Florida, 8-3 (6-2 SEC), sits atop the SEC East and will face off with Alabama for the SEC Championship next weekend.
*** Stats from ESPN, Sports Reference ***
This article originally appeared on