SEC Football: Gators Use Goal Line Stand, Upset LSU in Death Valley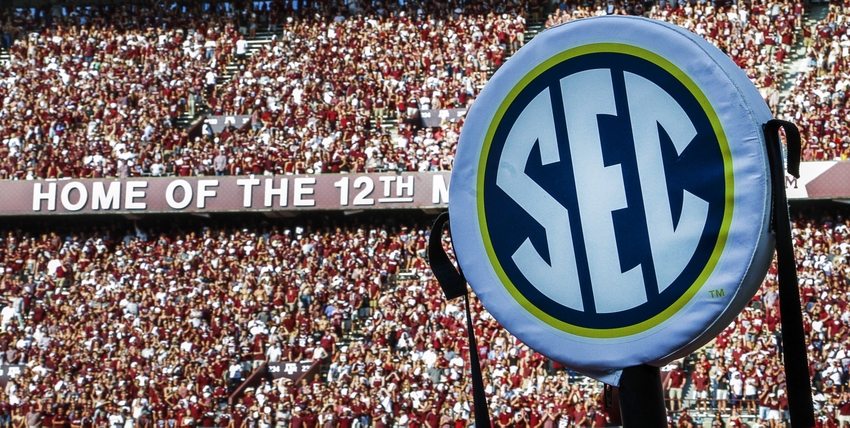 This wasn't a bye week, but it was pretty close for SEC football fans. The Aggies beat UTSA and the rest of the conference rolled over mostly mediocre competition, save for the hurricane delayed game between Florida and LSU.
12:00 ET – 1:00 ET
Louisiana Lafayette 21 – Georgia 35
Georgia jumped out to a 21 point lead in Athens and held on for the win over the Ragin' Cajuns of Lousiana Lafayette.  Isaiah McKenzie kicked things off with a 55 yard touchdown run and followed it up with an 82 yard punt return touchdown. Jacob Eason had another mediocre game 13-19 for 165 yards, two touchdowns and one interception . It didn't really matter that much. The Bulldogs were never really in any trouble in this one.
The Bulldogs improved to 7-4 (4-4 SEC) and will host Georgia Tech next Saturday during rivalrly week. Georgia won last year's contest 13-7.
No. 23 Florida 16 – No. 16 LSU 10
LSU found themselves in another barnburner this weekend, not. I get that LSU is a talented football team, but the offense is completely unpredictable. The combination of Leonard Fournette and Derrius Guice combined for 56 yards in the first half, but Guice did find the end zone to give LSU a 7-3 lead.
Down by six with three seconds left, LSU came up a few inches short on 4th and goal as Guice was pulled down short on a dive to the end zone. The Tigers picked up 219 rushing yards, but weren't able to outscore the Gators, who amassed 266 yards combined in the victory. Their only touchdown came on a 98 yard pass from Austin  Appleby to Tyrie Cleveland who shook off an LSU defender and raced away into the end zone.
LSU, now 6-4 (4-3 SEC) will come to College Station next weekend to play the Aggies on Thanksgiving night. Florida clinched the SEC East with an 8-2 (6-2 SEC) record and will hit the road to take on Florida State next weekend.
3:00 ET – 4:30 ET
Missouri 37 – No. 19 Tennessee 62
Missouri quarterback Drew Lock passed for 323 yards and the rushing attack combined for 420 yards on the ground. They scored six touchdowns. And they lost. Josh Dobbs had an even more impressive send off on senior night in Knoxville. The Teneessee signal caller threw for 223 yards and three touchdowns and rushed for 190 yards and two touchdowns, including a 70 yard touchdown run to put the game out of reach in the fourth quarter.
Missouri has one more conference game remaining at home against Arkansas on the day after Thanksgiving. With a 3-8 (1-6 SEC) record, all they have to play for is pride. Tennessee
Western Carolina 31 – South Carolina 44
After 11 minutes had elapsed in this game South Carolina led Western Carolina 21-14. The two quarterbacks had posted a combine stat line of 1 for 6 for -1 yards. It wasn't a quarterback showcase.
The running game was a different story. Western Carolina racked up 43 carries for 236 yards and three touchdowns. The Gamecocks outdid them, rushing 56 times for 422 yards and four scores.
South Carolina secured bowl eligibility with win number six. The Gamecocks will take a 6-5 (3-5 SEC) record into their season finale on the road against Clemson. Tennessee, after improving to 8-4 (4-3 SEC) with the win will end their season on the road against Vanderbilt.
Austin Peay 13 – Kentucky 49
Austin Peay came into this game 0-10. They completed nine passes against the Wildcats for 27 yards on their way to another loss. Kentucky set a school record as both Boom Williams and Benny Snell broke the 1,000 yard rushing mark. Williams and Snell became the first 1,000 yard rushing duo in Wildcat history.
Kentucky, 6-5 (4-4 SEC), will finish the season next Saturday on the road against Lamar Jackson and the Louisville Cardinals. The Cardinals are coming off a loss to Houston.
7:00 ET – 8:30 ET
Arkansas – Mississippi State
Rawleigh Williams had eight carries before half time. Eight. He found the end zone on half of those. The sophomore running back out of Dallas, Texas finished the game with 205 yards rushing and four touchdowns. Austin Allen added 303 yards passing and two touchdowns through the air as the Razorbacks dispatched Mississippi State with relative ease, despite allowing 42 points to be scored against them.
Mississippi State drops to 4-7 (2-5) and has been eliminated from bowl contention. They'll finish the season on the road for the Egg Bowl against Ole Miss. Arkansas bounces back from last week's loss to LSU and now owns a 7-4 (3-4 SEC) record. They'll close the season on the road against Missouri.
Want your voice heard? Join the Gig Em Gazette team!
Chattanooga 3 – Alabama 31
Two teams have led the Crimson Tide at the end of a quarter this season: the Ole Miss Rebels and the Chattanooga Mocs. The Mocs held Alabama scoreless in the opening quarter, taking a 3-0 lead into the second frame. The Alabama rushing attack was held in check through the first half, averaging just above three yards per carry through the first twenty minutes.
This wasn't a pretty one for Alabama. They finished the game 4 for 13 on third down, a fumble, and 332 total yards. The good thing for Alabama is, even at 20 percent effort and a clear lack of enthusiasm, they still rolled Chattanooga by 28 points to improve to 11-0 (7-0 SEC). The team was clearly looking ahead to the Iron Bowl at home against Auburn next week.
Alabama A&M 0 – No. 15 Auburn 55
Auburn rolled to a rather lackluster win against Alabama A&M. They couldn't beat the Aggies earlier this year and they won't be favored to beat the Crimson Tide next week, but they did dispatch Alabama A&M. Five players had at least four rush attempts as the Tigers rolled to 451 yards on the ground.
The 55-0 win was Auburn's first shutout since 2008. The Tigers will take an 8-3 (5-2 SEC) record into Tuscaloosa next weekend for the Iron Bowl. But after Auburn's loss to Georgia last week, the Tide will advance to the SEC championship regardless of the outcome against the Tigers.
Ole Miss 17 – Vanderbilt 38
The Shea Patterson hype train came to a halt in Tennessee. Patterson wasn't terrible, but he wasn't enough to overcome an offensive explosion by Vanderbilt. Alright it wasn't Missouri vs Tennessee offense, but it was the most points that Vanderbilt had scored in SEC play this year. Give those guys a break.
Patterson went 20 for 42 with 2 touchdowns and 32 rushing yards on 13 carries. It was Ralph Webb who took center stage. The Junior running back  found the end zone three times and led the commodores with 123 yards rushing.
Ole Miss holds a 5-6 (2-5 SEC) record. They will have their last chance at bowl eligibility at home against Mississippi State in the Egg Bowl next weekend. Vanderbilt, who improved to 5-6 (2-5 SEC) will have a tougher test to earn win number six. They host Tennessee in their final game of the regular season.
***Stats from ESPN***
This article originally appeared on