SEC Football: Game Balls, Top Performers from Week Eleven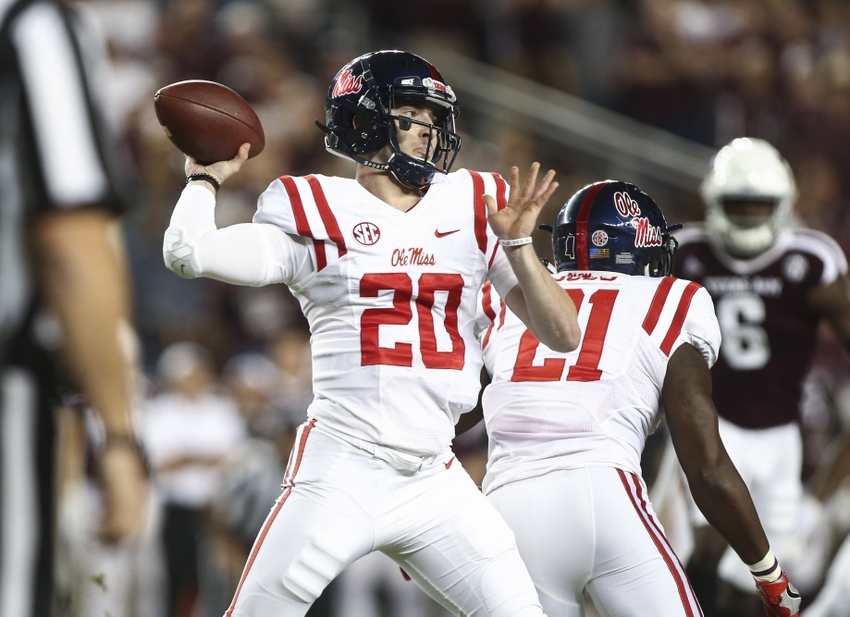 Hello there. Welcome to our weekly "Game Balls" column here at Southbound and Down. In this column, we will give you our picks for who the top performers on offense, defense, and special teams from SEC Football were this week. Though some overlap may occur, this is not a re-posting of the SEC's Players of the Week.
In addition to the top performer, we will also give you two "Honorable Mentions" for each category. If you are reading the article and think that someone was snubbed, or even omitted entirely, then please let us know in the comment section.
Below their names, I will attempt to tell  you a bit about the player's performance this week. That way you can see why I felt they deserved a Game Ball. But again, if you think someone else performed better, let us know.
This week there were several big games happening across the conference, and thus there were many players who performed at a high level for their teams. This did make it tough to decide who should get the "Game Balls" this week. Nevertheless, we here at Southbound and Down have powered through and will give you what you came to see.
Some players on losing teams perhaps deserve to be on this list. However, if a player can't lead his team to a win, then that is a pretty big knock against them. For a player on a losing team to make our list he must perform virtually flawlessly.
Well, without further ado, let's just dive on in. We will start with the offensive "Top Performer" and the two offensive "Honorable Mentions." Click on the handy link below to see who gets the offensive "Game Ball" this week.
Offense: Jalen Hurts, QB, Alabama
I have mentioned before that Jalen Hurts needs to improve as a passer. This week against Mississippi State, he began to show signs of doing just that. He made two very nice throws to Ardarius Stewart over the middle for touchdowns.
On the day, Hurts finished with four passing touchdowns and 347 yards on 28 completions. In addition, Hurts rushed 100 yards and a touchdown on 11 carries. Hurts still has some work to do, as he threw a bad interception and had a fumble. However, he is quickly becoming a true dual-threat quarterback.
Honorable Mentions:
Derrius Guice, RB, LSU
Leonard Fournette has been hobbled by injuries this season. That has opened the door for Derrius Guice to come in and steal the show. On Saturday against Arkansas, he did exactly that. He rushed 21 times, scored two touchdowns and racked up over 250 yards.
I truly believe that Guice would start for any SEC team not named LSU. He is that good. The fact that LSU has been unable to compete for championships with two elite running backs and a ferocious defense is astonishing.
Shea Patterson, QB, Ole Miss
Ole Miss Head Coach Hugh Freeze elected to remove Patterson's redshirt after Chad Kelly went down with a season-ending knee injury. It paid off. Patterson started off a little shaky, but settled into the game and led a thrilling Rebel comeback.
Patterson threw for 338 yards on 25 completions and added a pair of touchdowns. In addition, he rushed for 64 yards on 15 attempts. With Patterson, Hurts, Jacob Eason, and Jake Bentley, the future looks bright at the quarterback spot in the SEC.
Defense: Charles Harris, DE, Missouri
It seems like every year Missouri has elite defensive linemen come out of nowhere. Where do they find them? I haven't the slightest idea. But the next in that line of thoroughbreds appears to be defensive end Charles Harris.
Harris simply could not be contained by Vanderbilt this weekend. He ended the game with nine tackles, 2.5 sacks, 3.5 tackles for loss, and a forced fumble. He also had two additional quarterback hurries. In short, he was completely dominant, a true disruptive force.
Honorable Mentions:
Maurice Smith, DB, Georgia
Maurice Smith only made three tackles in the game against Auburn. But that's not why he is on this list. He is here because he single-handedly saved the day for the Georgia Bulldogs. Smith caught an errant Sean White pass and ran it back all the way to the house for Georgia's only touchdown of the game.
There was a lot of drama surrounding Smith and his transfer to UGA. However, everything seems to have worked out well for all parties involved. Smith is starting, UGA is benefitting from his solid play, and Alabama has rolled right along without him.
David Reese, LB, Florida
David Reese was everywhere for Florida against South Carolina. The freshman had 11 total tackles on the day. Reese is a solidly built thumper of a linebacker. Look for him to be a force against opposing running backs for years to come.
Special Teams: Gary Wunderlich, K, Ole Miss
Gary Wunderlich is quietly having an excellent season. This week against Texas A&M, he finally got a chance to be a hero. And he took advantage of it, drilling a 39 yard field goal with just over 30 seconds left to give Ole Miss a big win.
The game-winner was Wunderlich's third field goal of the day. He also made both of his extra point attempts and punted four times. Wunderlich is the man for the Ole Miss special teams.
Honorable Mentions:
Adam Griffith, K, Alabama
Unlike Wunderlich, Adam Griffith has not had a great season. However, he had a very nice game this week against Mississippi State. He connected on all three of his field goals, and made all five of his extra point attempts. That was an encouraging sign for Tide fans. We will see if he can keep it up.
Eddy Pineiro, K, Florida
Eddy Pineiro has a big leg, and he got a chance to show it off against South Carolina. He banged one home from 54 yards out. He also hit another field goal and both of his extra point attempts. If Pineiro can continue to be accurate, he will be an extremely special kicker.
Thank You!
Thank you so much for reading. I hope you enjoyed the article. If so, be sure to like us on Facebook and follow us on Twitter. Also, share your own top performers in the comments below. Finally, check in again next week to see who gets a "Game Ball" in Week Eight.
More from Southbound and Down
This article originally appeared on