SEC Football: Game Balls, Top Performers for Week Three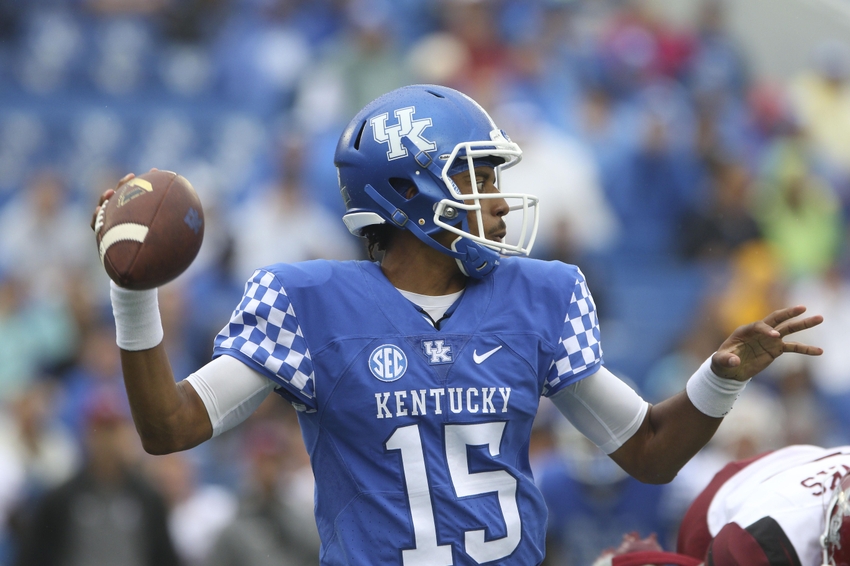 Hello there. Welcome to our weekly "Game Balls" column here at Southbound and Down. In this column, we will give you our picks for who the top performers on offense, defense, and special teams from SEC Football were this week. Though some overlap may occur, this is not a re-posting of the SEC's Players of the Week.
In addition to the top performer, we will also give you two "Honorable Mentions" for each category. If you are reading the article and think that someone was snubbed, or even omitted entirely, then please let us know in the comment section.
Below their names, I will attempt to tell  you a bit about the player's performance this week. That way you can see why I felt they deserved a Game Ball. But again, if you think someone else performed better, let us know.
This week there were several big games happening across the conference, and thus there were many players who performed at a high level for their teams. This did make it tough to decide who should get the "Game Balls" this week. Nevertheless, we here at Southbound and Down have powered through and will give you what you came to see.
Some players, like Ole Miss's Chad Kelly, perhaps deserve to be on this list. However, if a player can't lead his team to a win, then that is a pretty big knock against them. For a player on a losing team to make our list he must perform virtually flawlessly.
Well, without further ado, let's just dive on in. We will start with the offensive "Top Performer" and the two offensive "Honorable Mentions." Click on the handy link below to see who gets the offensive "Game Ball" this week.
This may seem like an unusual pick, especially since it was from one of the lower-tier games this week. However, Johnson's performance was a revelation for the Wildcats. He completed 17 of his 22 passes for 310 yards and three touchdowns. And, perhaps most importantly, he threw no interceptions. Johnson, along with Boom Williams, led the Wildcats to their first win of the season.
Johnson is a junior college transfer in his first season with the Cats. While he came in because of an injury to Drew Barker, Johnson may have just stolen Barker's job. Barker has been atrocious this season, particularly against Florida. Johnson, unlike Barker, is also a threat running the football. This could give opposing defensive coordinators a headache.
Honorable Mentions:
Speaking of dual-threat quarterbacks, Alabama has found one in the form of true freshman sensation Jalen Hurts. Hurts had a big game against Ole Miss this week, and led the Tide to a hard-fought victory. Hurts completed 19 of his 31 passes for 158 yards with no interceptions
. He also rushed for an additional 146, bringing his total yards for the day to 304.
Hurts has the potential to be an elite college quarterback, but he isn't there yet. He still lacks proper timing on his deep balls and his accuracy is suspect at times. He missed a wide-open tight end in the end zone on Bama's first drive of the game. He also fumbled the ball twice, once without even being touched. Nevertheless, he should only get better moving forward.
Meanwhile, in Auburn, another true freshman was having a big night. Trayveon Williams showed that he may be the most explosive back the Aggies have. He broke free and outran everyone for an 89 yard touchdown scamper late in the game to help put the game away. He had 127 rushing yards on the day and added 30 receiving yards.
Williams is young, but he may already be the most talented running back in a deep Aggie backfield. I expect the Aggies will continue to use a committee approach this season. However, Williams may one day end up being the bell-cow. He certainly has the talent to do it if called upon.
Arden Key showed that he is one of the premier pass-rushers in the conference this week. He got two sacks, as well as a quarterback hurry, five total tackles, and a forced fumble. Key led a stingy LSU defense against Mississippi State, and the Tigers dominated much of the game, particularly on the ground. If he can keep up that level of play he will give a lot of quarterbacks nightmares this season.
Key is perhaps the most underrated pass-rusher in the conference. Everybody talks about Myles Garrett, Jonathan Allen, Tim Williams, etc. And all of those guys should be talked about, because they're great players. However, Key belongs in that discussion just as much as anyone. He has a lot of talent, and his production is really starting to show it.
Honorable Mentions:
Speaking of Jonathan Allen, he also had a great game this week. The big man wasn't quite quick enough to get to Chad Kelly, though he harassed him all game. He did have four tackles, and most importantly a fumble recovery. Tim Williams hit Kelly and the ball popped right to Allen, who caught it in the air and rumbled 75 yards for a game-sealing touchdown.
Allen is an elite defensive end. He has always been a top-tier pass rusher, but now he is also stout in the run game. His decision to return to Alabama for his senior season was huge for the Tide. I expect he will be a top 10 pick in the 2017 NFL Draft.
Evans played with his hair on fire against Auburn this week. He was absolutely everywhere. He made 12 tackles, 10 of which were solo, and had a tackle for loss. His run support skills were vital in stopping the run-heavy offense that Gus Malzahn favors.
Evans is a sure-tackling senior from Wiggins, Mississippi. He came in to the Texas A&M program last season after spending time in junior college. In addition to his tackling prowess, Evans is also solid at defending the pass. During his time in juco he racked up six interceptions and 13 passes defended. He will play in the NFL, though it is tough to say how high he might be drafted.
Special Teams: Elliot Fry, K, South Carolina
Fry did what he always does, he made his kicks. Fry made both of his field goal attempts and both of his extra point attempts. That is a total of eight points. South Carolina won the game 20-15. With a less reliable kicker, South Carolina loses this game.
Elliot Fry is an extremely solid college kicker. Over the course of his career the senior has converted 75 percent of his field goals and 99 percent of his extra points. I'm not sure if those numbers will be good enough to make it in the NFL, but Fry will certainly get the opportunity to try out. Regardless, he has been extremely  beneficial to the South Carolina team.
Honorable Mentions:
Growden was the man for LSU in this game. It was an ugly one. Field position was important. Growden did his part to make sure that Mississippi State didn't have it. He punted the ball five times, averaging 49.2 yards. Two of his punts were longer than 60 yards, including a career-best 65 yarder.
Growden is only a redshirt-freshman, but it's clear he has an NFL leg. If he can keep punting like this he may even get drafted in the late rounds of the NFL draft some day. The only question at this point is can he be consistent. If so, he will be making big money in a couple of years.
Eddie Jackson had never returned a punt in his four years at Alabama until this Saturday. His first attempt turned out to be a memorable one. Jackson wove through the Ole Miss punt team for an 85 yard touchdown to cut the Rebel lead to 24-17 at the half.
Every Alabama fan who has watched Jackson play knows that he has the "it factor" when it comes to returns. He has displayed it before on interception returns. Nick Saban may not want to risk injury to Jackson by having him as the primary punt returner. However, when the team needs a spark, Saban knows who to turn to.
Thank You!
Thank you so much for reading. I hope you enjoyed the article. If so, be sure to like us on Facebook and follow us on Twitter. Also, share your own top performers in the comments below. Finally, check in again next week to see who gets a "Game Ball" in Week Four.
More from Southbound and Down
This article originally appeared on