SEC College Football: Week 1 'Get Off My Lawn' Awards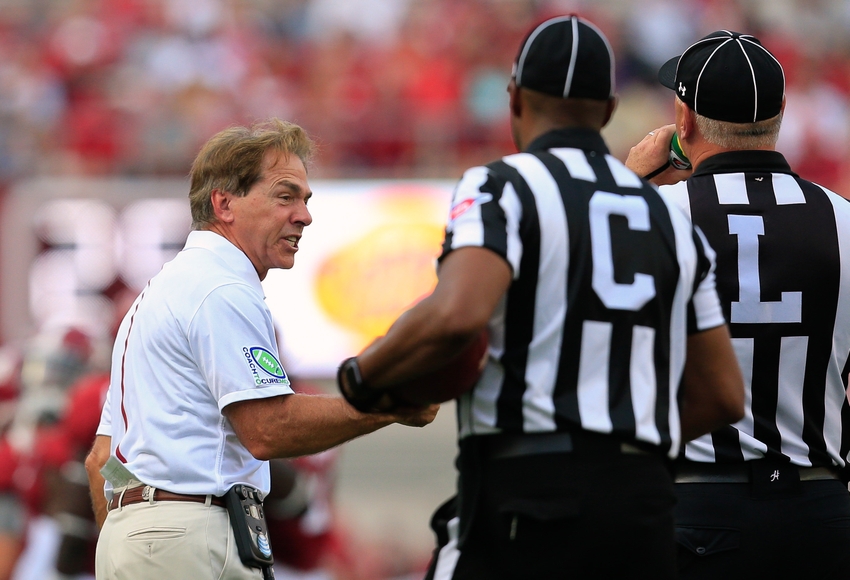 I'll bet you're wondering what the deal with the SEC College Football "Get Off My Lawn" Awards just happen to be. Grab yourself a drink and I will be glad to tell you.
SEC College Football and folks start to act crazier than normal, whether it's from the alcohol or a variety of other reasons.
The phrase itself first started to be made popular in the 1980s by television host David Letterman. Some may remember Walt Kowalski (played by Clint Eastwood) throwing the phrase to all of the young punks in Gran Torino.
How does that fit in college football? I'll tell you.
Have you ever been watching the game on television or watching your social media feed roll by and have the urge to roll your eyes? It could be a play in one of the weekend games, or a comment made that makes you want to say, "Get off my lawn!". It could be your own tweet that you wish you could take back. For some, fans of The Simpsons could substitute "Old man yells at cloud" here.
Throughout the college football season, we will collect some of the worst and share them with you each week.
Look, I'm old and cranky so let's get to it.
Here are the SEC College Football "Get off My Lawn" Awards for Week 1.
Turn it to ESPN and they are already saying a two loss Alabama team deserves to be in the College Football Playoff. Sigh…..

— Ted Flint (@TedFlintKansas) August 27, 2016
This tweet was made Friday, a week ago, during the first game of the season. Nothing like that first game. You sit down knowing your team doesn't play for another week so there's really nothing to complain about. Two teams from the other side of the country are playing in a totally different country. Five minutes in and before the first kickoff, we have a mention for Alabama. Can we play our first game before you start complaining? GET OFF MY LAWN!
As kickoff gets closer, fans start to pick up in the football discussions. Here, one Twitter user had asked which quarterback would play against USC and as any good Tide fan would do, some more information was added. "Who is Platoon?" Get. Off. My. Lawn.
We have GOT to work on our meme generating. I see two mistakes that just leap off of the page. Excelence with only one "L" and "your" instead of "you're". Please start checking these. I beg you as I sit in a lounge chair about to ask you to leave my lawn.
We all had some fun at the expense of the Vols and their struggles against Appalachian State. This was the what turned out to be the winning score. The Vols and Mountaineers went into overtime with the game tied at 13. Tennessee got the ball first and on third and goal, this play happened. It wasn't pretty but the ball fumbled right into the end zone and Jalen Hurd wrapped it up for the score. That end zone was the App State defender's lawn. He told Dobbs to "VACATE MY PERSONAL AREA OF VEGETATION!" And he did.
Mississippi State, you are supposed to be and SEC team. You held a 17-0 lead at halftime and missed a short 28-yard field goal to lose. To South Alabama. GET OFF MY LAWN AND OUT OF OUR CONFERENCE.
@EJackson_4 So proud of y'all last night. Y'all did the damn thang. Are Mink's balls okay? That shit was fucking dirty as hell. ????????????????????????

— Ashlee Payant-Rumsey (@ABR3578) September 6, 2016
If someone asks one of my friends about the status of my testicles, that deserves a "Get off my lawn". Maybe even a "get out of my personal space".
And finally, I think USC will have second thoughts before they ever get on the lawn of Jerry World ever again.
This article originally appeared on