Samajie Grant on the Run for Rich Rod?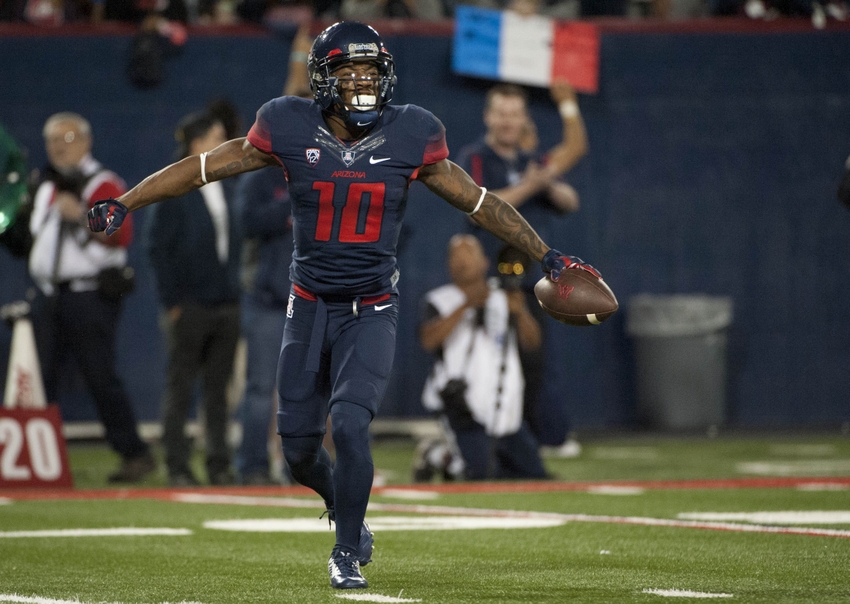 After sustaining a number of injuries at the running back position, the Arizona Wildcats football team is trying out senior receiver Samajie Grant at running back.
Samajie Grant is the next receiver Arizona is working in at RB with the depth issues there Rich Rodriguez said today

— Matt Moreno (@MattGOAZCATS) September 27, 2016
Simply looking at statistics, Arizona's running game has been in good shape all season long. Through four games, the team has rushed for 992 yards on only 165 attempts—an average of 6.0 yards per carry.
Ground production is to be expected from a Rich Rod team; however, the running back corp has sustained numerous injuries, forcing the fifth year Arizona coach to get a little more creative than usual. Even though sophomore quarterback Brandon Dawkins has been the lead rusher on the team, the running back position is vital for Arizona's offensive attack.
Following an ankle injury sustained in the Hawaii game, junior running back Nick Wilson has been sidelined and is labeled as 'questionable' for Saturday's UCLA game. Before the injury, Wilson has enjoyed an exceptional year as first string RB, rushing for 257 yards on 43 attempts (6.0 Avg).
Asked how Samajie took the news, Coach Rich Rod explained, "He's just an explosive player, I'd like to get him some more touches anyway because he can do some things with the ball. He, like anybody else, liked the opportunity to get some touches.
Freshman running back J.J. Taylor stepped up nicely in the starting running back, totaling 261 yards rushing on only 38 carries (6.9 Avg); however, Taylor broke his ankle against Washington and will likely miss the remainder of the season.
Enter Samajie Grant—the senior receiver will be tried out at running back to help out the ground game. While it is never ideal to try seasoned players at new positions, the Cats likely have some help at the running back spot with Grant since he played the position at Colony High School.
As one of the more versatile receivers on the team, this is not the first time more has been asked from Grant. Samajie had kick return duty his freshman season, which he performed well at by returning kickoffs for an average of 19.3 yards. He has also demonstrated ability to stretch the field from the slot position, proving explosive offensive capability.
Want your voice heard? Join the Zona Zealots team!
For what it's worth, Samajie has run the ball seven times during his time in a Wildcat uniform for a total of 30 yards (4.3 Avg). This also isn't the first time RichRod has spoken about utilizing Grant in the backfield. Expect that yard total to go up after Saturday. Bear Down Samajie, Bear Down Arizona!
This article originally appeared on