Sam Darnold Leads a USC Offensive Explosion in Big Win at Arizona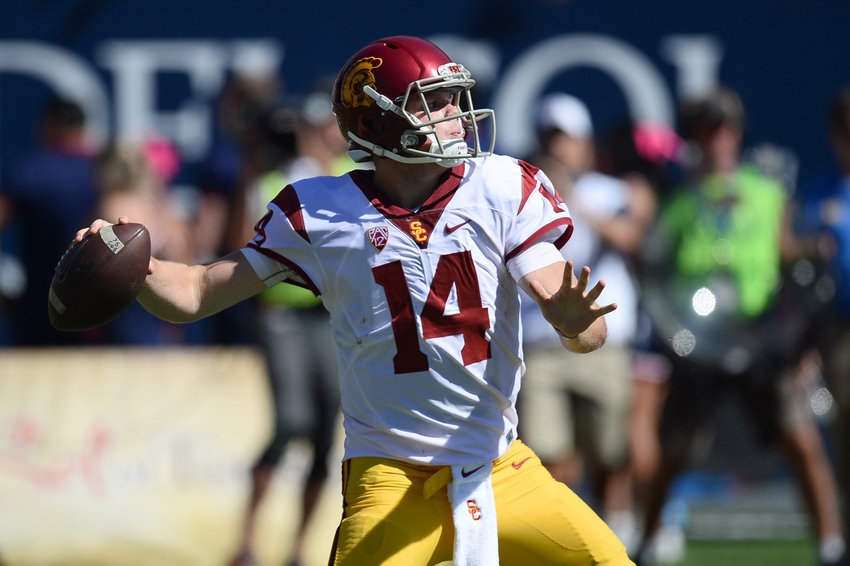 Sam Darnold and USC football put a high-powered offense on display Saturday in Tucson, reaching their potential with the most complete and explosive performance in years, en route to a 48-14 win over Arizona.
Going into the season, Clay Helton's offense looked like a looming juggernaut.
The Trojans had one of the best receivers in the country in JuJu Smith-Schuster, a veteran offensive line and a backfield stockpiled with talent.
The only thing missing was a dynamic quarterback.
After struggling the first three weeks of the season in a convoluted system that wasn't fit for Max Browne, USC made the switch to Sam Darnold.
Lo and behold, just four games in, he's helped make the Trojans' offense their best in years.
Darnold put on a show during a 48-14 win at Arizona on Saturday afternoon, becoming the first freshman quarterback in school history to throw for five touchdowns. He did so on 20-of-32 passing, for 235 yards.
Sam Darnold has helped make the Trojans' offense their best in years.
Smith-Schuster, a Bilnetnikoff Award candidate at wide receiver, was the most direct benefactor. His season has come alive of late, adding nine catches for 132 yards and three touchdowns vs. Arizona.
RELATED: JuJu Smith-Schuster (back) Injury Update After Arizona Game 
But Saturday was about more than just Darnold being a distributor in the passing game. It was all about the hows, and what he meant for the offense.
He slithered in the pocket, avoided pressure, dinked, dunked, threw a few haymakers and even scrambled when he needed to.
"It's so fun, because you don't know what he's going to do," Smith-Schuster said.
Arizona didn't either, as he amassed 54 rushing yards, an early career high.
After the game, Darnold chalked it all up to preparation. USC noticed in the film room that Arizona's 33 Double Cloud defense created running lanes underneath.
"When you drop eight, it's really hard to find windows sometimes," he said. "I knew the linebackers were going to drop deep, so if I had a third and long, I knew I could scramble. [I would] look for a guy down field, and if no one was there, just tuck it and run."
That mentality and Arizona's need to cover Darnold was transcendent, bleeding into a running game thriving on run-pass option plays.
A week after losing No. 1 running back Justin Davis to a high ankle sprain, the Trojans turned in their biggest rushing output of the season: 320 yards on 43 carries.
It was the first time USC had eclipsed the 300-yard mark since September 2009, when they ran for 342 in a 52-3 win over San Jose State.
Sophomore Ronald Jones got the start and chipped in 77 yards on a season-high 16 attempts, while fellow Texas native Aca'Cedric Ware turned in his first 100-yard performance, netting 103 yards and a touchdown.
Depth man and super-athlete Dominic Davis capped off the day, breaking an 85-yard run late in the fourth quarter to finish with a career-high 89 yards.
"It was a next man up mentality," Helton said. "Those three kids were challenged, as well as the offensive line with [Davis] out of the game. I thought they did their job."
Everyone did.
The line didn't allow a sack, the Trojans didn't turn the ball over and capitalized on turnovers gifted to them.
Altogether, USC's offense finally looked like what they should be.
With a defense that limited Arizona starting quarterback Khalil Tate to just 58 passing yards, that's a combination that can win games even against more quality opponents later in the season.
"We're just having fun playing football," Smith-Schuster said. "The chemistry with our offense and our defense is unbelievable."
It all comes back to Sam Darnold.
USC is finally scoring on offense to ease the pressure on the defense in thanks to his mix-and-match abilities, which make defenses stay on their back foot and open everything up.
The result? Prolific balance, predicated on getting everyone involved.
Well, except Adoree' Jackson. But who needs the nation's most deadly playmaker, when you can move the ball as efficiently as USC is?
This article originally appeared on